Welcome to the blog where just about every picture is shot in my yard.
It's the most wonderful time of the year (sing it with me!) and I love the fact that Vita's Boudoir offers so many gift-worthy gorgeous gowns with trans perms. Unfortunately for my linden balance, they're a little pricey. The good news is the very generous Vita has hidden three fab holiday gifts in her store, in three easy-to-find poinsettias (God, I hate spelling that word). This dress (*points up*) is in one of them. This hair wreath (*points down*) is in another: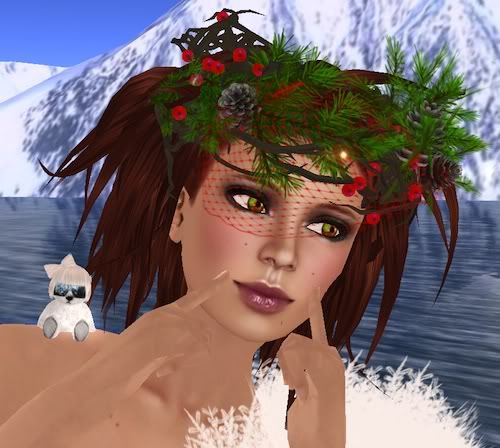 I'm almost positive it's called something besides "hair wreath," though. That sounds like a wreath made out of hair. Ew.
I do have to warn you that I've seen a ton of AVs running around in this outfit today. I realllllllly wanted to round them all up, myself included, for a "Who Wore It Best" post. But I didn't.
The third gift is an attachment that lets you blow kisses. Pretend there are little red heart particles coming out of my mouth in this picture. It was a bitch to take.
MUAH, DARLINGS!
When these eyes are actually open, they're from Exodi/Woe's 12 Days of Christmas gift event. Every day until Christmas, Ryker Beck and Dick Wiesel (haha, I called him Diesel in the first draft) are putting two gifts under the Christmas tree in the middle of their sim. The gifts change each day. I thought I grabbed the gift with the awesome fat pack of Exodi eyes yesterday (I'm wearing Look Into My Eyes in Ornamental), but my life is kind of blending into one long day, so who knows. In any case, they're still there. Go grab them today because they'll be gone at midnight.
This blog post feels chunky and sludge-like. I've been mildly to heavily sedated since my cats died a few days ago, so you'll have to bear with me. Fortunately this is my vacation week, so it's a lovely time to be comfortably numb.
In other free stuff news:
This holiday fireplace (29 prims) has texture-change options and is a gift from the Oasis Furniture Subscribo (join the one by the door and click the white mailbox to get it). I'll admit, I've gotten so many free holiday fireplaces this year that I'm pretty much set for SLife, but this one is really nice, as you can tell from my awesome photography skills. In fact, it looks particularly nice in my neighbor's yard, where I've been sneaking over to rez things. (My parcel is full-up with prims at the moment.)
OK. I promised you more gift suggestions. Everything featured here obviously has trans perms.
For the blogger . . . oops, I mean friend . . . who likes
FISH TANKS (!!!):
These 200L Seaside Fish Tanks (25 prims, animated fish included) at Oasis Furniture made me a little nostalgic for the fish tank posts — like
this one
and
this one
— from my early blog days. It was kind of an inside joke between me and my eight readers. Anyway, I bought the blue/gray version of this tank.
Wow, my AV looks like really angry, possibly because she has pine needles jammed on her head and is sick of dressing like a loony Christmas fanatic.
For the sexually active appliances in your life:

Oasis also has straight, lesbian and gay washing machines (6 prims, 50L).
For your embarrassingly unattractive friend:

Baffle offers 200L trans versions of its shapes.
"Hi! I got you a new shape for Christmas! The one you have is ugly. Cheers to a joyous holiday season!"
For your Lady Gaga fanboy/fangirl friend who isn't opposed to rocking the occasional shoulder pet:
HOW AWESOME IS THIS?!
Sorry, but I'm loving it so hard. It makes me laugh.
This Fame Gaga Bear is from Kouse's Sanctum. It costs a painless 50L for a set of three sizes - mini, small and large.
And I'm so sorry, but I just have to share this very important info: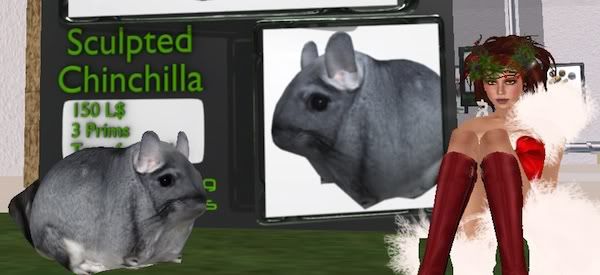 There's a
CHINCHILLA
in the Neon Frog Midnight Mania board today!!
ALL THIS AND MORE CAN BE YOURS:
Vita's Boudoir
Exodi/Woe 12 Days of Christmas tree
Oasis Furniture
Baffle
Kouse's Sanctum
Neon Frog