I know that a lot of you men often ponder the mysteries of women, particularly how our minds work and what the hell we do when we get together in groups. 
You know, our lingerie pillow fights, the nurturing girl-on-girl back rubs, the hot tub skinny dips, all that stuff.
Yep, all your fantasies are pretty much true.
(*cough*)
For instance, one minute we might be taking a picture of something that may or may not be a prize in something that may or may not be an upcoming gridwide hunt (insert undertones of mystery and suspense here):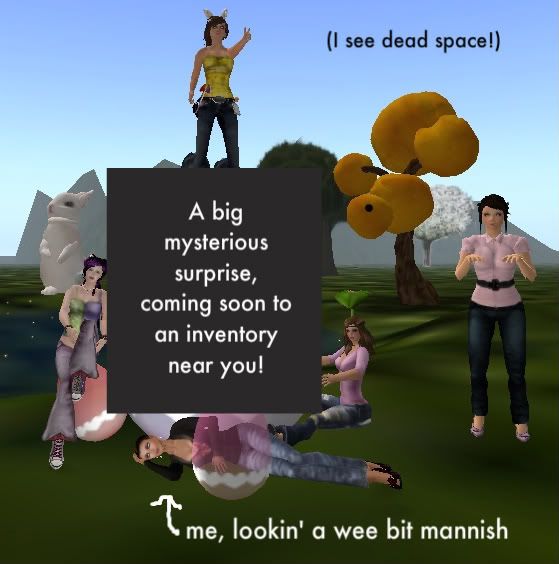 . . . and then suddenly we're all yanking Playboy bunny outfits out of our inventories
(wow, and why did we all happen to own one??)
and piling on top of each other: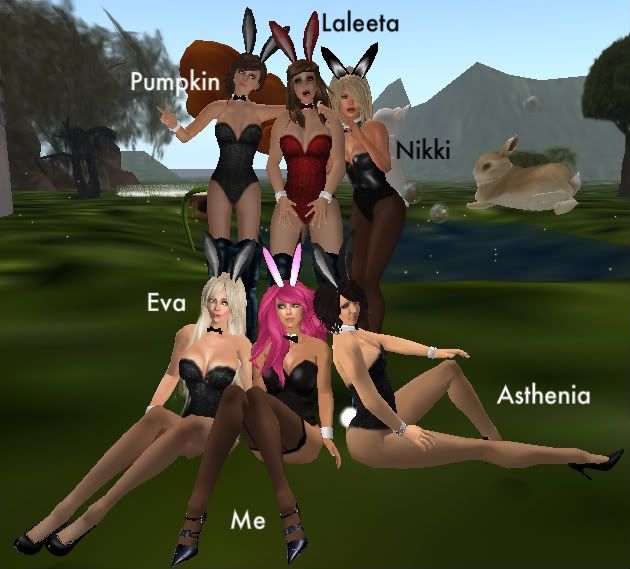 Hey look everyone -- I have beautiful friends.
Damn, I wish someone would have told me that my neck was so fat that it was eating my collar.
Anyhoo.

Yeah, if you look up at that first pic, you can see that I sported a rather manly look during the RFL clothes fair. It was my small contribution to the Fight Against Lag. 
Even though
I FREAKIN' HATE ANYTHING THAT HAS TO DO WITH PIRATES,
I accidentally spent a bloody fortune at that fair, as in about $40 RL bucks. So
TAKE THAT,
cancer! And you too, Visa card!
I wasn't planning on spending much, but I didn't know that my favorite jewelry designer Random Calliope had a booth there until it was right in front of my face. As such, I went a little
CRAAAAZAY
. I also got kimono fever again. I love Japanese designers. But have you ever seen me running around in a kimono? No. Little did you know that I have a
PLETHORA
of kimonos in my inventory. Until now.
A good blogger would pause here and show you my new $3,000L Random Calliope RFL set (or even tell you the name of it) and possibly some RFL kimonos . . . but, um, I think I'm number 999 (if that) on
ArminasX's list of top SL blogs,
so I'm excusing myself from too much effort right now.
(THANK YOU, ArminasX, for that much-needed ego deflation, not to mention about 97 seconds of depression.)
OK. This will probably shock you, but I'm just gonna run through some uncharacteristically random stuff right now:
1. A Blast from My Past
I finally finished the bleepin' gridwide Go Fly a Kite Hunt, and I'm only "bleepin' " it because after about store No. 212, I started feeling a little insane. And now I have 277 prizes to examine and sort. 
"Wah wah wah -- I got free stuff and it was hard to find and it took a long time and now I have to unpack gift boxes and try it all on -- wah wah wah."
Sorry. What an ungrateful a-hole I am.
But how fun it was to get reunited with the store
NY Couture
during that hunt! NY Couture was the Very First Store where I shopped all by myself as a frightened noob. And because I was a noob and thought wings were the bomb back then, the first thing I ever bought was this Alba Rossini Fairy Rose Explosion outfit:
Uh yeah, it's a little . . . out there. But as embarrassing as it is, I just had to shoot this pic for old times' sake. And look at me with my low-lag, slicked-back "Robert Palmer girl" hair (Google it, kids). That hair (including an attachable chignon) comes with the YourSkin & YourShape group gift -- including the beautiful Monique skin-- from 3/14. It's still in notices. Join and get it!
NY Couture brought back fond memories because when I was a newbie I didn't know we were supposed to "open" things. So I ran into that store, bought that outfit, rezzed the display it was packaged in, and screamed to myself, "
OH NO!
I didn't buy a dress! I bought a
PAINTING
of a dress!"
Eventually I figured it out.
2. Hey, Lookit My Feesh Tank!
Remember a couple of months ago when lotsa bloggers were raving about that pink Breeze hair group gift from
Lamb
? Well, I finally tried on mine during that Playboy bunny shoot up thayre and I now understand why people wouldn't shut up about that hair for a week.
SEXY!
And since I was sick of looking like a man, I ran to Lamb yesterday and bought a ton of colors.
And
GUESS WHAT?!
I also found a five-prim wall fish tank with bubbly sounds for a mere $170L at
C'est Ca Furniture
during the Go Fly a Kite hunt.
So my studio-quality fish tank beauty shots are
BACK
, baby!!
I know you missed them terribly.
That's Breeze in Rotten Carrot (nice name!) from the reds pack. That gauzy top actually is from a really beautiful new gown called Naomi Noir from
Serene Sensations by Soraya.
I'm sure designer Serene Blanchere didn't intend for me to ho it all up by pairing it with those 
Drawmachine
jeans, but whatever. Oops.
I feel guilty, so here's what Naomi Noir, released yesterday, is supposed to look like: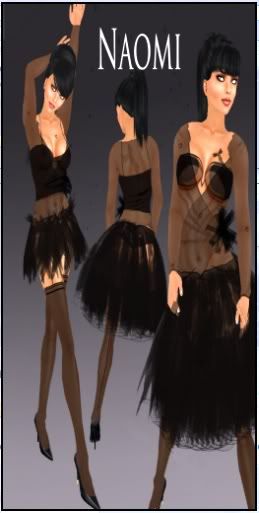 (Photo courtesy of the Naomi Noir notice in FashCon.)
3. Keep It Simple, Stupid
Life is funny sometimes. For example, I spend massive amounts of time searching for spectacular clothes, not to mention the time I devote to finding shoes, hair, accessories and a skin to suit my mood each day I'm in world. Hell, sometimes it can take me almost an hour to get dressed in SL.
Hey, what do you want from me? I'm a girl.
But today I had errands to run so I just quickly threw on some finds from the current hunt at the new Malt sim, some freebie hair, some freebie jewelry and a $1L skin.
I stopped by
THAT DAMN LUCKY CHAIR
at
Jeckilicious
because I'm still trying to win one of those
DAMN LEATHER JACKETS
. While I waited (still unsuccessfully), a fellow chair stalker (and stranger) said to me, "Wow, you have a really stylish AV, if you don't mind my saying. And it looks effortless, like you didn't even have to try."
Best compliment ever! And how funny that I DIDN'T even try.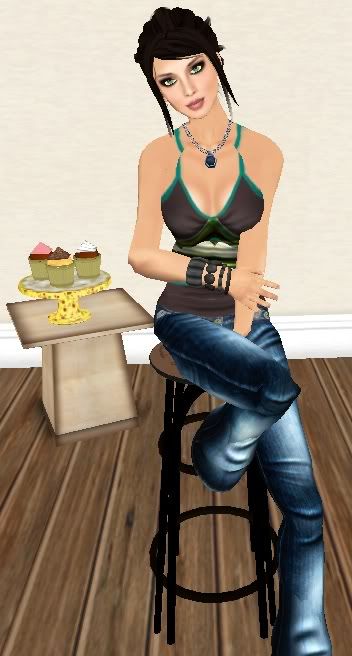 Sorry -- not a great pic, but I was eating those cupcakes at the time.
Hair:
Susan I in Coffee, SoM gift from the upcoming Pacadi, formerly Maeva (hit the Subscribo
HERE
)
Tank:
from the Malt Hunt, part of the outfit in
Prize 5
Jeans and Bangles:
from Malt Hunt, part of the outfit in
Prize 3
Skin:
Phoebe 002 in Light from
Lazolli
($1L)
Necklace:
Shine Blue Flora, grand opening gift from Shine at the new
Covet
sim
Posing Stool:
Gift from
Diesel Works
. Join the update group; put the store in your Picks; and return in about 24 hours to click the sign and receive this stool with four poses in it. The update group costs $25L to join. The stool alone is worth it.
Oh and . . . 
Shoe(s):
Venus Sandals in Sand (300L) from
The HUB
Pose:
High Voltage from the new En Pointe pose set (100L) at
Pffiou: Poses without Cramps
And now it's time for me to scoot. Have an effortlessly fabulous day.