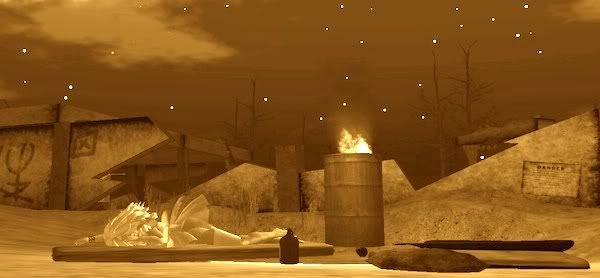 This sim is called The Wastelands. I found it in Search because I wanted to go to a place that looked as bleak as my heart feels right now.
Yesterday I had three cats in RL. Today I have one.
My cat Chloe had been my constant companion for 12 years. Unlike other cats who can be a little demanding, she wanted nothing except to be near me. (Well, that and tuna-flavored cat treats. The crunchy ones.) At night, she slept in the crook of my knees or curled up against my back. She was quiet and shy and affectionate and sweet.
She got sick really fast, and when it was apparent to me that she was suffering, I took her in to my vet's yesterday. They ran tests. Her kidneys were shot and she was crashing from renal failure. I was expecting that diagnosis. I've seen it happen before. I wasn't expecting the additional information that she had multiple other complications as a result of Feline HIV. I didn't know she had it.
We put Chloe down. She kept her eyes on me the whole time. Many of you have been there. It's horrible. She brought me 12 years of joy. She deserved to leave this earth on the wings of a thousand angels — not on a cold metal table with a needle jammed in her leg.
The vet suggested I bring in my other cats for an HIV test. I went back and got my eight-month-old cat Oscar. He tested positive, with an active strain. I could have bought him more time. I could have chosen to stick it out, to monitor it with frequent vet visits, to keep him away from other cats. I could have done that, but my vet told me the best thing to do would be to put him down too. Oscar didn't go down without a fight. And he looked at me with this confused, "Why are you doing this to me?" look as the life left his little body.
I would give every dime in my bank account to erase that memory.
My vet asked me to bring in my third cat. Hell no. My remaining cat Hopscotch is 18 and in the final stages of renal failure. They've already told me her days are numbered, and that number is low. But right now she's still batting her toy mouse around, eating heartily and climbing on her cat post. When it's her time to go, I'll know. And it's not her time to go. At least not today.
I know I have the ability to write a big moving tribute that would make us all cry, but words have left me and I can't describe the grief and the loneliness and the empty, empty hole in my life right now.
Yes, this too shall pass, but at the moment my heart is a wasteland. My life is drained of color. I am wandering, lost, in a sepia-toned world, calling out to names that will never answer me again.
It hurts.
Visit Inworld:
The Wastelands
Luna Jubilee's 52 Weeks of Color Challenge