I can't believe Fashion for Life ends today — Midnight SLT, to be exact. I went Friday and sprinted around at the last minute during that awesome 55L sale, but I didn't really get to soak up the whole FFL 2012 experience. From what I glimpsed when I was running by, all the sims look fabulous!
So hey, maybe I'll see you there tonight when I'm running around at the last minute again!
One thing I saw and loved was this Seide gown by
Schoen
. It's an RFL charity item for 600L. Look at the detailing on the back:
Hey, I figured out a way to fix that annoying blocky wrist syndrome that sometimes happens with certain poses . . .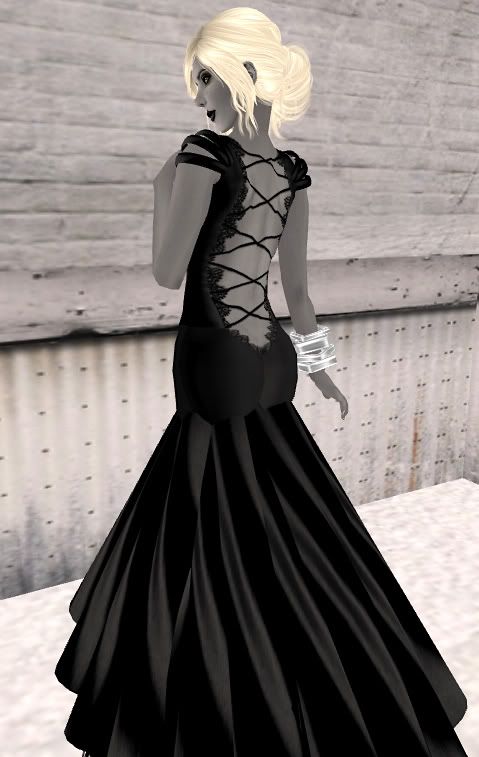 Put a bracelet on it!
(That bracelet is not at FFL, BTW. I believe it was part of a Christmas group gift from Purple Moon.)
The front is lovely too.
I'll zoom in, since my MacBook Pro lies and says it's taking high-res pics when they clearly, clearly are soft-res, best-viewed-when-drunk pics.
Everything shown in this post (except the hair, which is Evelyn by Truth) is at FFL.
Gown
-
Schoen at DreamSeeker Vrijeme
- Seide [Onyx]
Skin
-
[Katsucide] at DreamSeeker Vrijeme
- Sandra Cendre in Empoisonnee, Light
Necklace
-
je suis at DreamSeeker Volta
- une princesse - this may be a FFL hunt prize - sorry I didn't take notes during my last mad dash. It's menu controlled and extremely customizable, from the gem types to the colors to the metals. Right now I'm showing it in Citrine.
Eyes
-
Insufferable Dastard at DreamSeeker Aika
- Glimmer Eyes in Green
The Seide dress also includes a short skirt prim if you're feeling kicky and a little more flirty.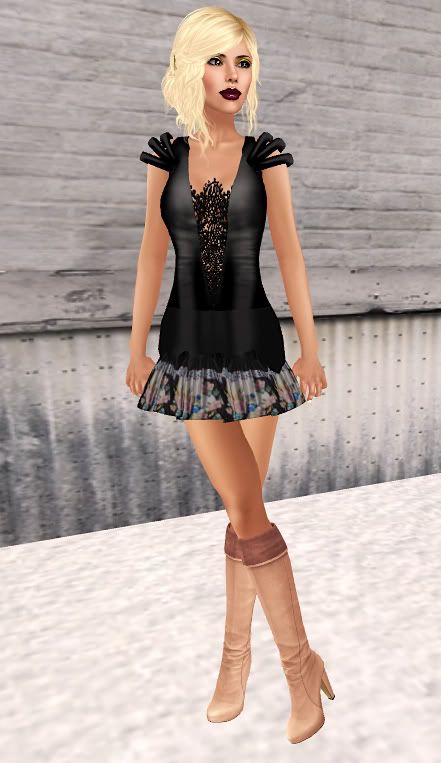 Tyra Banks would tell me I'm not connecting with my audience in this pic. *bops my AV on the head* "Look at the camera or make an expression or something!
SMIZE, DAMN YOU!"
Boots
-
G Field on DreamSeeker Zolta
- "Will" Long Cuff Boots in Peach, m*sh, HUD-driven color-change
Skin
-
Heartsick on DreamSeeker Epoque
- Desire, Muse in Golden Berry
Eyes
-
IKON on DreamSeeker Zeit
- Sunrise Eyes in Sand
OK, I'm gonna drop some honesty on you here. So put on your honesty-protection helmets or duck under an umbrella or something. Here we go. Deep breath:
I have many fashionista friends who breathlessly rave and rave and rave about IKON eyes. I've bought several pairs and I'm still not in the raving camp. I think they're lovely though! (OMG DID SHE JUST DESCRIBE IKON EYES AS PLAIN OLD "LOVELY" INSTEAD OF "AMAZING"???)
Don't get me wrong. I like them! I like them! I especially like the Sunrise line. Maybe I just need to try a few more pairs, but right now they just don't give me the eyegasm that some other eyes do. But the color combinations and the artistry are beautiful, the creator's talent is evident, and everyone else I see looks awesome in them. I know they're very high-society and all that, so I guess you can just chalk up the lack of eye libido to me being low-brow. Plus, I'm sort of in a love triangle with
Vision: Eyes by A:S:S
and
Banana Banshee
, so maybe my judgment is clouded by those deep and complex emotions.
BUT ANYWAY, there was a point to my honesty, and that was to tell you what I DO really like about IKON eyes. (Because if I were a full-time SL eye critic, that's how I'd roll.) SIZES! Every IKON pair includes S, M, ML(?), L and XL, and I have to give major props for that. Particularly because when I saw XL I got a little giddy and thought, "WOW, what the HELL do XL eyes look like??"
They look like this:
RAWK AND ROLLLLL!
That's kind of strange and awkward-looking and I dig strange and awkward-looking! (That's why my eyebrows don't match my hair!) And yes, those eyes are very striking and multidimensional. It's why I bought them.
Sorry. Anyone who knows me or reads this blog knows that I'm kind of weirdly obsessed with eyes in SL. I'm a junkie. I have more eyes than clothes. I'm kind of prone to running my mouth about them at any given moment for no apparent reason. I have all kinds of passionate thoughts and opinions about them.
OK, that's enough babbling! We're running out of time!! But wait! I do want to thank Sileny over at
Free*Style
for
her recent post with the heads up
on the photo studio by
KamreK Creations
that I'm using. It's loaded with 47 backgrounds and well worth the 199L it costs, in my humble opinion. There's also a 399L version that comes loaded with 18 poses.
Speaking of poses, all poses in this blog are by
Label Motion
(50L per pose, 180L per fatpack). I pretty much buy everything in that store because, in addition to the individual poses, the fatpacks include a pose stand AND a HUD that are both pre-loaded with all the poses. It makes my life so much easier, particularly since I'm too lazy to load my own damn pose stands.
OK — let's go!
ALL THE INFO YOU NEED
Fashion For Life 2012 Website
, includes lists of all vendors and their SLURLS
ALSO MENTIONED
Truth
Label Motion
KamreK Creations on Marketplace
P.S.
Sorry this post is running way later tonight than I planned. My alcoholic father is on a drunken rampage today and I'm trying to squeeze in writing and other productive things in between his random-ass tantrums and rants. Good times! :D