Hey, in case you didn't know, it's St. Patrick's Day! Let's celebrate by looking at some stuff I found on Marketplace.
This Dirty Dublin Pub is a pretty sweet deal for only 10L. It includes a bar, tables, chairs, decor and a bunch of other stuff I couldn't fit in this picture. Here's the vendor pic for your viewing pleasure: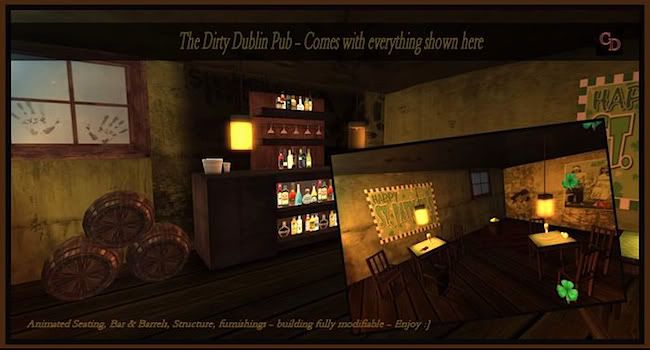 Get it
TODAY
because the price supposedly goes up to 100L after St. Paddy's Day. It's 36 prims without all the furniture. It's also fully modifiable, thank God, because you're gonna want to edit the linked parts and drop a scrubber script in the sign over the door outside. Otherwise you'll get smothered by big poofing cartoon shamrocks. They totally killed the whole dark, dive-bar vibe for me. C'mon, pub people! That's not dirty or grungy!
Buy it here: The Dirty Dublin Pub,
10L
Next.
This TALKING CODPIECE almost makes me wanna get an SL boyfriend so I can make him wear it and laugh my shamrocks off. Gosh, and look at all the snazzy extras you get with it! For a mere 111L, it's A STEAL, gentlemen!
Buy it here: Men's "RUB for LUCK" Talking Codpiece, 111L
Let's step away from the wild side and get domestic for a second.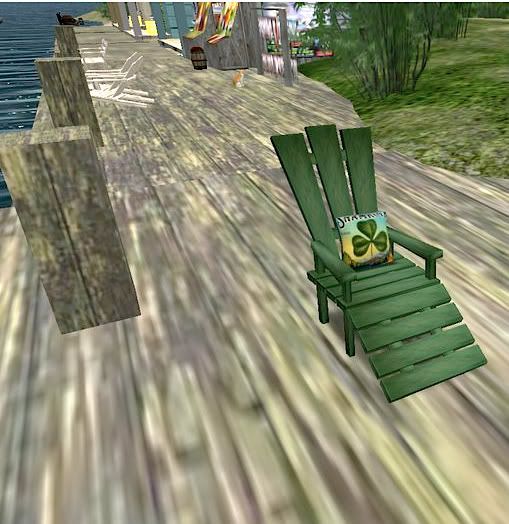 If you read my post yesterday, you know that I couldn't rez anything for most of the day. That's why this post is sort of late and these are all vendor pictures. (That's probably sweet, sweet relief for you, actually.) Anyway, this cute chair is
FREE
and nicely done! I got it. I liked it. It includes a two-prim version and a four-prim version with shadow, and it's copy. Yay! Maybe I'll set out a bunch of them tonight and you can all come over and drink green pixelated beer with me in my badly terraformed yard.
Buy it here: Shamrock Porch Chair, FREE
Moving on.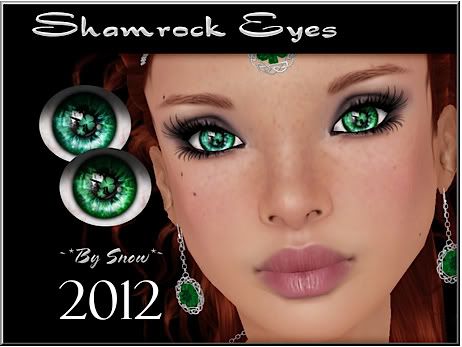 I appreciate the fact that these shamrock eyes are the 2012 version, and I swear I'm not being sarcastic when I say that. Pretty! You get two pairs — Mint and Kelly Green — for 1L. They're more subtle than other shamrock eyes I've seen out there, so they get my seal of approval. ARF ARF! (That was a seal sound.)
Buy them here: Shamrock Eyes 2012, 1L
So hey, what're you wearing today? I'm pretty loyal to the store
A Touch of Ireland
on St. Patrick's Day. I realize they're not gracing the covers of high-falootin' fashion magazines everywhere, but I don't care. I'M A FAN! I love the colors and the textures in that store. And the whimsy. THE WHIMSY, I tell you! I'm wearing ATOI's Emerald Shamrock Dress in the picture up top. It looks way better on this chick, though:
I need a wind machine. Seriously, this vendor pic makes me wish I could learn how to take decent photos in SL. Beautiful.
Buy it here: Emerald Shamrock Dress, 375L
Or if you don't feel like getting all dressed up, you could always just slap on a giant shamrock:
That's not me; that's the vendor picture, and HELL YES I bought this thing! How could I not?? It's only 1L. I know you're looking at it right now and exclaiming, "THAT'S IT! THAT is what my wardrobe has been missing all this time!" At least that's what I said when I saw it. I'm being serious.
It includes pants, shirt, socks and that big damn shamrock. OK, technically it's a four-leaf clover, but whatever. SADLY, that hair is not included.
DAMMIT!
Buy it here: Four Leaf Clover Costume, 1L
Or you could skip costumes and go with a completely new AV. I still can't decide if this one makes me happy or scared:
Look at his cool hat. He's 175L and includes everything you see here as well as "two silly leprechaun dances," according to the description on Marketplace.
There's also a female version of this AV. I'm not posting her picture because I care about you and your mental health. Suffice it to say, you're not going to see her as the centerfold in any leprechaun nudie magazines any time soon.
Buy it here: Male Leprechaun Avatar, 175L
The other day, my five-year-old niece asked me what the difference between a leprechaun and a fairy is. I told her fairies have wings and leprechauns have money. And fairies like flowers and leprechauns like beer. Then she ran away and asked somebody else. Oops.
I need a drumroll please for my final WTF item of the day. Or at least a suspenseful pause. Ready? drums and pause drums and pause drums and pause drums
OK. This, my friends, is called a Lucky Leprechaun Noob Pony w/Beer & Drunk MiniNoob.
"OH DANNY BOYEEEEEE!" "Now with animated barf, new sounds & green exhaust fumes!" and "still only 1L!" *gales of laughter*
I can't do the Marketplace description justice, so here it is verbatim:
"For your St. Patrick's Day pub crawl — Leprechaun Noob Pony will do the crawling for you! Hang on tight, though, he's had a few himself. Stand clear of the MiniNoob who's trapped himself in the beer-mug hat — he's completely trashed and blowing chunks. Both of them are full of beer and blarney, so proceed with caution as you ride off looking for the "end of the rainbow." NEW for 2011 — leprechaun sounds, animated barf, and green exhaust fumes added !! (Leprechaun Noob Pony is a worn attachment that you move with your regular walk, run & fly controls. Rub his feet or right butt cheek for luck.) Comes in a gift crate with festive bow."
A FESTIVE BOW! And YES, that is a PUKING NOOB in his hat: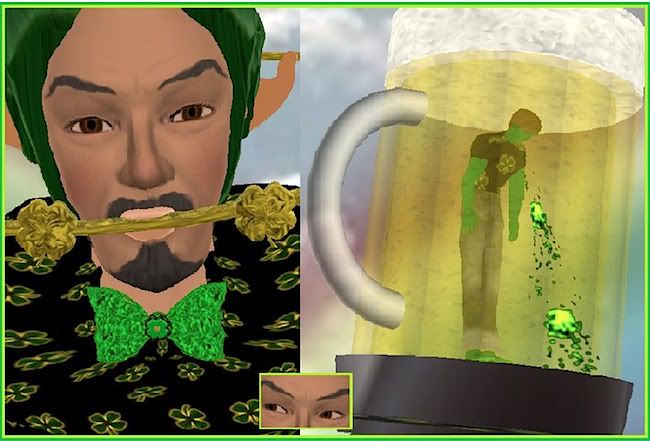 I want my mommy.
Yes I bought it. And yes, I was slightly relieved when my rez problems prevented me from opening the "gift crate with festive bow." Maybe I don't want to see this thing in action. And maybe I secretly want to marry the guy who made it.
Buy it here: Lucky Leprechaun Noob Pony w/Beer & Drunk MiniNoob, 1L
I think I'm done now. That was a little too much excitement for me.
Happy St. Patrick's Day!