I struggled with the decision of whether to start this blog post with an egocentric picture of me wearing some stuff I like or some cow slaughtering.
I opted to follow the blogger herd and start with a picture of myself.
I like this pic because I look a little helpless and slightly disbelieving in it, like, "Oh my God, my RL checking account has only $900 in it and I can't even get a job waiting tables in this one-horse town." That is, in fact, the small RL meltdown I had today. Vodka, lots and lots of it, finally helped. In fact, tomorrow I will read this post again before I hit "publish" and make sure it actually makes sense. *hiccup*
Anyway, if you didn't grab this cute hoodie/tube top set at FFL,
1 Hundred
now has it for sale in store for 100L. I only JUST figured out that the store 1 Hundred is named as such because everything in it is 100L (or less if something's on sale). The clothes there are pretty cute and I usually go a little nuts in there. I don't know if the clothes are template-based or not — I'm clueless about that stuff — but I like the colors and textures, and the prices don't break my bank, so the place gets my thumbs-up.
Another FFL item that's now available in store is my new favorite necklace-slash-timepiece, Tick-Tock Hans Hase by
Bliensen + MaiTai
. (BTW, the cord is not jaggedy like it appears in the first pic — I'm not sure what the hell is going on there.) I bow down before designer Plurabelle Laszlo. Almost everything she creates makes me smile. This watch is scripted so you can set it to your timezone and is available in other designs if rabbits aren't your thing.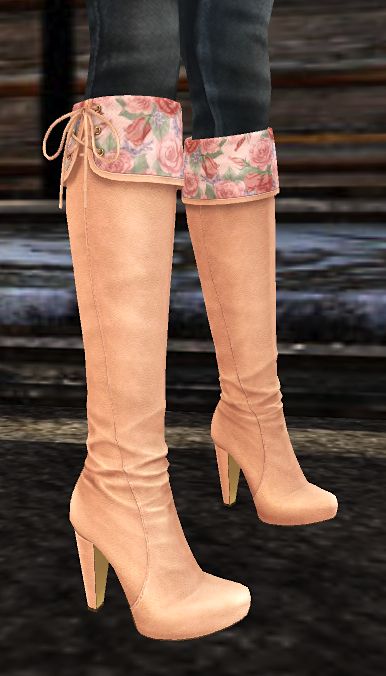 You can still buy these Long-Cuff Will Boots — shown here in limited-edition color Peach — at
*G Field*
from the RFL charity vendors that are now in store. There's also a limited-edition RFL Sepia version available. The RFL colors are 200L each, and the cuff patterns and lace and sole colors are HUD controlled. Other colors are available for 300L on the second floor of the store. I think these are some of my favorite boots. In my wealthier, gainfully employed days, I would have bought the 1200L fatpack.
And nope, for the record, I didn't sign up to be an official FFL blogger. (Thank God. I have enough RL turmoil without inadvertently ending up in an
SL Blogger Hall of Shame
.) These are just some things I got there and really liked.
Speaking of shopping and longing for not-so-material things, if you happen to be short on lindens, here's a fast way to make 250L, followed by another 500L shortly afterward.
First Opinions
, an RL/SL company that facilitates surveys about SL residents, is hosting a paid survey for Westat, a social science research firm based in Rockville, Md.
• If you live in the U.S., you can jet over to the survey site
HERE
and click that blue kiosk to get a survey HUD. (Check out the picture above and note the viewers on which the HUD doesn't seem to be working.)
• You'll answer some basic questions about your political leanings, your level of happiness with your life, whether you think rich people are a bunch of jerks, etc. Your RL identity will be kept anonymous.
DEADLINE:
This first survey will only be available until April 2.
• When you finish, you'll receive instructions on how to collect your 250L and then how to take the second 500L survey. I've already taken both and I've already been paid for the first one so far.
• Some people who complete the 500L survey will be invited to take an RL phone survey that pays $30 USD. (Obviously, you can say "no thanks" if you're not comfortable with that concept.)
I mentioned it in an earlier post and I want to reiterate again that I've been taking paid SL First Opinions surveys for a couple of years and they're totally on the up-and-up. I know there's a heightened level of wariness these days with all the new SL phishing scams popping up everywhere.
On a sad note, due to limited prim space and lindens, I've got to start slaughtering some of my breedable cows. They've gotten out of control and I need the "death points" to pay for food for the remaining living ones. I was actually sort of shocked the first time I sent a cow to heaven. I mean, at least the other breedable creators have developed comforting euphemisms for deleting animals — Meeroos owners can "release" their Meeroos into the "wild"; KittyCats can transport their kittens to the "menagerie" where they can "purr, lick their paws or sleep all day long"; and Amaretto horses get to go to Horse Haven.
But the Breedabulls? Brutal, brutal reality:
Steaks, anyone?
:(
Yes, when it's time for your cow to go, you have to click "Beefs" under "Care" (ironically) on your Breedabulls' menu and watch your beloved cow dissolve into meat right before your horrified eyes.
(Make sure you set out your Points Collector Rock — available for free at the main store — when you start the slaughtering so you can at least get paid for those rib-eyes.)
OK, now I'm hungry. I have to go find food and get some real work done. Have a lovely day!
VISIT INWORLD
First Opinions Survey Panel InWorld Office
Breedabulls Main Store
ROLL CREDITS
Hoodie/Tube Top
-
1 Hundred
- Pullover Hoodie with resizer scripts, 100L
Jeans
-
League
- Garage Jeans in Turquoise, 245L
Boots
-
*G Field*
- M*sh Long-Cuff Will Boots in Peach, HUD-driven texture/color change, 200L RFL charity item
Necklace
-
Bliensen + MaiTai
- Tick-Tock Hans Hase, 200L
Hair
-
Truth
- Kalle w/Roots in Champagne (NEW), menu-driven color-change headband, 250L per color pack
Skin
-
Sugar
- prototype, not yet available in store
Eyes
-
Vision by A:S:S
- Prestige Eyes (NEW) in Versailles,
special 1L in-store group gift
, 150L join fee
Shape
-
Standard-Sizing Mesh Shape in Medium
(adjusted with my personal face and Truth hair head dimensions) - get a
FREE
box of standard-sizing shapes (XXS, XS, S, M, L) for mesh clothing on Marketplace
HERE
to make your life less complicated when wearing mesh. (Yes, I swore I would never say that word again in this blog and I just said it three times. Sigh.) Many designers who sell mesh clothing also offer this free pack in their stores. I'm only wearing mesh boots in today's post, but I feel better knowing my body sliders have now been tweaked by some of the best minds in the business (no more worrying if my arms are too long). Between us, I think the boobs are a little droopy though. Less gravity! And yes, most boxes of Truth hair include a notecard with the head dimensions he uses to design hair. My life got so much easier when I switched my skull to that shape. Wow, this paragraph is long. Sorry.