OK, let's knock out this goldenrod post because I've kind of decided I hate this color.
Here we go:
Custom
GOLDEN
unicorn 7Seas fishing
ROD
by *KK* Custom Creations (148L).
I bought it because the picture made me laugh, but I have now decided that it's 100% pure awesome. It makes me want to fish again. Get it on Marketplace
HERE
. Or, visit creator Kabalyero Kidd's store 3 Stars and a Sun inworld
HERE
. That store has many more hilarious custom fishing rods as well as some pretty cool stuff and funny shirts ("In memory of Emerald Viewer" and "I'm not an ALT, promise :-)" to name a couple that made me chortle).
Chortle!
And that was my very lame attempt at goldenrod humor.
Just when I promised I wasn't going to do the Marketplace search thing anymore, Luna hits us with a color like GOLDENROD in her
52 Weeks of Color Challenge
. Woo. I guess that's why we call it a challenge. I searched my inventory and only found some flippy floppys and an ancient freebie Lelutka bag. I considered a nude shot with just those two things but decided it would be kind of awkward.
The goldenrod pickings on Marketplace are slightly slim. (No, really?) There's a fab Kouse's Sanctum gown, but I noticed another gown by a creator that's new to me and decided to give it a try.
I like the detailing. This outfit needed a delicate silver drop chain down the back and it would have been perfect.
Unfortunately many of my favorite jewelry pieces are now partly or completely INVISIBLE — EarthStones and Alchemy Immortalis rings and necklaces, to name two — with the V2.3 viewer.
(Hell yes, it's tragic and it merits a sentence in bold.) One friend thinks it might be a microprim issue. Whatever it is, it makes me sad.
My pictures also aren't as sharp anymore, even with High-Res Snapshots turned on. Case in point: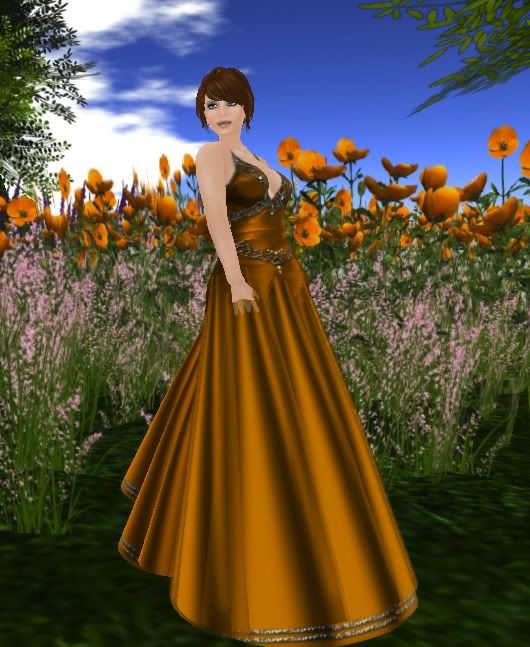 Ugh. It looks like I barely have a face. [insert an irritated sigh and eyeroll here] I kind of gave up after this picture. It's the best I've got of the front. Sorry.
*end today's V2.3 bitching*
Dress:
G&T Creations Butterfly Gown Papillon in Goldenrod (650L) on Marketplace
HERE
. It has a pretty shoulder piece that must have fallen off while I was trying to accessorize. It also includes pretty gloves. I'm not sure why I didn't put them on. This post is fail.
Hair:
Annie in Almond by Truth.
Poses:
from Glitterati's Model series. The lush flowery photo location is Wanderstill at Ode.
AND NOW, NEWS YOU CAN USE
Just in time for your life-sized nativity sets — because I know you all have one —
Neon Frog
has a donkey in its MM board this weekend.
"Hello, Gentlemen. Look at your woman. Now back to me. Now back at your woman. Now back to me. Sadly, she isn't me. Blahblahblah.
I'm on a donkey.
"
This board locked down yesterday. It probably will today. So go slap it!
UPDATE!!!
NO! It's an armadillo on the board now! It'll still look good in your life-sized Christmas Nativity scene though. And oooooof, this is turning out to be the Murphy's Law blog post from hell. Seriously. I need to change the title to "just about everything in this post is wrong and/or sucks."
Shoes:
Patent Leather Pumps in Goldenrod (175L), by Jeanette's Joint. I really like them — this shot doesn't do them justice. Get them
HERE
on Marketplace or
HERE
inworld. There are 88 color options. Yes, I said 88. So if you too are sick of goldenrod, creator Jeanette Doobie can hook you up with a color that doesn't look like the inside of a newborn's dirty diaper. (Sorry — I hope nobody was eating. And you know I love you, Luna! ♥)
Jeanette's Joint also has some avatar effects that kind of delight me. Like a set of flaming eyes, flaming hands, a flaming halo and a flaming mouth. And horns. And a tail. For a mere 40L.
Check it.
I'm tired. I'm blue. I need coffee. This is one of those days when I'll just end this post (and the crowd screams, "THANK GOD") with -
THE END