I love this dress so fiercely, it's going in my "Damn, I Love These Clothes So Much that If SL Ever Eats Them, I'll Be Holding a Public Funeral for Them" folder.
I paid 100L for it today. That's right! A mere 100L. Hell, I have that in my back pocket. So do you! Yes you do! Check the jeans in your washing machine. That's where I usually find my lost money.
Let's look at it in all its glory:
Twilight Princess gown in Ophelia by LVS & Co. Miranda Hair in Auburn by Truth.
Wow! And yep, there comes a time in everyone's life when we have to admit defeat and say, "To hell with poses. I'm just gonna levitate over the ocean and snap the damn picture."
I've always loved the gowns at LvS & Co., so I got mixed emotions when I logged in to this sad-news notecard this weekend:
"Hello everyone.
This is October, Ravenlynn's assistant. She gave me the OK to log in for her and do an emergency markdown today. As you know she's been sick for a few weeks now, and unfortunally the last doctor visit and meds just weren't enough to kick this flu she has. So she's hopefully going to see the doctor Monday.
But because of financial hardships, we are having to do an emergency markdown of the store for her doctor's bill. The entire store is marked down to 100L. Children's wear is 99L.
The markdown will only run until Monday, when Raven is hopefully able to make her appointment.
Thank you for your continued support during these hard times.
October Fall, LVS & Co"
This kind of news always causes a moral dilemma for me. Part of me wants to scream, "WOO HOO! All those fabulous gowns for 100L!!!" . . . and then my heart hurts because the sale is the result of a bad RL situation. My own family is crumbling under the weight of medical bills at the moment, so if I were a designer, I'd probably be doing the same thing right now.
I try to take comfort in the fact that my shopping spree at LVS & Co. today hopefully helped a little. Yours can too, if you feel so inclined!
So check out my haul, y'all! (FYI: All gowns in this post are available in several colors.)
Victorian Dress in Tears; Tara (streaked) hair in Crow by Truth
This dress has three top options: corset only (that means all your glorious boobage is on full display), corset with bra, and corset with top, which is what I'm wearing in these pics.
I love the details Ravenlynn puts into her work: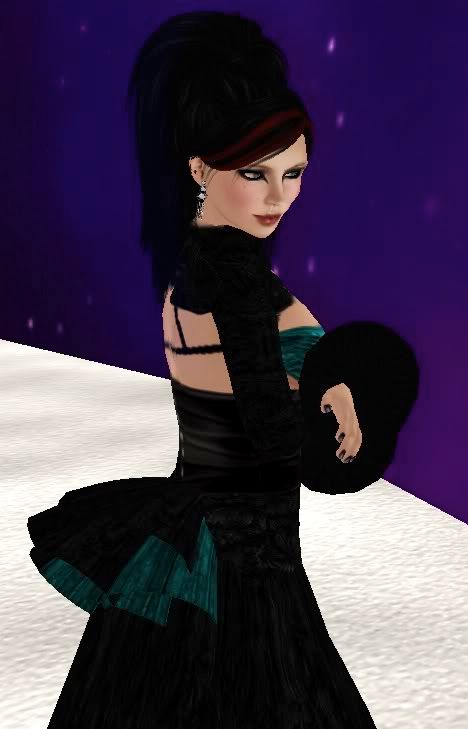 My butt is ruffly and ready to party.
I also love her 7 Deadly Sins collection. My favorite is Sloth, mainly because if you look up that word in a dictionary, you'll see a picture of my face.
7 Deadly Sins in Sloth; Breathe Me hair by Shag
Oh, you want to see the rear view too? OK!
Baby got back.
If big foofy gowns aren't your thing, you can meander across the garden path to The Dollhouse, Ravenlynn's Dollie dress shop. Everything there is 100L or less all the time, no medical emergencies necessary.
Lil Zombie; Cleo hair in Night by Truth
I know a lot of you are sick of zombies, but I've loved them even before they became mainstream — just ask my $150 Limited-Edition "Dawn of the Dead" box set and 93 zombie movies. As such, I'm lovin' the details on this dress:
They're coming to get you, Barbaraaaaaaaaa!
You still have several hours to stock up on gorgeous LVS & Co. gowns for 100L each — even in the bridal section. (Yes, I bought a wedding dress. I probably won't use it, but I couldn't resist it at that price.) And who knows? Maybe the sale will be extended through Monday.
LVS stands for "Liquid Velvet Studios," by the way. *checks another name off the "Stores Whose Names I Don't Understand" list*
VISIT IN WORLD
LVS & Co
The Dollhouse