Let's take a break from cleaning out my inventory . . .
. . . and mix Luna Jubilee's
52 Weeks of Color blog challenge
with my favorite game, "What the Hell is That Thing on XStreet?"
Except I guess it's "SL Marketplace" now. That doesn't have the same ring, but whatever.
Ready? First we'll put this week's color (grey) in Search and spin the wheel: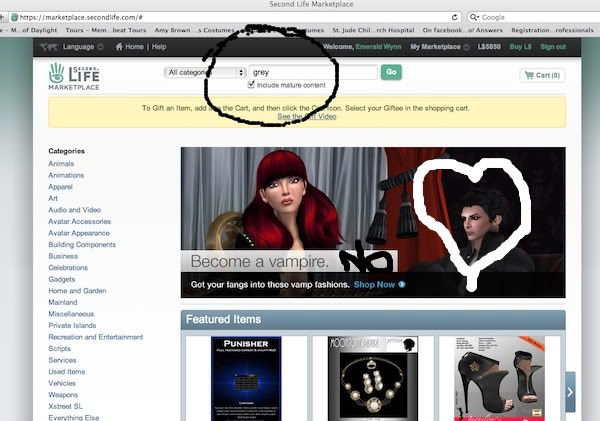 (That guy kind of looks like Adam Lambert!)
There's only one rule: You must pick something from the first page that pops up.
Actually I'll add a second rule: It must cost 100L or less. I don't know about you, but I'm pretty broke these days.
"Go!"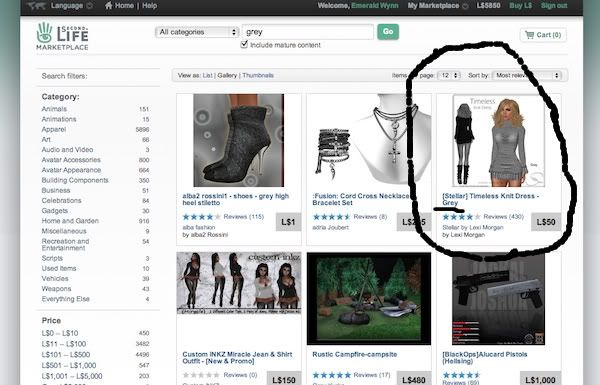 Stellar's Timeless Knit Dress in Grey for 50L = Score!
Designer Lexi Morgan of Stellar is one of the kindest people I've met in Second Life. I don't even have the words to convey how extraordinary I think she is. I'm glad her fun dress found its way into my Really Lame Attempt at a Blog Post.
That grey dress is a Marketplace-only special, not available in world. Other colors are available for 300L each.
We need shoes. Spin the wheel of Marketplace fate again:
Nifty. I stomped on your hearts and strapped them to my boot! For only 49L. Gimme!
One final quest for accessories: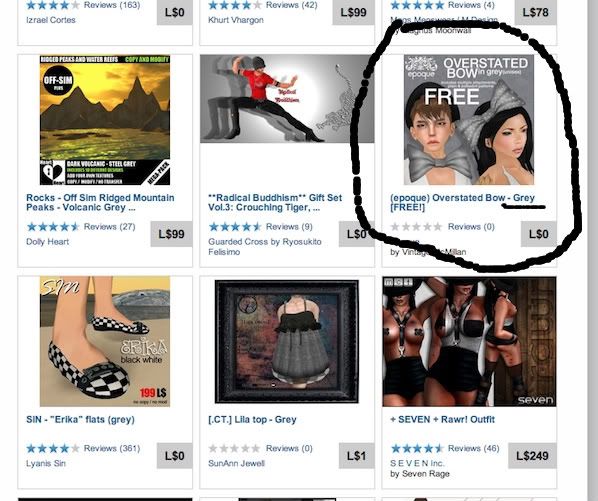 Why so serious, Epoque models? You're wearing Big Damn Bows strapped to your heads, for God's sake. (LOL at that guy's face.)
These screenshots are getting kind of old. Let's hit the catwalk:
My face looks really stupid in that picture, like I'm trying not to wipe out.
(Socks by Miel; Nina hair in Raven by Truth; Sophie skin in Smokey by Mynerva)
"You know, grey's my favorite color. I felt so symbolic yesterday. If I knew Picasso, I would buy myself a grey guitar and play."
Am I the only one who got stuck on "Mr. Jones" by Counting Crows while working on this grey post? (Probably.) I used to love that song until my youngest brother told me it's really about masturbation. That *bleep*hole. Whether it is or not, he's totally ruined it for me now. Nasty.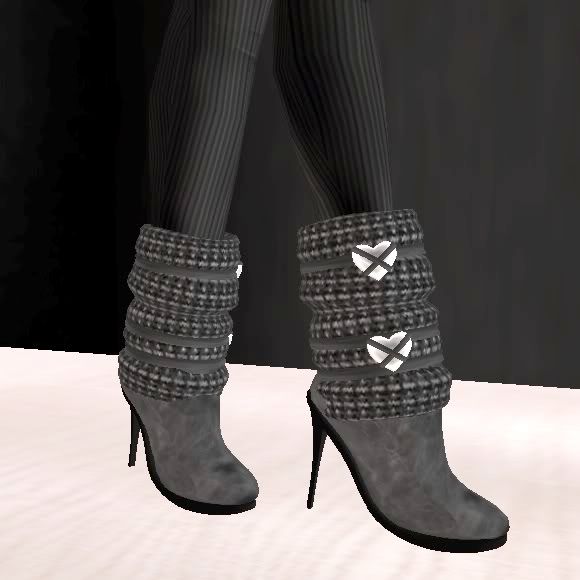 I've decided the boots are a really cute deal for 49L. They're also available in other colors. I prefer a more substantial heel, but I guess you need those spikes to capture hearts and shove them in your legwarmers.
Oh, and I also found this free Funny Bow necklace in grey by Just Me. I'm so impressed because it even comes with its own shadow in three layers. SO IMPRESSED — I want all my jewelry to cast shadows now.
Eyegasm. Those Cauldron Grey eyes by Daydream Eyes are only 10L and they now live with A:S:S and BCD in my Most Awesome Eyes Ever inventory folder. I bought 16 other colors by Daydream — all for 10L each — and they're all stunning. I can tell that a lot of love and thought went into the making of them. I'm perceptive like that.
Too . . . much . . . pretty . . . making . . . me . . . nauseous . . . must . . . do something . . .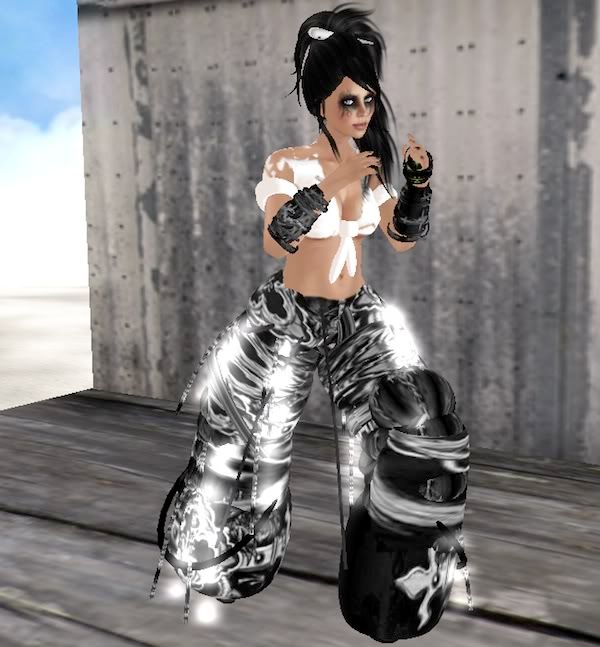 STOP! Hammer time!
Sorry. I couldn't resist those pants. Or the ARC of 95,000 that comes with them.
(Grey Glow Baggies outfit by Underworld Designs, special promo price of 50L; usually 275L. Pose from the Fight Me set by Diesel Works. Hime hair in Charcoal by [the oBscene]. Flower Power face tattoo by Little Pricks.)
Now it's time for a tedious list of links to all this stuff.
Everything in this post (except skin, hair, poses and face tattoo) was purchased on Second Life Marketplace and chosen by the Hand of Fate.
BUY YOUR OWN
Timeless Knit Dress in Grey by Stellar
(50L)
LucieGrey Suede Boots by MIA Island
(49L)
Overstated Bow in Grey by Epoque
(FREE)
Funny Bow necklace in Grey by Just Me
(FREE)
Cauldron Grey Eyes by Daydream
(10L)
Grey Glow Baggies Outfit by Underworld Designs
(50L)
Join the 52 Weeks of Color Challenge HERE