Oops. I'm already behind in
Luna Jubilee's 52 Weeks of Color Challenge.
Last week's color:
PIMP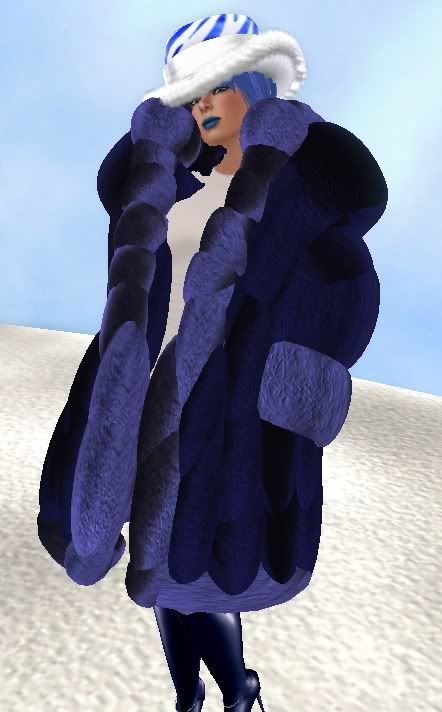 I mean blue.
And pimp.
I promise not to use this cheap blog gimmick for every color.
(I like the five-star-rated Pimp Leprechaun Male Neko.)
I used to start my days drinking coffee, browsing world news headlines and repeating inspirational and motivational affirmations. Now I chase a couple of Xanax with some grapefruit juice and screw around on XStreet. I mean Marketplace. The possibilities for fun are
SO ENDLESS
there, I can't resist. It's like a hobby now. Or an obsession.
SPENDIN' G's
Trench Pimp in Big Money Blu by NiCHe Fur Inc.
("Making Your Second Life Sexy and Luxurious!") (100L)
Pimp Hat w Fur in Blue Zebra Stripe
(99L)
L.Fauna 2.0 Lipstick - Blue Fatpack
(60L)
("Is that blue lipstick you're wearing or did you just finish having steamy oral Smurf sex?")
I wish I could be the SL Marketplace spokesmodel.
Not bought on Marketplace:
Stiletto Moody Tall Boot in Navy Blue Patent; Annie hair in Smurf by Truth; Pose: Feeling Blah 3 by !BANG
I also bought these eyes out of morbid fascination, only to realize that I actually think they're kind of cool: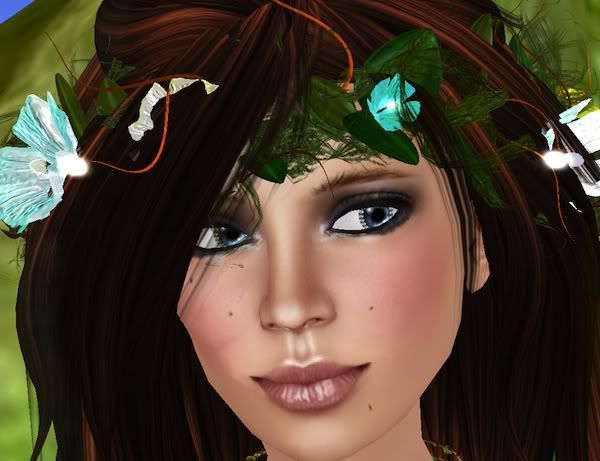 Amacci/InSight Glamour Blue Eyes w/Diamonds,
yo (200L). Three different styles are included, as well as a prim sparkle. I'm not wearing the prim sparkle because the V2.3 update has completely screwed up my lighting to the point where I have absolutely no concept of what I really look like, lighting-wise.
Thank you, Ali Chenaux, for voicing your opinions on this topic.
I wanted to, but I'm too damn lazy. (Skin: Sophie in Smoky by Mynerva)
This particular color theme was pretty appropriate since I'm blue about several things ATM:
1. The death of my Nicole Kidman fairy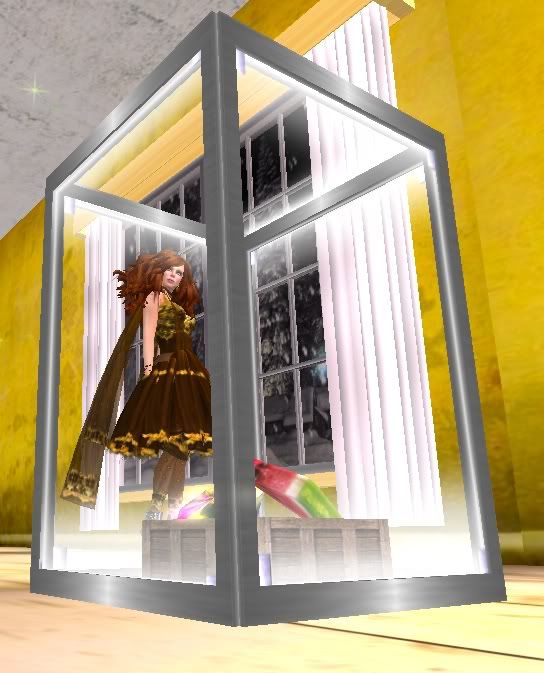 I logged in this week and she was just . . . gone. That's her cage. That's her fruit. She, however, must have perished somehow. I left the breedable fairies group some time ago because of all the complaining and drama there. Plus, I could never get my fairies to copulate. Fixing this problem required buying an aphrodisiac and frankly I'd rather buy shoes. Now I don't even know if they're still making breedable fairies. I used to have five. One by one, they vanished, but the one in black held on . . . until now.
But yeah, they all bore an uncanny resemblance to Nicole Kidman: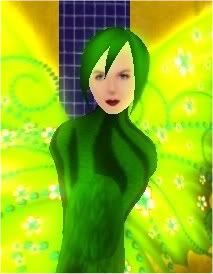 2. I look like a bloated, spray-tanned hooker in League's new Amber skin.
I charge 500L for 15 minutes of steamy oral Smurf sex.
I'm a huge fan of League's skins, and almost everyone else looks fabulous in this one. So blame my wonkered-out shape.
3. Here's what My Friends list looks like these days:
So for God's sake,
please don't change your profile pictures any time soon.
[
P.S.
Are there any HTML geniuses out there who can give me a code to reduce the Grand Canyon-sized spacing between my paragraphs? Irritating me. These posts could be so much shorter-looking.]