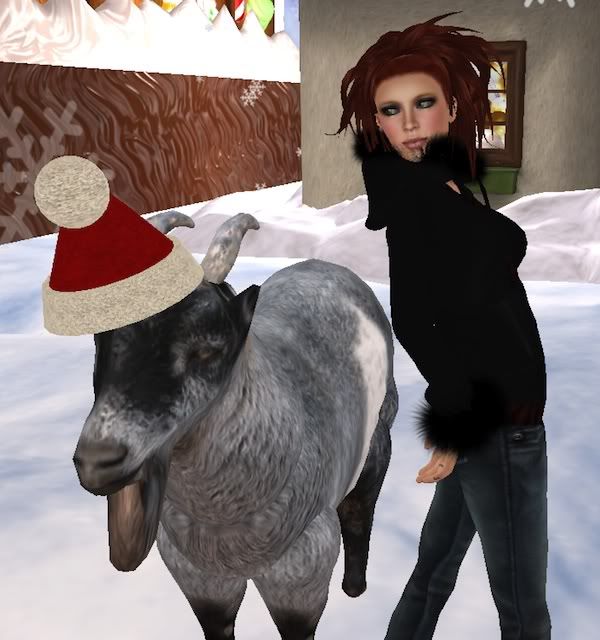 I have a friend named Epione. I love her blog
Translucent Journey
because it has a creative, exploratory vibe that reminds me of the way I once felt about SL, before I got kind of tired and sad. I appreciate her friendship because she's cool with the fact that I'm not very chatty or SLocial. I've been booted from many friends lists because I don't talk much. It always stings, but I guess some people find the whole 'silent friend' thing annoying. But the fact that Epione is never in my face about how an SL friend should be is probably why we've been friends for such a long time and, unfortunately for her, she now knows almost every boring detail of my life.
Anyway, she told me about this African pigmy goat in the Neon Frog MM board yesterday. As soon as I got it, I slapped a Santa hat on it and turned it into a new SL Christmas tradition. Now I almost want somebody to swing by my yard and start something just so I can yell,
"BITCH, BACK UP OFF MY CHRISTMAS GOAT!"
(See, I'm laughing now. Welcome to the mind of a child trapped in a thirtyish-and-holding body.)
Moving on.
I love fur. I probably get it from my grandmother, who once had a closet full of it. She's not in great health now, but I'm pretty sure she could still take down an army of PETA activists with one swing of a 30-pounds-of-fur-clad arm. Do not touch her mink!
(That is not a hair accessory. It's a big damn snowflake that happened to land on my head at that moment.)
This Furline Hoodie from A:S:S is sexy as hell and, at 75L, makes me feel giddy. I particularly like the fact that creator Photos Nikolaidis packs it with a notecard that says,
"People! For the love of God, delete the resize scripts before you try to TP in this epically primmy thing!"
(OK, actually he didn't use those exact words, and fortunately for him I don't write his notecards.)
That so-disgusting-it's-awesome Off With My Head Snowman is 100L at Post Mortem, the headquarters for all your dark and twisted holiday needs. It includes a dripping blood animation. Merry Christmas!
I'm dressed for battle because I'm going to try to finish something like 19 hunts in two days. I've deleted the resize scripts in every prim, slapped a Baiastice hairpiece on a tattoo hairbase and said "to hell with shoes." I'm starting with the Diamond is Mine Hunt because every prize (and link to each stop — THANK YOU!) is pictured
HERE
and I like a bunch of them. (Earthstones! LeeZu! Shiki! Mood!)
I like to help people, so here are the Websites I can't live without on these fueled-by-greed weekends:
—
For a list of current hunts, links to their blogs and, praise God, PICTURES of the prizes,
I go here:
SL-Schnaeppchen Freebs, Sales and More.
There's a slight language barrier, but whatever.
(What does schnaeppchen mean?)
I also check out
SL Freebie Hunters.
Between the two of them, I can usually tell if a particular hunt has prizes that are humorous enough to inspire me to search for them.
(Always looking for blog material.)
—
To get the scoop on some of the coolest Lucky Chair schwag,
I go here:
Lucky Kitty Crew
.
— Even I, the Queen of Way Too Many Words, do not have enough of them to thank Penelope Thiessam and her crew over at
The Rumor
blog for traipsing around and taking photos, complete with oft-humorous commentary and location links, of almost
EVERY
sale item in
50 Linden Fridays, Super Bargain Saturdays, Saturday Night Fever, Project Themeory, Stumblebum, Humpday Happiness, Lazy Sunday, TOSL, Thirsty Thursday, The Dressing Room,
and certain hunts, sales and events. My God, they're INSANE over there! I'd offer to help them, but I'm too damn lazy. I can write a glowing paragraph about them, though. Here, watch it glow:
*glow glow glow glow glow*
— There are so many stores in
60L Weekends,
I used to not even go there. The three-notecard list of participants is exhausting, even though I appreciate the widespread generosity it illustrates. Fortunately, there's a Flickr page of all the sale items here:
Official 60L Photos.
It's refreshed every weekend so the photos are always current. Even the vast quantity of photos is a lot to digest, but I always at least check out Altya's Dream Creations, Primalot, A&M MOCAP Studios, Dare, DV8, Snowpaw Fashions, Ear Candy and a few others.
OK, time to wrap up this post. The photos were shot in this really wonderful Christmasy location called my yard.
Awwwwww yeah, baby! I like the fact that my festive gingerbread house (825L) by MB-CreationZ is bigger than my snowy cottage (1500L) by Reek (both purchased on Marketplace). Oops!
Frankly, it's not enough holiday yard decor for me, but I have 20 prims left in my prim allowance. So, um, there's no furniture in those houses. Well, except for —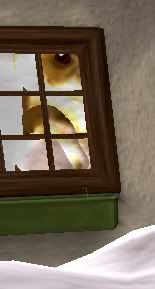 BUNNY!
If you're jealous of my Christmas Goat, today's Neon Frog MM board offering is a hog. (Rock.) I'm always surprised to get the "What's an MM board?" question, but it happens often. MM is short for Midnight Mania. Each MM board has a target number on it. If that many people touch ("slap") the board, everyone wins the featured prize, which is delivered at midnight. Good times, yes?
Please, please, please go slap the Neon Frog board today because
I NEED THIS HOG!
You need it too. Yes you do! And show some love in return for the great MM board freebs by checking out the rest of the store. The animals come in trans-perm versions so consider them for stocking stuffers this year. Big stockings. (Dear Neon Frog, please make a unicorn. Love, Emerald.)
YOU WANT A PIECE OF THIS?
Neon Frog
A:S:S
Post Mortem
(check out the MM boards while you're there; they're usually pretty cool)
My Yard
, photo shoot appointments available on request
MB-CreationZ Mainstore
and on
Marketplace
Reek inworld
and on
Marketplace
** Poses (except for the last pic) are from the A Fairytale set by
.Tea
, eight poses for 75L this weekend for Project Themeory
Have fun today! ♥