I'm using a pose from
HelaMiyo's
Poses Against a Wall pack, but I gave up trying to position my AV against a wall and decided to just look stealthy like this on my farm. Pretend I'm a very talented mime.
I love orange. In RL it agrees with me, as my grandmother would probably put it. I'm partial to it. So this Brig dress by
CheerNo Femme
makes me a little giddy. As usual, I'm coming in like a late-yet-awesome racehorse to tell you that you still have SEVERAL HOURS to go pick up this dress for 75L. Thank you, Project Themeory! If you miss it, this dress is available in several colors for the full price of 350L.
A few months ago I had a brief conversation with a chick in SL who told me that because of her chemotherapy, the color orange makes her nauseous. However, she was trying to pawn off an orange cat for my teal one, so who knows. I've met a lot of SHYSTERS since I ventured into the wild world of procreating pixels. If that was true though, that really sucks. And in that case, I hope she's not looking at this blog post. :-|
Speaking of cats, KittyCats has once again made me go "Wowsa!" with its spring collection of limited edition Lazy Dayzie cats. A friend gave me this Sunny Day cat as a gift: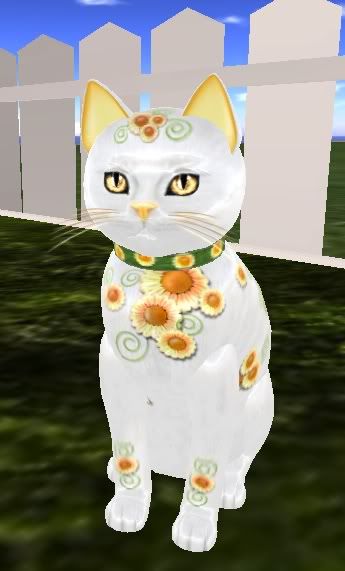 I named her "Orange You Glad You Have Friends With Lindens?"
GAWD DAMN SHE'S BEAUTIFUL! I am continuously amazed by the care and detail that goes into these cats. I can't wait for her to start popping out baby Cocos and Flames!
(That's an inside joke — my cats never have exciting babies. They only throw ghettos, as we say in The Ghetto KittyCats Support Group. *ducks while people throw things*)
These cats are 800L each; but if you have my luck and warped determination, you'll spend about 7000L trying to get the color and gender you want. There are four colors of cats (pink, purple, orange and blue), but the color and gender are randomly selected when you buy one. It's like an expensive cat gatcha machine. Each cat comes with a week's worth of food too.
Hey, look at my bracelet:
Collage Bracelet in Zebrawood by
Elemental Earth Designs,
99L. Several types of woods are available. It's really cool — it makes me wish I were a much better photographer so you could really get an idea of how unique it is.
I've been wanting to blog about Elemental Earth Designs for a while but I just haven't been feeling up to the task of trying to do it justice. I still don't, actually, but I could hear this jewelry gasping for breath in my To Be Blogged folder so I'm gonna give it a little mouth-to-mouth now. Plus, creator Sirena Penucca held the grand opening of her giant new store this weekend so I wanted to give her some love and attention. I first saw her work at last year's Jewelry Fair and I've kept my eye on her ever since. I love the eclectic, earthy vibe she's got going on.
This Nesting set in Vireo is just darling, and I rarely use that word. It includes a ring, and this color is on sale right now for 75L. Also, if you join the Elemental Earth Designs group, you'll get this set in Pastel for
FREE.
Let's look at the vendor picture since my camera exploded when I tried to zoom in on this necklace. It was probably awed by my powerful cleavage.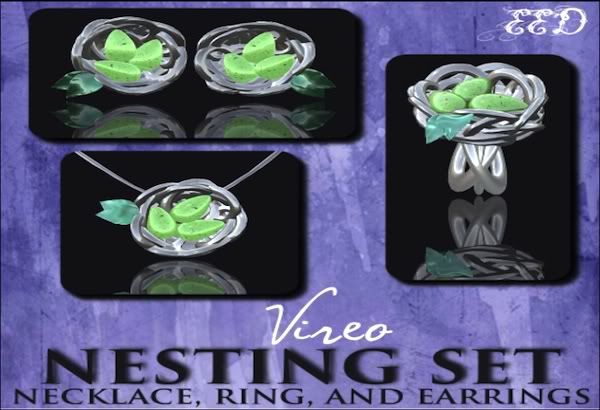 The eggs have little speckles on them! This set is available in other colors and, um, I might have stretched that pic out a little too wide. oops.
(Hey, I love that new Karen hair, shown here in Driftwood, by Truth, BTW. It made me want to be a ravishing blonde for a while. Or at least for this blog post.)
And if I had an SL boyfriend, I would buy him this Message in a Bottle necklace:
You can put your own personal message in it. Mine would say, "OK, now it's your turn to buy ME jewelry."
I'm such a romantic.
If you celebrate Easter, I hope you and your family had a joyous one today!
VISIT INWORLD
Elemental Earth Designs
CheerNo Femme
HelaMiyo
KittyCats mainstore
Truth
Skin: Mynerva
- Kianna in Smokey, with Mynerva tattoo layer lipstick in Soft Coral
Shoes: R.icelli
- Sophia in Teal for
The Dressing Room