I went a little wild at Project FUR Japan today, pardon the pun. It's officially open to the public now, but they let bloggers in early if we asked nicely.
Proceeds from sales at Project FUR Japan go to Japan Earthquake Animal Relief and Support. Wait, that doesn't look right. Let me fact-check that . . . [long pause] . . . OK, actually it's Japan Earthquake Animal RESCUE and Support. Damn, I was so close!
Cool stuff. Mediocre pictures. Lookin' sassy. Let's hit it!
Cute Panda Tee, 100L, by
Sassy Kitty Designs.
Sometimes I think Sassy Kitty Designs doesn't get enough credit for bringing the awesome. *makes a note to give them more blog love in the future*
Brooke dress in Chocolate, 315L, by
Elate.
I'm on a quest now to find this dress in real life. Pardon my brief lapse in modesty, but I would look awesome in it. It's exactly the kind of thing I'd wear on the rare occasion when I'm in the mood to flirt with the cute single lawyer who works on Floor 11 of my office building. Someday he will be mine. Anyway, the swingy skirt shows off the legs, which are my favorite feature in RL, and the belt accentuates the waist. All I need is a Victoria's Secret Miraculous push-up bra under the sexy — yet classy! — sleeveless shirt and a couple of slathers of self-tanner and I'd be hot to trot, baby!
Shoot, I was totally getting excited there for a minute, and then the harsh reality that NONE OF THIS IS REAL came crashing down around me. Dammit. Dammit to hell.
Speaking of hotties, let's pause for a vendor picture:
Thank you, ASKA.
Um, OK back to me.
I couldn't love this necklace more:
Ling Ling, 100L, by
LOULOU & Co.
The problem with taking close-up pics of necklaces is that you can totally see my fitting fail. Even with scripted resizers, I still suck at it.
And now for the moment you've all been waiting for: a big damn picture of my face. Eyes, to be exact: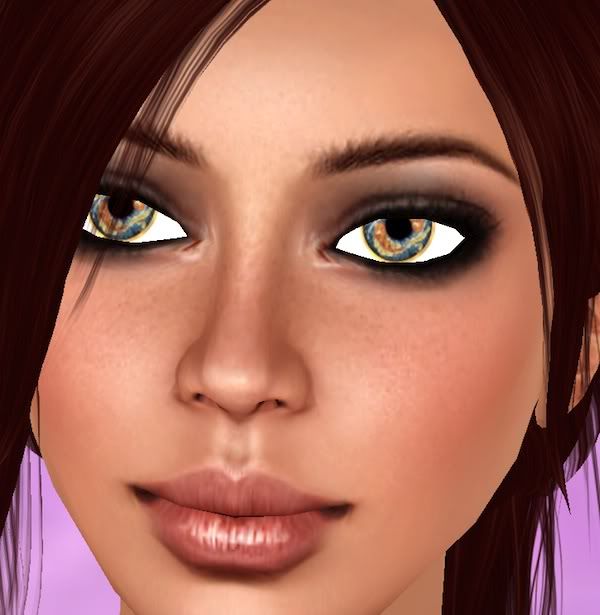 Fishy! Hell yeah. Koi Eyes, 12L, by
Abundantia.
YES! You read that right! Twelve lindens!
That's my skin of choice these days, BTW — Kianna in Smokey by
Mynerva.
Now we need some kicky shoes and an equally kicky bag.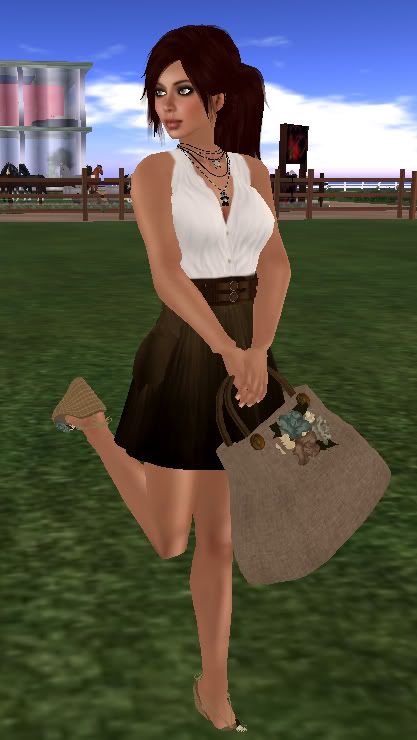 Rose di Tela shoes and purse set, 180L, by
Pelletteria Morrisey.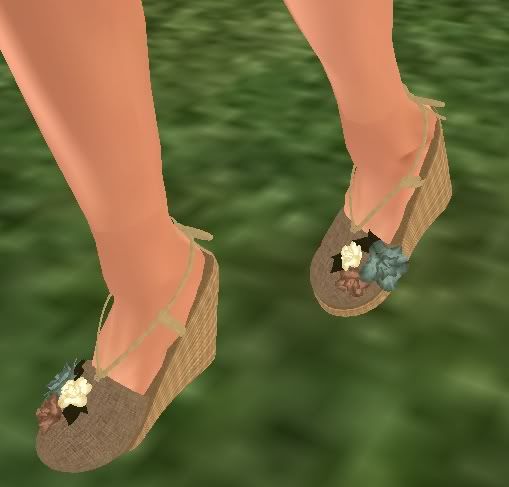 Woo those cankles are sexy!
The hair I'm never taking off is Carina in Burgundy by
Truth
. He released it a couple of weeks ago, I think. Or maybe it was last week. It all blends into one long hellish day, frankly. It's my favorite hair of all time. ALL TIME, I say!
I have a migraine. I'm going to stop staring at this computer screen and stare at my TV screen for a while. Maybe I'll finally watch the movie, "Black Swan."
Everything except the hair and skin is available at Project FUR Japan, which I believe is open for three weeks.
HELP THE JAPANIMALS!
Project FUR Japan marketplace
Project FUR Japan blog