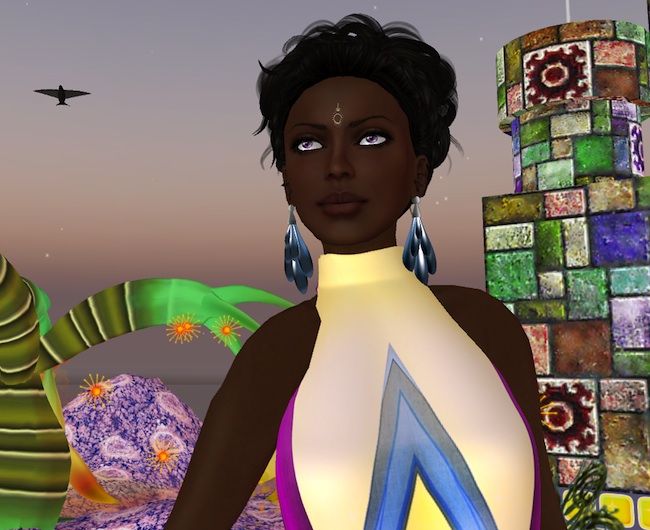 I have to crank out some
Culture Shock
posts or I'm going to end up on a List of Shame somewhere. Then I have to crank out some
SL Home & Garden Expo
posts. Then I will crown myself Blogging Champion of the Universe and dance a little jig.
Anyway. Now you will see some clothes-that-do-good-deeds,
BUT FIRST
you must travel.
If you haven't been to the fabulous sim that houses
Photon's Castle
, I urgently urge you to go check it out. It's an explosion ("EXPLOSION") of color and whimsy and one of my favorite places in SL. I went over there today and was delighted to see that it's still around. You never know when something's going to vanish around here, you know?
And thank you, Second Life, for letting me be a beautiful woman of color for a day. This Idhaya skin by
[IrEn]
at Culture Shock
is gorgeous and includes five different bindi versions. Today I learned that it's HARD to photograph dark skin — at least for me. Kudos to those people who can pull it off.
OK, so I'm going to try to break this post here to see if it'll jump on the feeds as well. I hate to spam the feeds with a long row of usually bad pictures, but that's kind of how we roll over here. So this is a test . . . . .
Hope that worked. And now, back to business. That mesh dress by
22769
at Culture Shock
is groovy as hell. Let's stomp around in the water in it some more:
There's a side view. Creator
Paco Pooley
made this dress with standard sizing — and the alpha layer matches perfectly — so it fits me like a dream. I like how it's all curvy and bendy and stuff. And I like to use complicated fashion terminology when I write.
Whenever I see the store name 22769, I get stuck on that '80s song "867-5309/Jenny" by Tommy Tutone. (Hell yeah, I had to Google it to find out who sings it. That is one obscure-ass song.) Did you guys prank call that number when you were kids? We did. Those were the good old days, before Caller ID existed and prank calls were, like, a cool thing to do at slumber parties. And yes, I'm old.
I don't have a smooth segue to put here, but everything about this next picture is oh-so-wrong. It was on its way to my virtual trash can when I felt the strong inclination to share it with the world. Ignore my slouchy hot mess of an AV with everything poking through her dress and all that: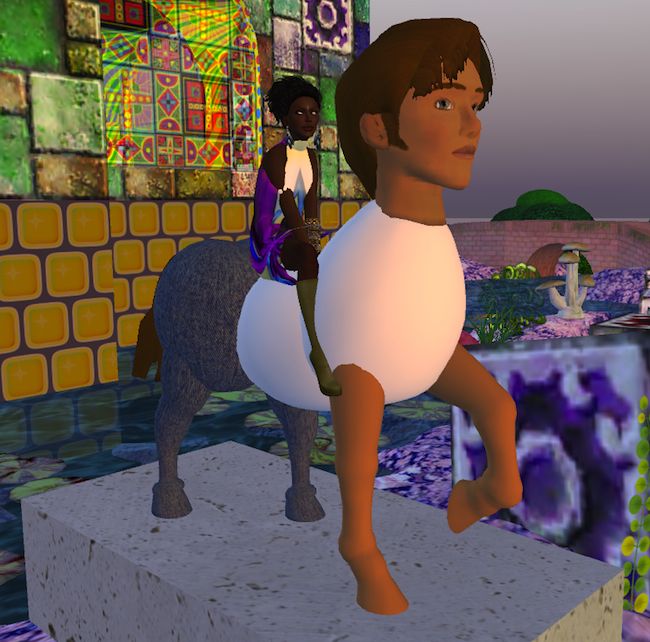 I have seen that noob guy in many incarnations, but never as a
CENTAUR!
I dropped creator
Photon Pink
a notecard asking if she would sell me one since they're not available in her store. I want one for my yard.
FINGERS CROSSED!
CHECK IT OUT:
—
Culture Shock
is an annual sim fair event (organized by CHIC Management and sponsored by Modavia Productions) in which more than 180 of the grid's best creators present new and exclusive items inspired by their RL cultures. Some or all the proceeds from specially designated items will go to
Médecins Sans Frontiéres (Doctors without Borders)
, "an international, independent, medical humanitarian organization that delivers emergency aid to people affected by armed conflict, epidemics, healthcare exclusion and natural or man-made disasters." Visit the MSF Website
HERE
. The event runs through May 26. The streets are color-coded.
—
Photon's Castle
- Be sure to go outside and meander ("MEANDER") along the nature trails.
LOOK AT THE STUFF I GOT AT CULTURE SHOCK:
Dress
-
22769
- [femme] Tube Dress, 60ies [mesh] (180L, 100 percent donation item, located on Orange Street)
Skin
-
IrEn
- Idhaya, Modern Bindi (350L [damn, that's a steal for a skin], includes five versions with different bindis, located on Green Street)
Boots
-
Ingenue
- Jude Boot, Mustard (295L, 100 percent donation item, located on Blue Street)
ALSO WEARING
Earrings, Bangles
-
[glow] studio
- previous Dressing Room and Dressing Room Blue items
Hair
-
Truth
- Alessandra w/Roots in Night
(NEW)
Eyes
-
Vision by A:S:S
- Intense
mesh
eyes in Orchid, Clear (also includes natural version, which means the whites have veins and aren't as white )