I'm trying to write this post with my five-year-old niece hanging over my shoulder, so bear with me while I make it snappy.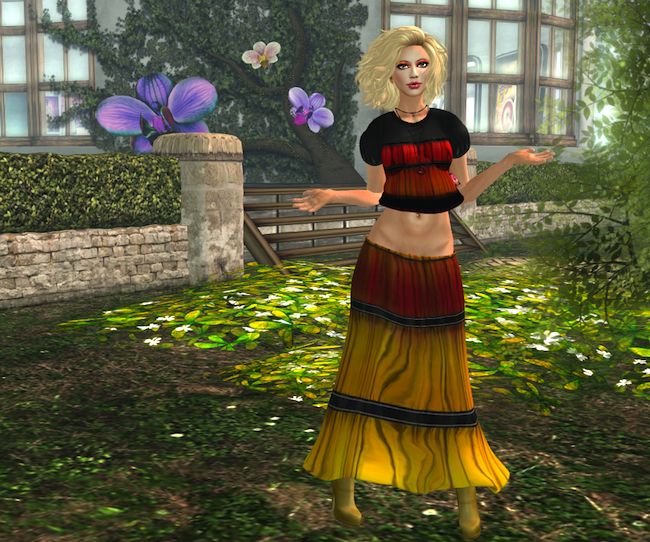 I've talked before about how much I admire creator
Iokko Molko
, which is why I'm pretty excited about the grand opening of her new
Sugar
mainstore.
(SEE — that's why my pose is all, "Hey everybody, look at this store!" Heh.)
It's located on the Insane Asylum sim, but don't let the name intimidate you — it's actually quite lovely.
This weekend you can get Iokko's new mesh Gypsy outfit, shown here in Fire, for 199L. It also includes the necklace I'm wearing and — not shown — matching daisy ring, hair daisies and flip-flops.
I've grown significantly more friendly toward mesh since I picked up a box of free standard sizing mesh shapes
HERE
on Marketplace and created an Emerald Mesh version of my shape. That, combined with creators who get their alpha layers right, makes for a painless experience.
I like this outfit because it dips dangerously low but doesn't show hardcore crack. Well, actually my niece and I got into a discussion about it. She thinks it "shows that girl's butt" but I don't. Not compared to some pants I've seen out there.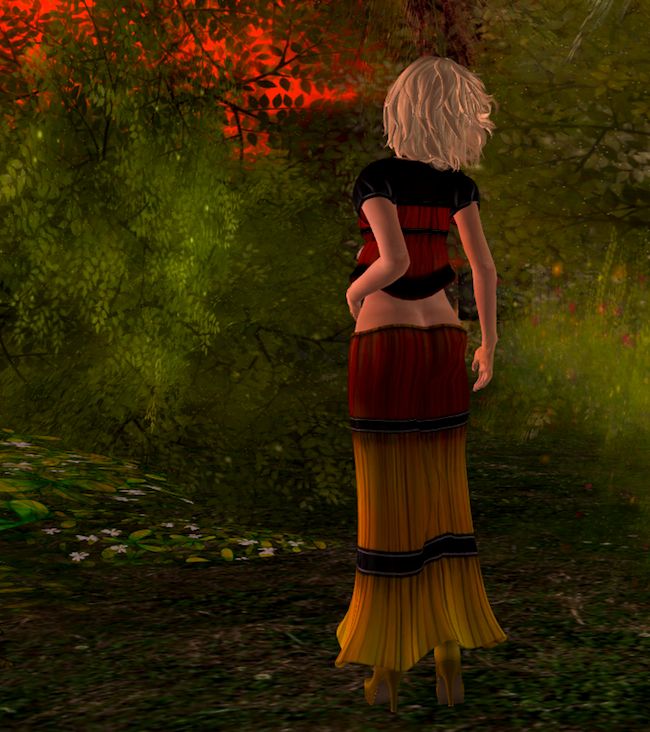 The new Gypsy skins at Sugar also are on sale for 499L this weekend. Go check out some demos! Dooo eeeet!
Gypsy in Sunset, Tone 2. Hot diggity.
Now that I'm staying at my brother's (and his wife's and their two young daughters') place, moments of privacy are somewhat rare. I had to explain to him what Second Life is, which was awkward. He seemed to take it in stride though, which was refreshing. My brother fancies himself a video game connoisseur and was fascinated by this Truth hair — Georgina w/Roots in Champagne. He had, like, a graphics-gasm over it. "It's more sophisticated and moves more realistically than hair in some of the most advanced video games I've seen," he said. Hell yeah it does — that's why we love it.
Not shown in this post is a scantily clad chick in latex who was doing a booty dance all around me while I was trying to take these pics. When I finally trained my camera on her to give her the attention she must have desperately wanted, she poofed. Oh honey, you missed your three seconds of fame!
It's been a while since I've run a "Hey, look at this blog I like" section.
HEY LOOK AT THIS BLOG I LIKE
For those of you who don't give a damn about clothes, I am fascinated with this guy's fascination with bots in the blog
The Bot Zone
. He calls himself Little Lost Linden and he hasn't posted in a while, but his blog made me grin. I don't know him but I think I'd like to go on a bot hunt with him. I haven't thought twice about bots in a while. Now I will be watching for them.
VISIT INWORLD
New Sugar mainstore
ALSO PICTURED
Poses
by
oOo Studio
(at
Culture Shock
),
HelaMiyo
, and
exposeur
, respectively
Eyes:
Prestige in Gripsholm by
A:S:S
Shoes:
Jude Boots (Mesh) in Mustard by
Ingenue
(at
Culture Shock
)
Woo, I'm overdue for some Culture Shock posts. Trying to crank them out, I swear!
Big hugs,
Em