I've never had a run-on headline before. You should try something new every day, kids.
So I had to kind of chortle a little when my lovely friend Joonie suggested I blog the
SL Home & Garden Expo
, which benefits Relay for Life. Even though I buy furniture like a mad woman, I hardly ever put it out. I guess I'm a furniture hoarder. Particularly because I live like a minimalist in SL: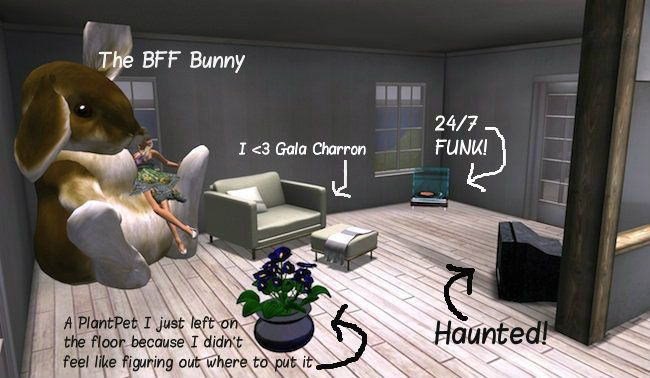 There's always going to be the Bunny, of course. Other than that, right now I only have The Edge of Winter chair and ottoman by
Art Dummy
, that Haunted TV by
FallnAngel Creations
("They're heeeeeere!"), that FLO JAMS Turntable by
La Flat
(one of my favorite things ever; it streams cool music and I want to marry it), and a
PlantPet
that I just sort of left on the floor out of sheer laziness.
I live a sparse and solitary existence. And I like it that way.
And don't get me started on the yard.
Well, OK, get me started on the yard because we need something to talk about here.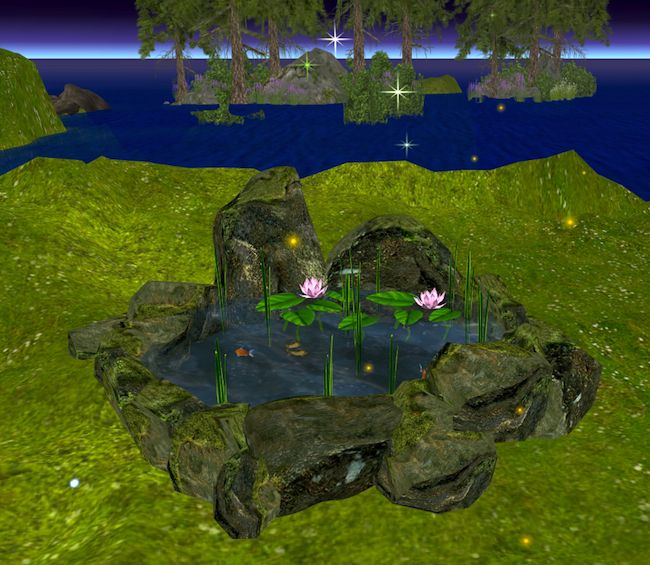 Koi Pond by buddhabeats, RFL item, 299L
I am the Queen of Terraform Fail. Look at it! Just look at it! Look at those jaggedy edges! You really have to see it in person to fully grasp what a total disaster it is. You know, my RL birthday is coming up in eight days (**sob!**). All I want for my birthday is for someone to come terraform my damn yard.
So back to blogging the Expo: I went there yesterday on Blogger Preview Day, but I really only made it through I think four of the 14 sims (14 SIMS!!!) before all the bloggers were booted out (nicely) at 10 p.m. During that time, I crashed about 25 times. Maybe 40. Even my friends were screaming,
"QUIT IT!"
because of the constant "Emerald Wynn is online," "Emerald Wynn is offline," Emerald Wynn is online," "Emerald Wynn is offline." It was madness. Damn this crappy graphics card.
I did make it to the
.:buddhabeats:.
exhibit there, though. Creator
Roopert Huldschinsky
is both a Buddhist and a DJ — thus the name. I really love his work and his vibe. One of his RFL donation items is that soothing Koi Pond (299L) up there. Even the wonky eyesore of the yard in which it sits cannot mar the serenity it exudes . . . *cough* . . . um, if you squint your eyes and don't look at the grass or the parcel borders.
I also made it to
fucifino
. (I like how the first words to come to mind are "made it to," as if I triumphed over a great quest that was fraught with peril. It sort of was for me, though.)
This Verona Out on a Limb lamp (RFL donation item, 99L) comes in a set of three sizes. The optional cord and electric socket are also included in three sizes. While creator
Trinitybell Meriman's
work is always lovely, the main reason I like this lamp is the
ELECTRIC SOCKET!
I don't know why, but I love electric sockets in SL. You could stick one on a rock and I'd get excited.
That dress-that-I-love-more-than-life-itself is
Bliss Couture's
Bryn Sculpted Dress (290L, 100 percent donation item), available at
Culture Shock
.
VISIT INWORLD
—
SL Home & Garden Expo
- This year marks the 5th anniversary of the Home & Garden Expo benefitting Relay For Life of Second Life. It runs through 10 p.m. SLT, May 28 and spans 14 sims, with more than 100 exhibits. For more information, including a map, visit the
Official Website
.
—
.:buddhabeats:. at the Expo
—
fucifino at the Expo
—
Culture Shock
to benefit
Médecins Sans Frontiéres (Doctors without Borders)
(
Hair
- Kirby w/Roots (NEW) in Champagne by
Truth
)