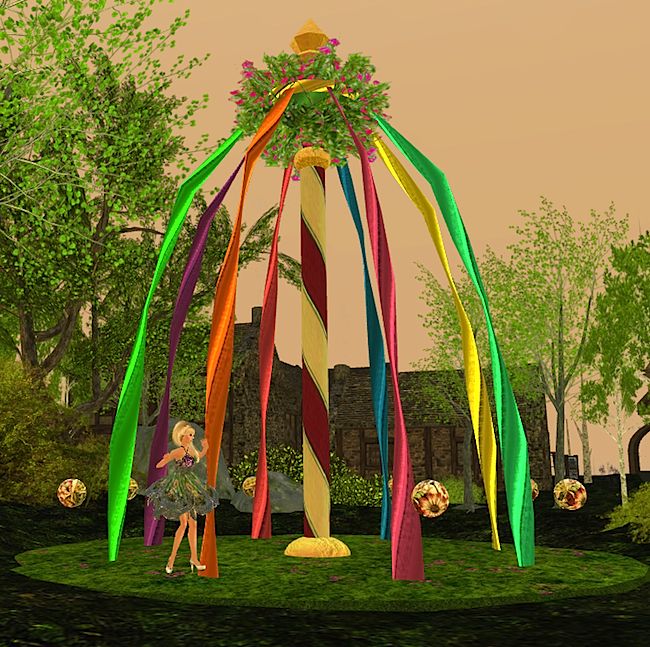 (My what a BRIGHT PEACH SKY you have! Windlight setting fail. Sorry. Someday maybe I'll get it right.)
A few weeks ago, someone mentioned in a group chat that she was desperately looking for a nice maypole, and unfortunately the rest of us were completely maypole-clueless. I don't remember who the person was or even what the group was, but HEY, I found one today! And on the last day of May, too! (Dammit!)
*looks shamefaced* I guess maybe you should file this post under "stuff I may or may not give a damn about next May."
It's 650L at
Kismet
and includes those pretty dance balls attached to each ribbon. I think I've mentioned in previous posts that sometimes nothing makes me laugh harder than watching my AV dance. The maypole was no exception. No matter how supreme the animation is, for some reason my AV always looks like Elaine in "Seinfeld" when she dances.
Anyway, sometimes a picture is worth 50 of my words, so everything you need to know about it is in this vendor pic:
BTW, I found it while scrambling (what else is new) to finish
Prim Perfect's It's Fun to Be 5 Birthday Hunt,
which ends today. If you've still got decorating fever after the SL Home & Garden Expo —
which raised more than 8 million lindens ($32,737 USD) for Relay for Life, WOOHOO!
— many of the vendors who were there are participating in this fun hunt, which ends today. A list of the 90 participants and hints for the locations are on
The Whiz Hunt
blog
HERE
.
This tabletop garden is Kismet's hunt prize. I love it — a big thank you to creator
Cierra Anatine!
(Because I'm sure she reads this blog religiously, laugh.) Take a stroll outside along the banks of the river near the swans to find the cupcake that holds this prize.
VISIT INWORLD
Kismet (Maypole location)
– Medieval, Celtic, Old World Furniture, Homes and Textures