Happy Second Birthday,
CHIC Management
! Whenever CHIC hosts a shopping event I get giddy, so hells yeah I'm celebrating this milestone! Thank you for two years of well-spent lindens, CHIC, and bravo to fearless leader
Keira Seerose
!
Guess what else is celebrating a birthday this week: My fake RL boobs!
(Laugh —
YES!
I'm totally stretching for blog material here, and yeah, I chose boobs so maybe you'll read it. I know there are 9 million posts about CHIC2 today. At least mine has some references to nipples and nudity.)
It's true. After daydreaming about it for something like 20 years, this time last year I finally got a boob job. I went from a double-A to an all-American C cup, and frankly, my life has not changed as miraculously as I thought it would. People don't stop and applaud when I walk by. Nobody's throwing me a boob parade. Men don't gasp in amazement at my chest and ask to take pictures of it. Hooters has not called me of its own accord and offered me a job. Life with boobs is sort of just as non-eventful as life with no boobs.
OK, wait, I take that back. I dated a guy for a while, and then when I broke up with him he got a little crazy. Wouldn't stop calling me. Left long melodramatic messages on my voice mail. Sent me annoying text messages. But the thing was, he didn't say things like, "I miss you." Instead he would say things like, "I miss your body." Yes. He pined for my boobs after I yanked them out of his life. It drove him to madness. (Until he met his next chickie, which didn't take long at all.) So there's that, I guess. I didn't need to try as hard to have a shining personality or be witty and endearing when I was with him. All I had to do was stick my boobs in his face and he seemed pretty happy.
I did buy a kicky little dress like this one in RL, though. It's cut just as low too. And then I put it on and was too self-conscious of my bouncy, water-balloon cleavage to even LEAVE MY HOUSE. Oh the IRONY!
What does this have to do with Second Life? You're right — ABSOLUTELY NOTHING! Sorry. I guess I could tie it all together here by saying that while it seems really strange for my RL self to finally have breasts, it doesn't seem strange at all for me to pump up the sliders on my AV. I am perfectly comfortable with my femininity when it's in pixel form, but I guess still not so much when it's bouncing up and down in front of my real face. Cosmetic surgery will not fix a wobbly self-esteem, and life is a self-imposed mind game we're constantly trying to win. There's your sage observation for the day, kids.
Um. Anyway.
I've never shopped at the store
Echo
before, but I saw this dress at a bloggers' preview of the upcoming CHIC-squared (I have no idea how to make that little tiny 2) birthday event and bought it because I loved the vibrant colors. I also bought this event-exclusive new
Glam Affair
skin, Mia. While some designers had review copies out, these two did not during the time I was there (which was pretty early), so hopefully the fact that I shelled out actual lindens for this stuff will serve as testament to my genuine affection for it.
God damn, that sentence gave me a headache.
I'm not sure if I'm allowed to give you the SLURL yet, so check back here tomorrow or in future posts if you need it. The event features 150 beloved creators and runs from 4 p.m. SLT June 3 through June 24. The venue is kind of cool —
SHOPPING CUBES!
(I have no idea what the formal terminology is, but why the hell don't we have these in RL? They could give us motorized wings when we shop there. Actually, it looks like something cool you'd see in Japan. So get on it, Tokyo.)
Here's a really bad picture of one corner (still in the works):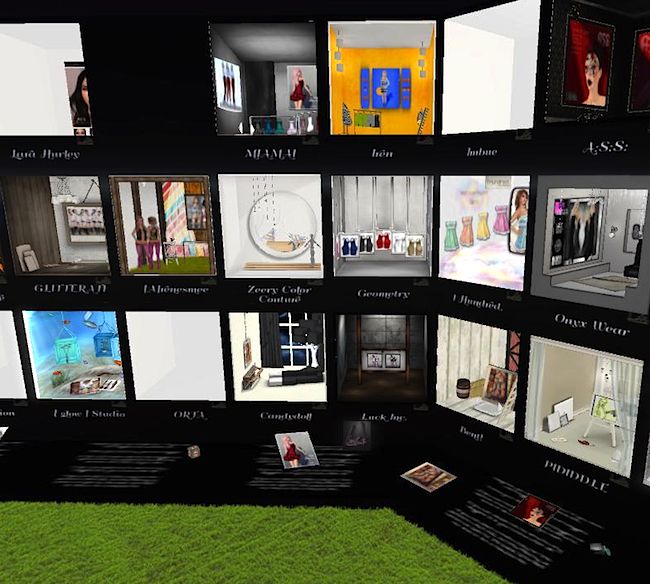 For a list of all the participating creators, check out the CHIC Management Website
HERE RIGHT HERE CLICK THIS.
ROLL CREDITS
(the things I bought are noted)
Dress
–
[ECHO] at CHIC2
– Measure Mesh Dress in Lime Teal, 150L
(Bought)
Necklace
–
[glow] Studio at CHIC2
– Seahorse Necklace, 150L
(Bought)
Earrings/Ring
–
Chloe at CHIC2
– Honey Drop Earrings in Honey, 125L; Honeycomb Ring in Honey, 125L
Skin
–
Glam Affair at CHIC2
– Mia Natural, CHIC2 Exclusive, 1299L - includes six eyebrow versions
(Bought)
Makeup
–
Pekka at CHIC2
– Hydra Lip Balm (3), 120L includes five shades
ALSO PICTURED
(not at CHIC2)
Hair
–
Truth
– Roma2 w/Roots in Champagne, 250L per color pack, includes texture-change scarf, non-bangs version, non-roots version
Eyes
–
Vision by A:S:S
– Northern Eyes, Grass
Shoes
–
R2
– Mele in Off-White, previous Collabor88 item (not sure if it's in stores now but the rest of R2's shoes are cool too)
AND A HUGE THANK-YOU
to my friend
Eurydice Barzane
for her generous gift of an SL shopping spree for my RL birthday, which made the above purchases possible. I love her blog – she deserves a flock of followers. Check it out and MAYBE SHE'LL WRITE MORE! (Laugh)