Sometimes when I'm writing a blog post like this one, I think about what would happen if, say, I got killed in a car accident or a plane crash or in some other untimely death scenario. There would be a little weeping and much drinking, then a trek to the church on the other side of town for some kind of dysfunctional memorial service — which, as specified in my will, would have an open bar in the back —and then more drinking. Once all the formalities were over, my grieving family would sort through my things and probably throw most of it away. Eventually they'd find my laptop and open it, maybe hoping to find some funny photos or read something that'd bring my voice back to life for a few minutes.
They'd find the folder named "Blog" on my desktop.
They'd say, "Gosh, we didn't know she had a blog!"
They'd double-click it.
And then they'd find this picture:
And then the only sound in the room would be a collective gasp, no doubt followed by a confused and horrified, "What the holy f*ck?!"
On Marketplace:
Hello Kitty Humiliation Outfit, 249L, by GZ Fetixxx
I've been fearlessly collecting Hello Kitty contraband ever since a friend told me that Linden Lab could crack down any day and delete all the Hello Kitty (and other trademarked) items from my inventory. So I keep everything in one folder called
"Hello Kitty! OOOOOO - YOU'RE IN TROUBLE!"
That way if it really does happen, all I'll have to do is check that one place to see if anything survived the Hello Kitty rapture.
Um, but Hello Kitty's slip-n-slide latex adventure — complete with matching
STRAP-ON
(they should have put a little red bow on it) — will not be joining my prized collection of Hello Kitty happy happy fun time, like my HK house, toaster, guitar, watch, radio and hot air balloon, to name a few treasured possessions. I have to draw the line somewhere.
I guess I'm not as devoted a collector as I thought, because there's no way in hell I'm buying a Hello Kitty Humiliation Outfit. That is just so wrong on so many levels.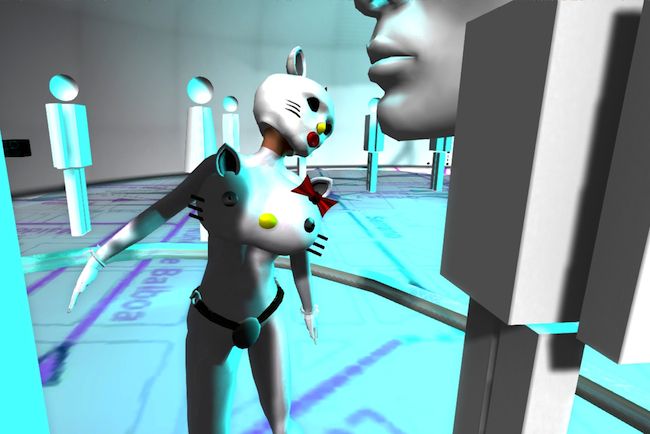 Oops. (HELP! SO MANY EYES ARE WATCHING ME!)
Well, OK, I caved because I discovered a secret desire to run around in jeans and the top. ("I'll take your done-to-death Hello Kitty T-Shirt and raise you my Hello Latex implants!") And actually I have a number of outfits that could be beautifully enhanced by that Hello Kitty uniboob.
*dies laughing*
Damn, every time I think I have
SEEN IT ALL
, Marketplace comes along and
GUFFAWS
in my face. I like it though. It keeps me on my toes. So if you see a Marketplace oddity that merits blog love, please send me the link.
Photo location: "Future Communities" by Noke Yuitza at SLB9