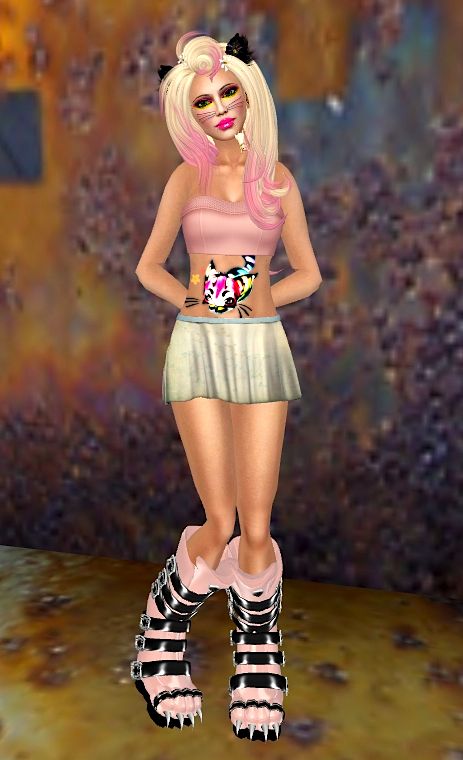 There's a fundraising event going on right now called
SVPAP Project Rescue
, and I'll admit that I'm having a bit of a problem with the language barrier in the notecard describing it.
The gist of it is that it's an effort to raise money for the
Sociedad Valenciana Protectora de Animales y Plantas (SVPAP)
. I plugged the Website into Google Translate and garnered that we'd call it the Valencian Society Protection of Animals and Plants, and that this nonprofit organization — headquartered in Valencia — sponsors several worthy animal welfare projects, including feline sterilization, pro-animal rights legal advice, a veterinary clinic and a refuge for abandoned animals. Relevant links to more information are below.
I went over to the venue today and got several cool and very affordable things (see credits below).
In some sad news, two stores that have been around since I was a noob are closing.
To me,
Long Awkward Pose
— and more specifically, its creator
Dove Swanson
— is the pioneer of the SL pose industry. (Laugh – is it an industry? It is now.) I discovered the joy of poses through [LAP], so it saddens me to learn that the store will close
June 17
. Until then, all pose sets there are discounted at 50 percent off or more.
DV8
is also closing; unfortunately I don't know the exact date. I'm not sure how to describe DV8's style — let's go with "cyber sexy." I can tell you that my inventory is jam-packed with the store's wild hair, kick-ass boots, vivid clothes and generous hunt prizes. They will be missed. At the moment, EVERYTHING in the store is on sale for 50L, so run over there and stock up on DV8's distinctive fashions before it's too late.
Meow.
VISIT INWORLD
SVPAP Project Rescue
Long Awkward Pose
DV8
FOR MORE INFORMATION
SVPAP Project Rescue Website
(SL)
SVPAP Website
(RL)
ROLL CREDITS
Skin
–
Sugar at SVPAP Project Rescue
– Hello Kitteh, includes four tones and cleavage options, 250L (100% donation item)
Mouthie
–
PSYCHO:Byts at SVPAP Project Rescue
– Trapped Mouse (WITH 59 ANIMATIONS, Y'ALL!), 100L (100% donation item)
Tattoo
–
Ayna~ at SVPAP Project Rescue
– MewMew, 99L (100% donation item)
Eyes
–
Peippo at SVPAP Project Rescue
– Nature Eyes, includes four colors, 60L (100% donation item) (Just a heads up – if you like the whites of your eyes to be really white, these are not the eyes for you.)
Top
–
Ingenue
– Lottie Bustier in Cherries Jubilee,
FREE
,
Mesh Around Hunt
prize
(ends June 15)
Skirt
–
Evolve
– Dandy Skirt in Ecru,
FREE
,
Mesh Around Hunt
prize
(ends June 15)
Boots
–
DV8
– Rivet Kitteh Boots 2.0, 50L
(Closing Sale)
Poses
–
[LAP]
– from the Sweetheart pose set, 100L
(Closing Sale)
Hair
–
Ploom at Collabor88
– Daydream in Dipped, includes optional hair flowers, 88L at May Collabor88
(HURRY – ends June 8)
Ears
–
Battle Angel
– Hope Rose Ears, previous RFL Hunt prize