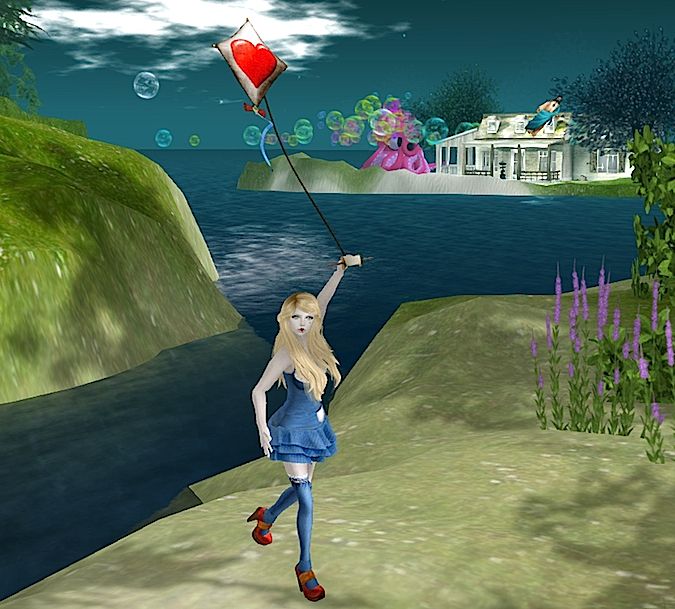 Hey, see if you can find Jesus in this picture.
Speaking of going to hell, usually I wouldn't be caught dead in anything that exposes my nips. I'm just not that kind of girl. Just call me Prudy McPrudess of Prudeville.
But I really like this Naughty Alice dress from
Sugar
. The skirt is mesh and the details are fantastic. But yes, just a warning: This saucy take on Alice in Wonderland (also available in Little Red Riding Hood Red and Snow White-inspired Black) is
PRO-NIPPLE
. So get ready to air those babies out!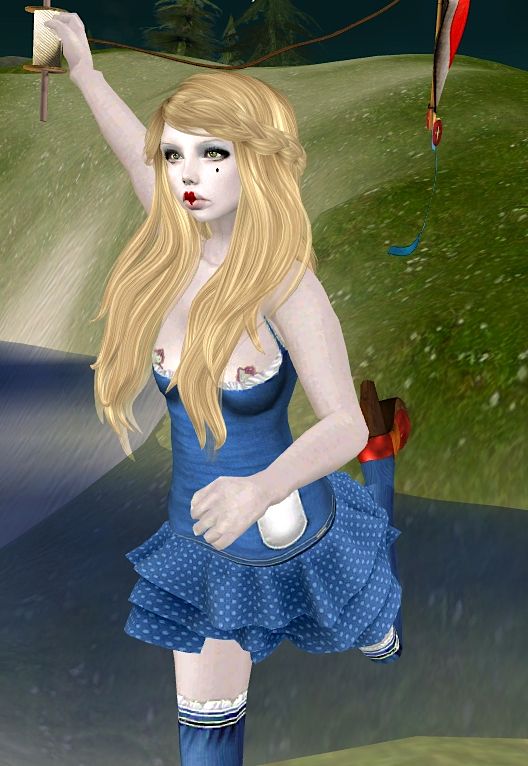 Uh, yeah, I covered mine with contraband Hello Kitty pasties, which were a gift from my friend
Soph
. She found them on Marketplace. (Shocker!)
I also wanted to show you one of the
JeSyLiLO
skins inspired by the work of acclaimed Moscow photo artist
Oleg Dou
. If you're unfamiliar with his art, visit his Website
HERE
. To quote him on his style: "I am looking for something bordering between the beautiful and the repulsive, living and dead. I want to attain the feeling of presence one can get when walking by a plastic manikin ...." (Source: Oleg Dou official Website)
I think creator
LiLO Glom
did a beautiful job on these skins. She's got some very ethereal ones at her store that are the most true to Dou's surreal vision, along with a slightly sweeter Valentine series. And she recently released the Oleg Dou Pierrot line at
ZombiePopcorn Carnival
– I'm wearing one of them. (She's also got one carnival-exclusive Pierrot skin there.
It ends tomorrow, June 30
.) To get the full effect, I recommend wearing the included shape.
Shoot, I need to segue somehow to
Jesus
. Consider the subject abruptly changed.
I found this mesh Jesus on Marketplace. I thought it was a lawn ornament. Imagine my surprise when I discovered it can also be worn as an AV. (Use a full-body alpha layer with it.) I put it on and wandered around as Jesus for a while, but then I started to feel a little blasphemous. So I launched him into the sky over my house, where he's just kind of hanging around now.
I may still wear him to a club one night though. Maybe we'd kick ass in a Come As You Are contest.
ROLL CREDITS
Skin, Shape, Eyes
—
JeSyLiLO at ZombiePopcorn Carnival
– Oleg Dou Pierrot, GoSTon J3 ("ghost tone"); teeth and cleavage versions, shape and Candy Eyes in Yellow included, 700L
Hair
–
Truth
–
*NEW*
Brandy w/Roots in Champagne; rigged mesh, includes roots and standard versions, 250L per color pack
Shoes
–
ISON
– Color Block Prism Pumps in Red, 249L
Dress
–
Sugar
– Naughty Alice in Light Blue; includes stockings, mesh skirt, 299L
Kite pose prop
–
LISP at Collabor88
– Shindig Kite Pose Set; 10 kite poses in wearable and rezzable poseball versions with texture-change mesh kite, 148L.
The June collection ends July 7.
Catholic Jesus!
–
All Meshed Up on Marketplace
– limited quantities available, 100L. That whole All Meshed Up Marketplace store is filled with amusing mesh AVs, BTW. Check it out.
VISIT INWORLD
JeSyLiLO Main Store – Oleg Dou section