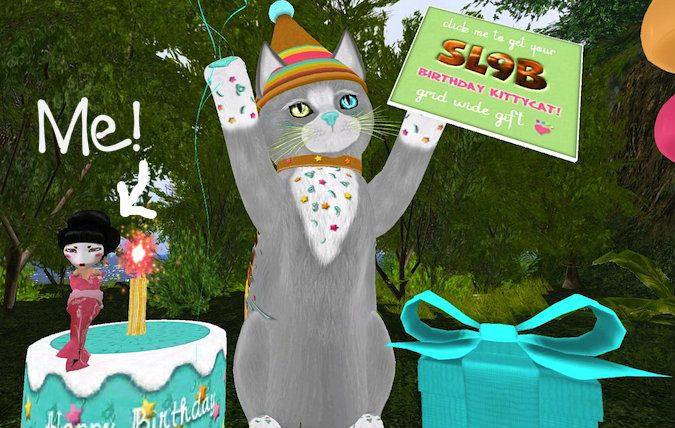 Hihi! You've got about nine hours left to get over to SL9B and check out the exhibits before they close to the public today (Wednesday, June 27) at 11:59 PM SLT.
At one point this week I intended to see ALL of them, but I realize now it's never going to happen. Oh well. I'd like to offer my heartfelt thanks to everyone who helped make SL9B possible and everyone who took the time to create an exhibit. The SL birthday celebrations always remind me why I fell in love with SL in the first place — all the people and possibilities and creativity.
As always, there are a ton of amusing and/or awesome freebies at many of the exhibits this year. Here's a rundown of some of them with SLURLS in case you want to jet over and grab any. I meant for this list to be much more extensive, but I'm going through this thing where looking at my computer monitor makes me nauseous. I think it's because I'm starting to associate it with unemployment, dwindling finances and job application rejection emails. Ooch. Thus the short list.
I'm sending oceans of gratitude to all the generous exhibitors who are giving out gifts this year. Also, grab all the notecards you can – you could learn about some interesting places, events and stories. I have.
– Let's start with the
FREE BIRTHDAY KITTEN
from KittyCatS. I know you're all probably aware of it by now, but I wanted to include it just in case you've been asleep for two weeks or something. So look at that pic up there and go grab it like you want it. Even if you're not into KittyCatS now, I'd grab it with a hoarder's mentality and throw it in your inventory — you can always birth it later — because YOU NEVER KNOW when you'll get an urge for a kitten in SL.
Get it
HERE
.
That
Haruko Geisha Mesh AV
by Dirty Linx in the pic (that's me!) is not an SL9B gift, but I'm diggin' the whole mesh avatar concept because you can lower your avatar rendering cost significantly by wearing one without having to go bald and shoeless. I found it — WHERE ELSE? — on Marketplace
HERE
for 149L, and there's also a tiny version for 99L
HERE
. (Other kimono colors and makeups are available, so you may want to browse the Dirty Linx's Marketplace store, if this thing floats your boat like it did mine.)
Maybe I should just dub myself The Marketplace Blogger. That place is an endless source of mirth for me.
More free stuff, minus the four-paragraph descriptions. Just click them for the SLURLS:
–
FREE PLANES!
–
FREE RIDEABLE SHETLAND PONY!
–
FREE TINY SNAIL AV!
–
FREE SILVER SCULPTURE OF A DEAD WASP!
(Or maybe it's a bee! Or a fly!)
–
FREE LEOPARD, ZEBRA AND GIRAFFE SAFARI HATS AT THE AFRICA EXHIBIT!
Shown:
Free leopard-print safari hat. (Also: Hair - Lelutka, Belle in Harvard; Skin – Rotten, in Decay, by Fallen Gods at Zombie Popcorn Carnival; Zombie Throw-On Top – PaperBag; Jeans – Garage jeans in Turquoise by League; Shoes – Color-Block Prism Pumps in Red by ISON)
I haven't been to the Africa sim since I was a noob and some griefer-tribal guy chased me around with a GIANT (as in cannon-sized) PENIS that would make me crash every time he smacked me with it. Hopefully that dude is gone by now.
–
FREE BIOBREEDS DOBERMAN!
(Unlike the KittyCatS gift, this one is not alive though. Wait, I mean it's not dead either. It's a model.)
–
BIRTHDAY BEARS!:
Many of us are mourning the absence of a Linden Bear this year, but there are several great alternatives. There are a few bears and their locations noted in
THIS POST
on the SL9B Website. I also found several cute ones at the Dragsworn exhibit
HERE
. And there's a Juggling Teddy on a Stick (along with other gifts) at the top of the
Tinies of Raglan Shire exhibit
(just click the pedestals that surround the sundial).
–
NOOB SPIN DANCER!
I know you're asking "what the hell?" but I really have no words. You'll just have to go check it out for yourself.
–
EVERYTHING YOU NEED TO MAKE A RAILROAD, INCLUDING TRAINS AND TRACKS!
–
PRINCE PROSPERO AVATAR AND STORK STATUE!
–
ALL KINDS OF OLD-SCHOOL NOSTALGIC FREEBIES (in the tunnel) AND PROBABLY MY FAVORITE EXHIBIT AT SL9B!
(Time Tunnel by Campanula Aeon)
Wow, and my list totally stops here. I'm probably going to spend the next several hours over there for one last wander, so I may be updating this post throughout the day if I find more cool things. And feel free to leave your own discoveries in Comments.
I realize I should have posted this stuff days ago, but you know I live by the "better late than never" credo.