Designer
Munchflower Zaius
at
Nomine
recently released some limited-edition Ameno gowns that really knocked me off my pixel feet when I saw them.
The shading and details on these gowns are gorgeous. She originally made only 12 of each color, but then she added a few more. I just checked, and there's ONE Ameno Chestnut gown left, which is what I'm wearing. And I believe there are about four or five Ameno Pomegranate gowns remaining. (See photos on Nomine's blog
HERE
.) They're 1000L and can be worn in a variety of ways. The headdress is included, along with shoes (not pictured). If you buy one, be sure to pick up and take the box with you.
Proceeds from the sale of the gowns go to help replace Munchflower's poor, dead computer. SL is her primary source of income. A notecard she sent out to her group said the following:
"Recently I've gone through a string of crap luck and well...now my laptop has died. Unfortunately, a number of other things have also died and I am about a mile past broke. Without my laptop, I have no job." (The complete notecard is in her Subscribo history.)
There's a fundraiser page for her
HERE
.
Here's the big-foofy-skirt version of the dress:
I'm at one of my favorite exhibits at
SL9B
so far, which is
Inside Art by Ginger Lorakeet
. (I'm also "sitting" on a pose in that picture. I don't usually smash myself up against art like that.) Every painting there is interactive. But if you go, join the fight against lag and don't get all dressed up like I did. I only stayed for a few minutes, I swear. You can tell by the hasty photos.
I wanted to show the lingerie that's also included with this outfit, so I proclaimed, "To hell with propriety!" and stripped in front of everybody there. Then I hung from a painting. Nobody clapped.
Oh the things I do for this blog.
BOOBS!
(That was for the Googlers out there.)
Ugh, sorry — the graphics on my dinosaur Mac are more raggedy than usual today. It might be because I downloaded that lame Second Life knockoff
Utherville – Virtual Glamour
yesterday and probably blew up my graphics card. Click and look at their ad. LOOK AT IT, SERIOUSLY. Gosh, what a novel marketing idea. ("1000's OF MUST-HAVE OUTFITS!")
Hey, I read an
SL Secret
last weekend (No. 23) that said some bloggers are all about themselves and never put pictures of "a variety of avatars" in their blogs.
I'm a people-pleaser, so here's another avatar: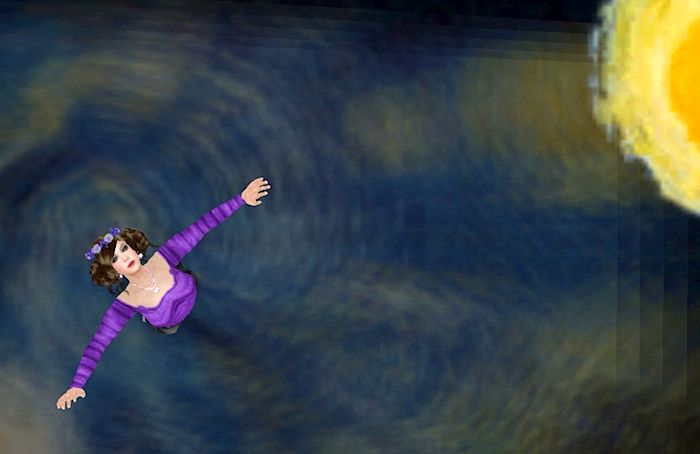 I forgot to get her name. Oops. She was there interacting with another painting, which was radiating pixels, BTW. That's not my camera for once.
I personally don't feature a variety of avatars in this blog because I'm kind of a loner. But for the record, I have been known to feature a variety of farm animals. So there's that.
VISIT INWORLD
Nomine
Inside Art by Ginger Lorakeet
(SL9B exhibits close
June 27
)
MORE INFO
SL9B Website
Fundraiser Page for Munchflower Zaius
ALSO WEARING
Skin
-
Akureka at CHIC²
– Bianca, Pale (Chic Exclusive), Cleavage Version (It makes me look so sophisticated!)
Hair
-
Lelutka
– Ariel in Harvard