This (oof, pretty crappy, low-res, desperately needs a texture rebake, sorry) pic of me sporting
Curio's
Cupid 2 skin was taken two years ago. And as I type that sentence, I cannot believe I'm still blogging SL. SHEEEEZUS I need to get a life.
The original post is
HERE
and obviously I was caught up in some kind of catty drama back then. Apologies for the immaturity of that post. To be honest, I don't even remember the details. My memory is shot to hell. I blame age and a bad Xanax habit.
Speaking of back in the day, I was looking at some old SL photos last night and feeling kind of sad about the devolution of this blog. I used to have things to say – and my pics were full of friends and well, action, if you can call it that. Now I just sort of wander around alone saying, "Look at this. Now look at this. Hey, look at this thing. Look – pretty!" I tell myself that I'm trying to support SL creators by drawing attention to their stuff – and that's partially true – but mainly I'm just at a loss for subject matter and humor these days. (But I can navel-gaze 'til the cows come home, apparently.)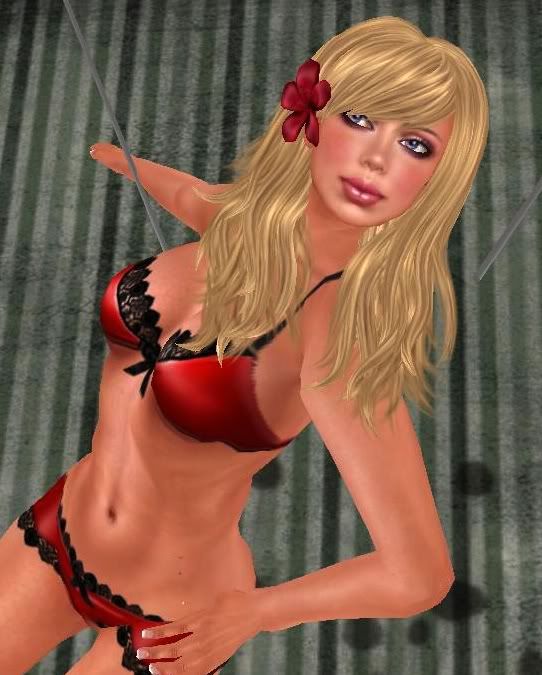 So I keep my mouth shut. I've cultivated this "I don't give a sh*t" attitude about SL, possibly because I'm finally outgrowing it. I try not to get too involved in SL strife anymore. I have enough of it in RL. But these accusations against Curio creator
Gala Phoenix
make me want to put that T-Rex back in my front yard (
yeah, remember when I used to be fun?
), climb to the top of it and scream,
"BULLSH*T!"
without the asterisk.
When Gala sent out
a notecard to her group
last night referencing the controversy and explaining her silence, I'll admit that I said, "Huh?" and had to Google this mess. I'm not on Plurk. I don't pay attention to a lot that goes on in SL. Occasionally I'll IM a friend and ask her to explain some drama to me, but for the most part I really don't give a damn.
Now here's the part where I'm supposed to launch into a passionate explanation of why I believe what I believe and why you should believe it too, but this isn't the year 2010 anymore. Or 2009. Or 2008. (GOD DAMN, THIS BLOG IS A FOOKING DINOSAUR!) I didn't come here to rant. I just wanted to publicly show my support with some old, jaggedy-ass pictures and some links, if you give a damn about any of it.
And I guess the keyword here is "old" – old pictures, and these aren't even the oldest. I've been wearing Curio skins for almost as long as this blog has been in existence. Who the f*ck is Hush Skins?
LINKS
What the hell are you talking about?
- The SLUniverse thread about all of it. Get out the popcorn.
What she said
– A blog post I like that says just about everything I wanted to say here and also explains the situation in detail. In other words, not as freakin' lazy as I am.
And what she said
And what they said
Check yourself before you wreck yourself
– Interesting post comparing Hush skin textures to League's
A picture is worth a thousand words (and possibly dollars)
– Interesting Flickr stream
Gala Phoenix's blog post
Hush Skins legal documents
– oh sorry, the Webpage is now gone.
Here's a screenshot.
Thank you to blogger
Arica Storaro
for sharing.