Hey hey hey, Valentine's Day is finally over, which means we can all stop running around looking like victims of a massive Pepto-Bismol plant explosion.
(Can you tell what's wrong with that picture? Oops. Hey everybody, lookit my interfaces!)
And hey, look at my fish tank!
I really like that Love dress I bought at
Yome Shoujo
, though. If you tend to be a girl and on the quirky side, I advise you to check out that store. I'm also kinda hooked on these new LorAla/Lip Series skins and spent a
FORTUNE
on a bunch of them the other day. This one is No. 46. Buy 'em at
Alady Island.
(Follow the beacon!)
Speaking of valentines, I used to share a skybox with a guy who would get so
DAMN IRRITATED
whenever I put those 2-prim flower bouquets out. "They look cheesy," he'd gripe. And you know what,
THEY DO
in that picture up there. Sorry. I should have used that glaringly obvious camera control panel to, um, I don't know, maybe
ROTATE
 the viewer around a tad?
Dernier Cri
sent that pink Kattiva hair out as a Valentine's Day gift. I've gotten so much attention from the menfolk ever since I put it on that I went to that store today to buy it in every color. 
Yep men, throw a couple of flirtatious exchanges my way and suddenly I'm running to spend $1K L on hair. (And Emerald singlehandedly sets the feminist movement back about a century.)
I forgot how much I love Dernier Cri, and how it is
SO
aptly named because it does always make me "cri." It's all circular and it takes forever for things to rez and
I DON'T UNDERSTAND HOW TO BUY HAIR THERE!
It's cryptic, what with the package options and the hair dye and such. Can't you just show me some colors I can click on? I'm just a simple girl in your pixelated world.
In any case, I couldn't find that style. I walked around and around and around the hair section for about 15 minutes before I gave up.
Living proof that group gifts do work as a marketing tool though. Sort of.
I kind of miss the good old days when I didn't give a damn about looking pretty and I only wanted to be a
KICK-ASS MYTHICAL CREATURE
in Second Life:
(Emerald the Harpy)
(Emerald the Demon . . . with shirtless friend Jon.)
(Emerald the, um, big blue Dragon in a very small picture)
(Emerald the Cupcake . . . and yes, I really did use to run around like that.)
Sniff . . . feeling nostalgic. Everything was so new and exciting and innocent back then.
I blame the fashion blogs.
Speaking of fashion, it's Runway Fashion Week 2009 at the Tents at Bryant Park. Get the schedule
HERE.
Even if you can't make the shows, I strongly advise that you at least stop by the headquarters
HERE
(follow the beacon!)
and peruse the booths showcasing the new spring collections. You'll find a large assortment of gift bags waiting for you in the lobby as well as in the individual designer booths . . . like this New College outfit from Kunglers:
(Photo courtesy of Kunglers' New College gift folder.)
If you're not in a fashionable mood, head to the other extreme. Tomorrow is the last day for you to check out the oh-so-awesome Freak Showroom exhibit at
Time Warp Circus,
where more than 60 artists from around the world show you their freaky avatar creations.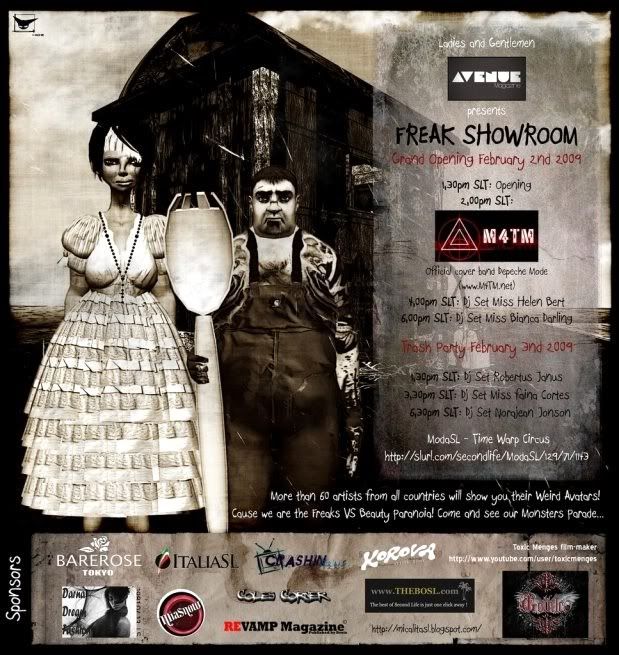 (promo poster)
The exhibit Closing Party is at 2 p.m. SLT on Tuesday, Feb. 17. That's
TOMORROW.
I'm going.
People are buzzing about Four Yip's free Waldemar Twins AV there (located in the back of one of the exhibit tents) . . .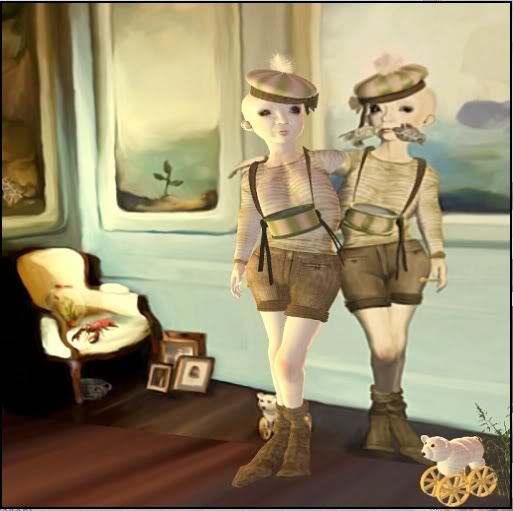 . . . but I personally got excited about this hobo vardo from
Tooter Claxton Avatars and Vehicles: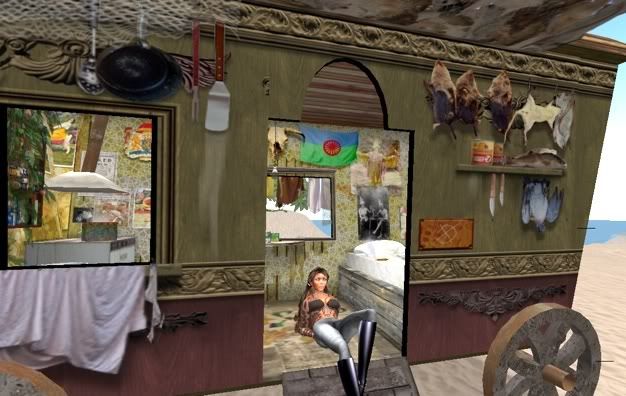 Head over to his place, ignore the ribbing you get from his greeter and check out all the imaginative free and transferrable items (located in the back of his store) that you can amuse and torment your friends with.
The hobo vardo has 15 poses in it. An enclosed notecard tells you where they all are. Go posers, go! (And yes, there are a lot of disgusting dead rats on it, so brace yourselves.)
(This Myrtle hair in Coffee Bean from the
Calla
lucky chair can cut through mattresses!)
And yes, that's me:
Wow, I really love that beautiful dark skin, called Dynasty and
FOUND
in the
INSANE
Lemania Indigo Cupid's Arrow Hunt, which runs through Feb. 28. (Get that bracelet there too.)
I wish I could tell you which arrow it's in, but
DAMN,
there are more than 100 arrows in and around
Lemania's Castle
and I just couldn't keep track of them all. 
If you're not a Lemania fan, take note that other retailers are participating in this hunt and I also got a lot of cute, cute, cute furniture in the -- hell I don't know -- 65 arrows I managed to grab before I got tired.

Um, anyway, when you're done looking at freaks and climbing around in gypsy wagons at the Freak Showroom, you can ride some warped rides:
Actually that's a spinning knife-throwing board and yes, knives are included for your friends.
Or chill out, Michael Phelps-style:
Actually that's a hookah pipe, not a bong. And ha ha ha, bad joke. I think people should leave Michael Phelps alone though. Go out and win 14 Olympic gold medals in your career first and then say something about him. (Said the girl who lived in Amsterdam for a while . . . cough.)
And now we've blessedly reached the part of this post where I've officially run out of stupid things to say.
Ciao!