*Currently listening to Groove Armada's "Soundboy Rock" while writing. Why did I tell you this? Why the hell not?*
I'm feeling like this post is gonna be long, so I'll use a tactic I use in my RL blog -- which drags readers through tales of bad dates, thought-provoking
(not really)
ramblings on pop culture and angst-bombs about aging pets.
(EXCITING!)
I'll break this one up into subtitles for you. Feel free to skip the sections you find boring.
Unless you've been living under a rock, you know that SL once again is rallying for a good cause, this time to support the victims of the
devastating Australia Victorian bushfires.
Moggs Oceanlane
is one of several bloggers who list various ways to donate or assist in SL. Hop over to her blog for many options and other links.
Bravo to the designers who are creating fund-raiser pieces and donating all the profits to related charities. 
Here are a few of them:
This dress is called Victoria by
Moonshine Clothing
and supports the Australian Red Cross' Victorian Bushfire Appeal fundraiser.
(Stockings not included)
(I snuck into my friend

Laleeta Xue's

new store
Pffiou! Poses without Cramps
to take that pic and am striking the pose "La Mysterieuse" from her La Mode pose set. See my future post, "My friends are way cooler than I am" for more info.)
This fresh-faced, pretty skin is called Timeless 2009 Bushfire Appeal Fundraiser by Ashia Tomsen at
Ashia Designs.
The necklace is Graduated Color-Change Pearl Necklace (comes with matching bracelet) by Nuala Shippe at
Kunstkammer.
Both are beautiful inventory additions that support a very important cause. What are you waiting for? Go go go.
I'm not going to blog a lot about those wild crazy hunts going on right now, except to make a few observations.
-- I actually made four fun new friends while participating in these hunts. While many people see hunts as a dash-and-grab fest for freebie fanatics, I think sometimes we overlook some important benefits, such as the bonding experience that comes with joining forces with strangers to find an impossible item. I also discovered some shops that I'd never heard of before -- and spent lindens there.
Spoonful of Sugar
(and the whole awesome Polly Jean sim, for that matter) and
Sam's Secret Boutique
are just two of them.
-- To the store owners who have yanked their hunt items because hunters keep sharing the locations -- and I'm a devoted customer of some of them -- I guess I'm a little sad and disappointed. A hunt is a game, meant to be taken lightly. And if your store is
GIGANTIC
and lag is impossible, then it's a given that hunt participants are going to help each other, particularly if the hunt is structured in such a way that we can't move forward to the next location without your (don't get me wrong, much-appreciated) gift, which has the next landmark in it.
I always wonder why some stores participate in these hunts if they get wiggy about hunters helping each other. 
One owner's scripted greeter informed me, "Any hunt participant who shouts the location of the hunt object will be banned from this sim forever!"
Hell yeah, I shouted it!
(And ran.)
You own a
FREAKIN' ISLAND,
dude! We have real lives that we eventually have to live.
I feel like a bad girl now. And I like it. 
Who wants a piece of my banned, bad-girl self?
-- I was going to talk at length about two crazed chicks who have seemingly taken over the Greatest Love Hunt Group and spend their time mocking, jeering, and downright bullying people who use the group for its intended purpose -- to ask for help finding items -- but I'll refrain.
I did call one out and say, "Why are you being such a bully and who appointed you dictator of this group? I don't see an admin title by your name in the members list."
I got an
"EMERALD, YOU IM ME RIGHT NOW!"
in response.
Cough.
Um. No honey.
See, that's not how it works.
You gotta problem with me, you IM
ME,
little girl. 
I don't take orders from bullies, people who type in all caps, people who can't spell or speak in complete sentences, or bizarre people bandaging their insecurities by lording over people who ask them for help.
Several other group members and I left that group in disgust. And (slightly ironically), if you need help in the Greatest Love Hunt, the Vain group is now assisting GL group refugees and hunters.
-- I got lost in a yard sale with
Moxie Polano
of
Moxie Polano's Haute Styles
during the Greatest Love Hunt and learned that the talented designer is a kind and beautiful soul. No wonder her work is so stunning.
-- I (sorta) met the awesomely twisted artist 
Nimil
of
LuNi Designs
when she IM'ed me and said "Hey, you're wearing my key!"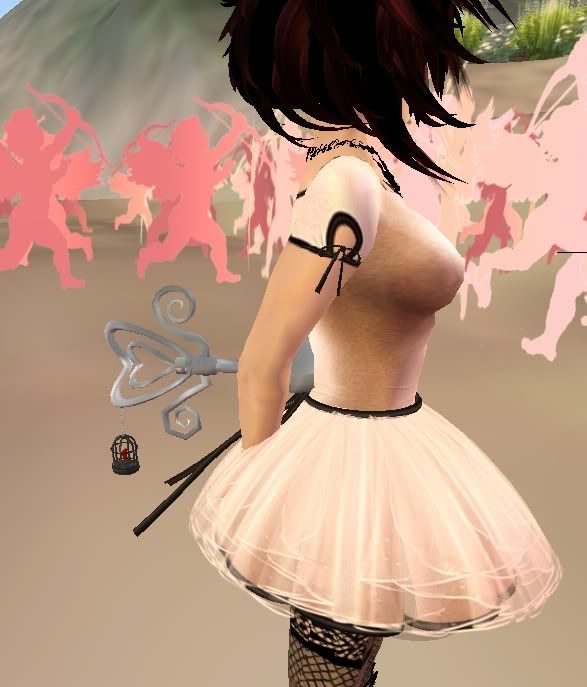 Hell yeah I am, girl. Your key rocks. Thank you! I'm a fan of the dark LuNi Designs, and this Captive Heart Key is the store's prize on the Vain Kissed Hunt. It'll never be for sale in its current form (according to the notecard) so go get those lips!
That dress is from
QueenKellee Kuu's
Alicia series at her new store
Royally
and you'll read more about it in my future post, "My friends are way cooler than I am." I'm not really a ballerina type, but I gave it some edge with ripped stockings and ballet boots and, my gawd, the detailing on the dress is so gorgeous, it made me a tutu convert.
-- I like the funny things I see on hunts, like my friend Gertie, who crashed and left a ghosted AV standing on top of an exotic male dancer:
Here's a butt shot of the guy, for you ladies:
Sorry about the pics, Gertie, but damn, it was funny. I guess if you're gonna crash, on top of a half-naked man is the place to do it.
OK. Oops. I guess I said more about the H-word that I intended to.
FREE STUFF THAT'S WORTH THE LAG
-- A few strangers have actually IMed me during the past week and asked me about this skin:
It's kind of a secret, but I'm gonna spill it!
This free skin is Tone 3 from the new LorAla Skins line and yes, as always, Lorac Farella's work is absolutely fabulous.
Go to the freebies section on
ALADY.
See that row of free jeans? Buy a pair and you'll find this skin packed inside them.
-- And perhaps you haven't heard of the upscale lingerie store
MZ
(I hadn't until I read about it on
Karla Scorbal's
blog).
This store has frequent spectacular SL 2 RL "elections" -- they're spectacular in that you vote on your favorite lingerie set (most priced at around 800L) and get it for free with your vote. Every set also comes with free sexy shoes.
You can only vote once per election
(and believe me, I've tried sneaking back a couple of days later and voting again -- GO AHEAD, call me a loser. I've already been banned from a sim).
Fortunately they have these events often -- hit the Subscribo to get a notice when there's a new one.
This month we're voting on ostrich-feathered ensembles. It's always tough picking just one to vote for. The lingerie is gorgeous . . . but I guess I have to open my big fat mouth and say . . .
WTF
is going on with the models'
EYES???
**screams and runs away from this blog for awhile**