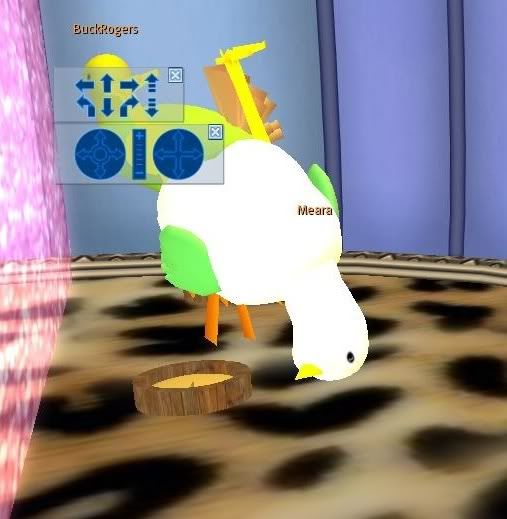 If you haven't yet experienced the exasperation that is My Mother and Second Life, you should probably read
this post right here
before you go any further.
. . . . OK, ready? Here we go.
It's 8 p.m. My poor mother has just gotten home from a way-too-long day at her office. Despite the protestations of me and my father, she's cooking a giant casserole. Cooking relaxes her, she says, and she doesn't believe in pizza.
I sip a gin and tonic as I watch her dump can after can of seemingly everything in our pantry into a giant pot. Water chestnuts, mushrooms, corn, hamburger, rice, etc., etc., etc. It's 94 degrees F. outside and she's making comfort food, but that's cool because we all need some comforting these days. Never mind that this casserole isn't going to be done until about 10:30 p.m. Apparently cooking it makes her happy, so my father and I endure hunger pangs and resign ourselves to a long night of heartburn. Heartburn is a new experience for me since I've unfortunately and, please God, temporarily moved back in with my parents. Good times.
While my mother cooks, I'm running my mouth about
a newspaper story
: Four women in Wisconsin not only discovered they shared the same lover, but they also discovered he was married. So one of them lured him to a motel room while the others hid in the closet. The guy, thinking he was in for a night of fun and kink, allowed himself to be tied naked to the bed. Then the other women apparently jumped out of the closet, punched him in the face, and super-glued his penis to his stomach. I can't stop laughing at this. I don't know what's more shocking — the fact that they did it or the fact that it's the lead story in our crappy Memphis newspaper.
The mugshots of three of the women are prominently displayed next to the article. They are not attractive. I make the mistake of pointing out the sad reality that
EVEN THESE WOMEN
are getting laid and I'm not, when my mother interrupts that TMI with:
"Hey, I made a Second Life 'atavar' today."
E. spits gin across the kitchen table.
"You did what???"
"I made a person in Second Life!"
"What? How?
WHEN?"
"At work. I got bored. And I'm tired of playing Monopoly."
"Playi . . . wha? . . . playing Monopoly?? At work?"
I'm having a hard time talking and I don't even know where to start.
"
MOM
, you can't download Second Life onto your
WORK COMPUTER!
Your IT department probably has that flagged or something."
"Oh hell, I've worked there for years - they wouldn't fire me for that. I'll just say I didn't know what it was."
"Mom, you're not supposed to be
PLAYING GAMES
at work anyway!!!"
"I wanted to see where the veterans are going."
*Emerald Wynn runs over to Prad's blog and beats the crap out of him for unwittingly supplying the breakfast conversation in my house today with his
veterans in Second Life
post*
"Mom, are you
KIDDING ME
right now????"
"No — I made a girl. The blonde one. I named her Cherry Catnip or something like that. I just can't seem to get away from the Eiffel Tower. And nobody speaks English."
(The blonde one??)

"Mom, do you think you picked FRANCE as your starting community??"

"I don't know. And so far I've only figured out how to go forward and sideways and she can fly and crouch down. I can't make her pick anything up though."

Oh my God.

"Mom, you don't really pick things up in Second Life."

"I went to a chicken farm."

"YOU DID WHAT???"
Yep, at this point all my sentences have a tone of extreme disbelief and end with either several question marks, several exclamation points, or both. Get used to it.
"I went to Bart's Chicken Farm but I couldn't get any eggs."
"Mom, you need money. You can't just . . . go somewhere and grab things. How long were you in Second Life today???"
"Just a few hours."
"A FEW HOURS???!"
"Bart's Chicken Farm had a lucky thing. My letter kept coming up. I won some things."
Oh my God, she's already discovered
LUCKY CHAIRS!!!!
"Mom, how in the hell did you find Bart's Chicken Farm???"
"I clicked that Search button and typed in 'chicken farm.' I also went to some museums. And a school."
Some museums. And a school.
I find it amusing that my clueless mom can stumble into Second Life and figure out how to work the Search engine almost immediately, while meanwhile we have seasoned users constantly bugging people in the Vain group for popular store LMs. No, that's not
my PostSecret over on SCD,
but I couldn't agree with it more.
"Can you help me get some chickens?"
"Wha?"
"I heard you telling your brother about your chickens. I want some chickens."
"Mom, you are totally screwing around with me. You called Dr. Laura Schlessinger or something and she told you to use this twisted reverse psychology on me. I am so not buying this. You did not make a Second Life avatar -- and it's
AVATAR,
not atavar -- today."
"Yes I did. I get bored at work. I can only do spreadsheets for three hours at a time. I want little chickens to take care of. Can you show me how? What's the name of your person again?"
"Uh-uh.
NO WAY.
Absolutely not. No, Mom.
NO.
You don't understand. You can't just log on and get some chickens. You have to pay money. You have to get Second Life money called lindens. You have to get some land and put the chickens somewhere. You have to fix your avatar so you don't look like a noob."
"A what?"
"
A NOOB.
A new person. You need better clothes and a better skin and a decent walk. It'll consume your life.
DAD WILL KILL YOU.
You won't get any work done. You'll lose your job. Your life will go to hell. No. Hell no. Stay away, Mom.
FOR GOD'S SAKE, DON'T GO BACK IN THERE!"
"But I liked the museum I went to!"
"Mom, I don't care. There are sick people there! Sick sick people! They'll try to take advantage of you. They can be really nasty. A lot of people are just there for fake sex."
"I did go to a place where women were in chains with hardly any clothes on."
"WHAT????
Mom,
STAY OUT OF THERE!"
"Don't worry. I couldn't figure out how to get my girl's clothes off."
"MOM, DON'T TAKE HER CLOTHES OFF!"
I feel helpless and sick. I feel exactly like I felt when I was 12 and she found my diary and read it. I feel violated. My space is being invaded!!! And it's also a little bit like watching a three-year-old go wheeling around a room full of treacherously stacked china. My mother, on the loose in Second Life. Trying to take off her clothes just for the hell of it. Trying to steal chickens. Oh my God.
"Just tell me your person's name so we can be friends."
There is no witty ending to this particular blog post because at that point I grabbed my gin and tonic and ran out of the kitchen in terror like a girl in a horror movie. If my mother starts hanging around in Second Life, I am so out of there, it's not even funny.
And that's the thing. My mother has a genius IQ. I think she's playing dumb. I think she knows exactly what she's doing. Hell she's probably found this blog.
WHAT IF SHE'S READING THIS BLOG?
A few months ago she threatened to come in Second Life and drag me out. I laughed it off.
I totally underestimated her. :\

*logs in to see if there really is a Bart's Chicken Farm or a noob with a name like Cherry Catnip*