Yeah, um, terraforming is not my forte. But hey - maybe I wanted that spiky sand pyramid there!
And that title? Kidding. Sort of.
Before I elaborate on the title of my post, here's a spot
(oh lerdy, I just said "spot"! Can you tell I'm dating a British guy in RL?)
of eyebrow-raising for you. Check the latest (as of now) comment on
THIS PREVIOUS POST
and
BE WARY
of that store (here's the
blog
for it). I've been warning people about what a shady, sloppy rip-off that place is for a while. *chucks the prim babby in trash*
Regarding that ripped-shoe comment over on that post (yeah sorry, you're gonna have to go over there and read it if you really care), I've never looked at the shoes. I've just gone to buy a cheap-thrill prim babby for blog material and try on scary-looking skins for the hell of it. Here's me in the Julia Roberts skin (check out "Braid Pit" in the background):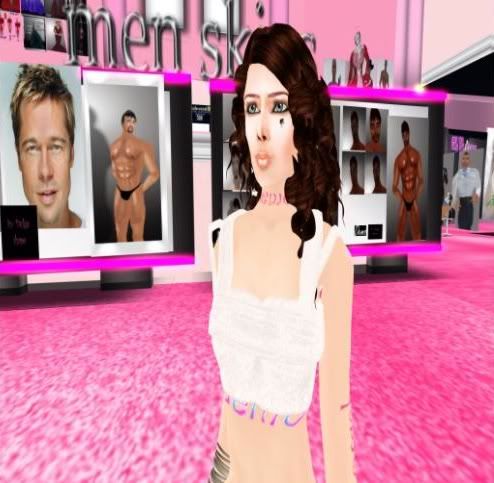 EEK!
And here's a friend of mine in the "Holly Berry" skin, looking more like LaToya Jackson: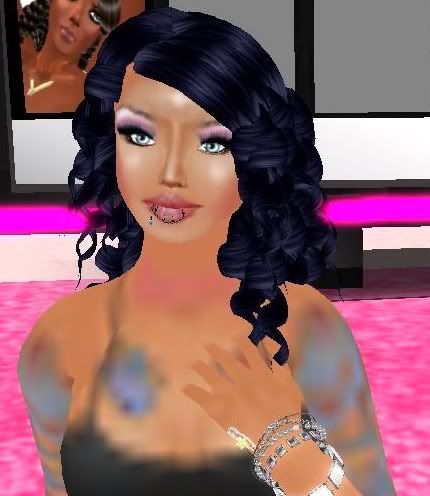 Her name is Ali. Miss Jackson if you're nasty.
OK anyway, back to the headline of
THIS
post.
I recently installed a
Google Analytics
code on this blog. It's pretty intriguing to see basic information on the demographics that are reading this blog, how they're getting to it, and sometimes why. I think there's a way to see actual IP addresses, but I don't roll like that. I mainly like to see where people are coming from and how they found this blog.
For instance, last week this blog got close to 2,500 unique hits, which is a huge deal for little ol' me. My traffic trends over the past few weeks show that about 40 percent of my hits come directly from subscriptions, Google Readers or bookmarks
(THANK YOU!)
. About 40 percent of my hits come from
Alicia Chenaux's
blogroll (girl, you gots some serious
POWER
over there).
And, um, about 20 percent of the hits come from search engines, primarily people searching for information on the
MOTHER-PLUCKING EMERALD VIEWER
or occasional other random things. (Note to self: Never use song lyrics in blog titles again.)
To make it worse, there are some discouraging days when the Emerald Viewer visitor stats are way higher than the others.
So, um, if you're here looking for information on the Emerald Viewer, unfortunately you're not going to find it. I've heard it's really cool though!
The analytics that crack me up the most are the search terms that lead people to my blog.
Here are a few of them:
"boobs like accordions""Russian booty"
"emerald wynn stiletto moody" (oops)
"second life emerald penis" (laughter)
"emerald second life pokemon"
"angelic booty" (why thank you!)
"bacon in a can" (ew?)
"bloodlines where do you hunt in second life" (May I suggest Lemania Indigo's sim?)
"do you really think I give a damn now that I can do whatever I want" (yes, actually, if you need a Search engine to validate that statement)
"hate emerald wynn" (*sniff*)
"catfighting fairies" (LMAO! *writes that down as a future blog topic*)
"emeralds blogspot under pressure" (damn, is it???)
"gothic birthday cards" (um . . . "Happy Dark and Gloomy Birthday"?)
"lemania indigo bitch" (YEAH!)
"picture of person who don't give a damn" (yeah, I guess that could be me sometimes)
"russian wedding booty" (WHAT the hell is going on with people chasing Russian booty??)
"rub my fanny" (maybe . . . what does it look like?)
"social isolation + emeralds eyes"
(OUCH! For the record, I'm currently having REAL SEX on a semi-regular basis so SHUT UP!)
. . . oops, little outburst there. Sorry.
And actually, speaking of my lack of social isolation, I have to go to work now. I really meant to write this post about my delight in a new-to-me store called
Gbberish Boutique
. That butterfly table (300L) way up at the top is a cute find there, as is this Paris skirt in Jewel, on sale on the top floor for 100L:
Check the cute bow in back: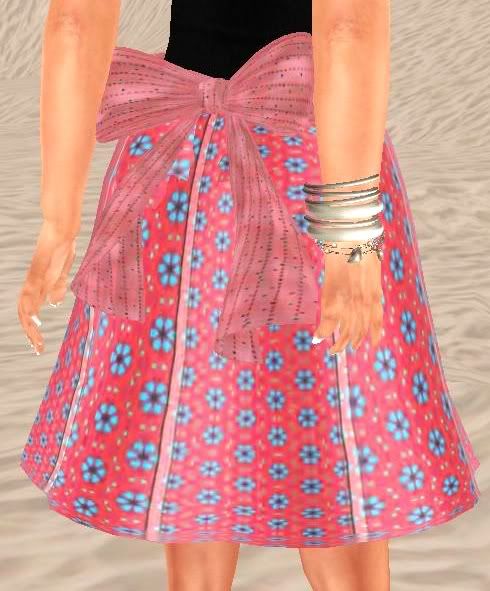 I like pairing jewel tones with black so I'm wearing the very cool cowl-neck sleeveless sweater from
SySy's
new Tweedy set with it. And although I swore I'd never pay 350L for bangles, those are the Patra bracelets in silver from
Zaara
. Never say never.
And see. My League skin makes my hands look like man claws. :(