BLAAAAAAAAAAAAAAAAH!
I'm at a loss for words these days, here and everywhere else.
I've tried to write this blog post a million times and I keep nodding off in the middle of it.
Here's what I want to say, in shortish blasts, because I am officially
GIVING UP ON PROSE
for the day and possibly the week.
1. GET FRIED
Agent Orange
currently has that sizzlin', posin' frying pan (pictured at top) in its Midnight Mania board. That gray dot in that photo up there is another pose ball, in case you have a friend who wants to get fried with you. If you don't feel like messing with the MM board, this pan sells for 75L in the store.
2. GET REAL
Speaking of fried:
Dear Jezbell Nitely, please stop spamming all my groups with your eye-frying misspelled announcements, IN ALL CAPS NONETHELESS, about your "free skins" and other foogly stuff at your place of business. I tried on the free skin you sent to Vain. It makes me look like a low-budget cartoon character: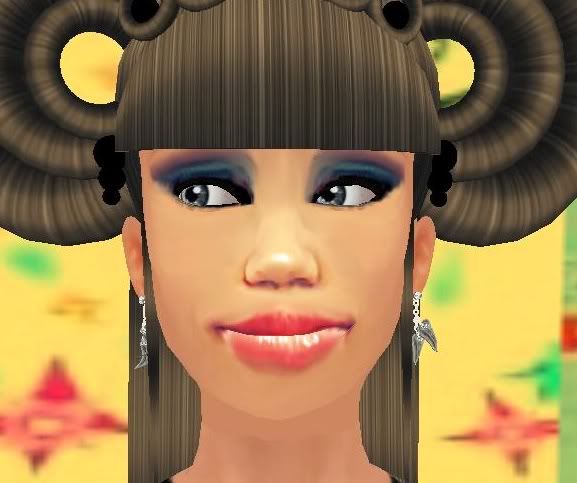 OK, that was mean. Contrary to what the Cult of Lemania tells me every day (yes,
still
),
I DO
have a heart.
I DO I DO I DO!
So if you want to check out Jezbell's store Indulge — where everything is outrageously priced (as in $1000L dresses) and just as outrageously spelled — and decide for yourself, here's the
SLurl
. I still smell a rip-off artist though.
Hey, she also sells $2300L "prim babbys":
*screams and runs*
Anyway . . .
I have never been more relieved to get back in my own (Misty in Glam by League) skin: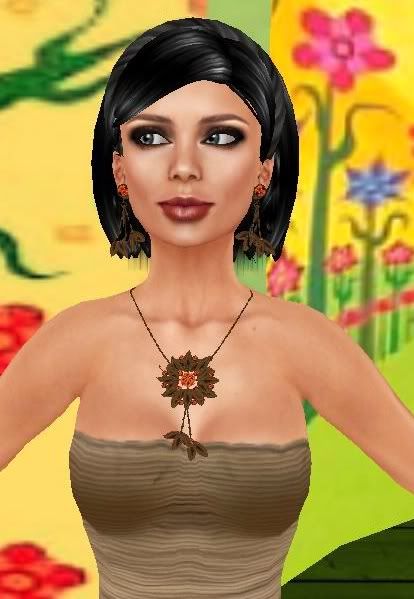 WOW
— what a difference a skin makes!
That Bozena hair in black is my current love affair. It's this month's Subscribo gift from
Dark Mouse
. Designer Mouse Mimistrobell is so damn talented. When it comes to SL jewelry, I am loyal to four designers, end of story. She's one of them. In that photo, I'm wearing her new release, Flowers on Fire (in Copper), $200L.
3. GET YOUR FEATHERS RUFFLED
I got more "please please please don't start blogging about chickens" IMs and notes after my last post. Aw, I'll try really hard not to. They consume a lot of my SL life these days though, mainly because I have a new goal and that's to open up a stall at a farmer's market, sell some eggs and chickens, and thus proclaim myself an "SL business owner." Woot!
One day I can rock thoughtfully in my rocking chair and hopefully tell my prim 'grandbabbys,' "Yes dearies, when I was in Second Life, I was a blogger, a model
AND
a business owner. Oh what a wild time it was!"
My favorite chicken Walter died yesterday and I was surprised by how very, very sad I was. He "lag-walked" into outer space and promptly got returned to my Lost and Found folder, dead. He wasn't even shopping at Stiletto Moody or anything like that. He was just sitting in his pen, minding his own little chickie business when suddenly
WHOOOOSH,
gone. I bought a Walter the Second, but he's not the same shade of baby blue and he doesn't really fill the Walter-shaped void that's in my life now. *sniff*
Aside from the "please don't mention chickens again" pleas, I actually got some requests for more pictures of not-the-sharpest-crayon-in-the-coop Chicken Meara, so here you go kiddies:
Laugh.
YES,
I tried rotating her in Edit. She just flips upside-down again. She and Buck Rogers are an awesome couple though. Their eggs are pink and green, right out of the old-school "Preppy Handbook" that was so popular in the '80s. (You younguns won't get that reference.)
Those mother-bleepin' chickens are so damn primmy when you have a million of them that I had to remove my purple Victorian beast of a house and replace it with the cute low-prim cottage that was the free gift from The Sea Hole during the Go Fly a Kite hunt.
Then I had to put up a monster eyesore of a chicken coop. So sadly, I took the winter wonderland down for a while. But I found some free rain on XStreet
HERE
, so I was at least able to keep the weather theme going:
If you don't have an XStreet account and you want some rain, holler at me. It's full-perm. I'll give you some of mine.
4. GET THIS STUFF
The inside of that cottage is quirky and very Emerald Wynn. Too bad I have no prim allowance left for furniture. But while you're looking at the quirk, check out this outfit:
LOL. Yeah, it's raining in there. Oops.
I liked the snow better.
That Ashbury outfit is a current group gift from
Spork
. It's free to join the group. Those Coco Ankle Wrap Wedges with the dreaded prim feet are a Creators Stamp Rally 2009 prize. I'm not going to try to explain CSR to you. It's all at this Web site
HERE
. There's even a little comic strip at the bottom of the page for people with zero attention span.
I love CSR. Fun times. I'm getting about five more cards stamped. And buying something freaky at
Vooner
while I'm at it.
As long as we're talking about freeness -- not freenis -- and XStreet, today was one of those days where I spent long periods of time browsing the free stuff on XStreet. Besides the rain,
a Japanese Beachhouse
, a
shooting star fountain
and
a box of nature sounds
, I also found this cool free 10-prim treehouse (click
HERE
):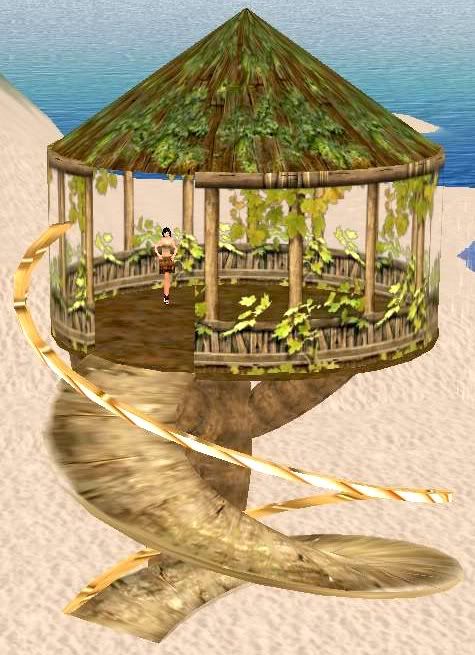 Very nice. At only 10 prims, I'll probably be living in it soon. Then I can at least put a couch down.
This post is still boring. I gots no blog mojo this week. But at least I gave it a shot!