Isn't it trippy how even in this modern day and age, most of you still look like Ruth to me on my browser? (With those big man-hands and everything!) That's just not right. For a long time I thought people were doing it on purpose to be funny or maybe making a political statement against the Lindens, like a "Screw The Man" Socialist Ruth protest or something. Then I sadly realized it's not you, it's me.
So don't worry about what you wear around me. If you're not rocking a Ruth mullet, you look like a supermodel in my eyes. Seriously.
I wanted to write something meaningful about mental health awareness for my post about the
Back to Black
event that opens today because I wanted it to be more than a "Hey, look at all the cool stuff there!" post. So I wrote this big thing about my ongoing battle with depression, and then I felt embarrassed about it so I stashed it in Drafts, then I took it back out and took some pictures to go with it, then I hated the pictures so I stashed it all back in Drafts, then I took some more pictures and then I deleted them and then I read the post again and it made me feel kind of tired, so I edited it and I still sort of felt like someone had hosed this whole blog down with a steaming hot stream of EMO so I rewrote it and I still hated it and then I got kind of sniffly and strung-out before I realized the whole endeavor was taking on a life of its own and turning into an angsty obsessive trip to crazytown. How fitting! That's what it's like inside my head sometimes. Isn't it fun?
If a blog post drives you to run screaming away from your keyboard in search of a Xanax with a tequila chaser, you should probably just stop already. Maybe one day I'll publish that post, but apparently not any time soon.
Hey, look at this cool stuff at the Back to Black event! (she said, with a tone of utter defeat)
I wore this outfit yesterday and three strangers IMed me (not at the same time) with "HEY, where'd you get that dress?!" Granted, two of them were child AVs, but still. This Doudou dress makes me want to walk into a party and yell,
"FEEL THE POWER OF MY TEDDY BEAR COUTURE, BITCHES!"
(It's also available in a pink version and a cream version.)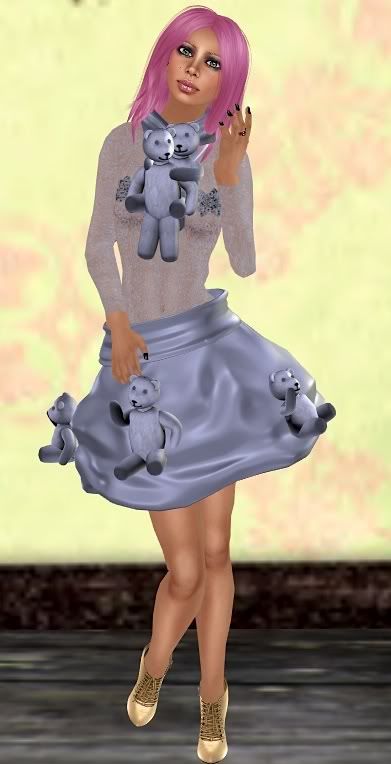 "Give me back my bong, Larry, before the teddy bears turn brown again."
Dress
-
Elemiah Design
- Doudou 1, 269L
Hair
-
Amacci
- Emma in Pink, includes feather hair ornament, not shown, 250L per color pack
Pose
-
Geez
- Editorial pose set for Back to Black, 100L for pack of five
I Googled "doudou." It means "snuggly stuffed animal thingy" in French. That's some quality journalism for you right there. I'm an information bloodhound.
And yes, you can see nipples when you wear it. NIPPLES, I TELL YOU. I slapped on some duct tape pasties, partly because I never know when Photobucket is going to get prissy on me and partly because I'm modest. Also, my nipples were constantly rubbing up against my teddy bears and it just felt wrong.
I should have made this picture bigger.
Boots
-
Coro
- Cherie in Tan, 320L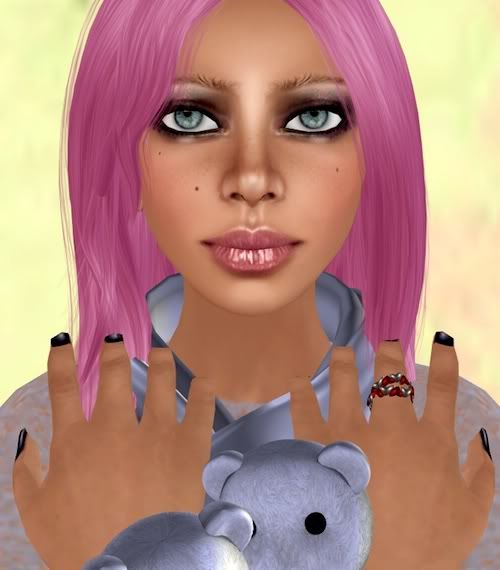 Yep, my fingertips are jaggedy, but hey, at least they're not those Volleyball Coach Ruth paws today.
Eyes
-
Rozena
- Lively Eyes in Sky, 90L per pair
Ring
-
phresh
- Forever Ring in Silver/Red, 100L, also includes gold, silver, and gold/red versions for each hand
Skin
(not at the Back to Black event) -
Mynerva
- Caramel in Candy Floss (Mynerva is back! There's a new Bargain Basement there with loads of classic Mynerva skins starting at 10L each. This one was 250L down there, I think, and the fatpack is 1500L. Be sure to grab the new group gift skin while you're there - see a picture of it
HERE
- 50L join fee.)
Everything except the skin is available at the Back to Black mental health awareness event by Chic Management. When you go, you'll find information about various mental health disorders and resources for people seeking more information or support. This year, more than 100 creators are participating in the shopping venue, offering themed items in uplifting categories such as hope, strength, spirit, family, endurance and more. Some creators have chosen to donate proceeds from the sale of particular items to various charities. Other creators have shared raw and moving stories about their own experiences on notecards. I felt not-so-alone when I went there. I think that's the point.
Watch for more quality and award-winning photos throughout the month.
VISIT IN WORLD
Back to Black,
runs through Feb. 29
Mynerva
Mynerva's Bargain Basement
store
JUST FOR KICKS:
Revisit the 2008 "New Ruth Experiment" makeover challenge on Flickr
HERE
. I'm still amazed at what people managed to do with Ruth.
(My Ruth makeover from my 2008 Flickr stream. LOL. I feel so helpless because I don't remember the password to that Flickr profile, or the email address I used. Gosh, and my photos were only a hair worse back then than they are now. Oh well. "Fix your prim shoes, Emerald 2008!" Wow.)