I have soooo much to write about, but I can't cram cows, underwear and fairies into one post. It wouldn't be fair to the cows. Or to you. So let's start with this rockin' new(ish) Fae skin by
Nomine
and save the cows and underwear for another time.
Fae Skin in Ocean Constellation, 500L (also includes a non-constellation version) at
Nomine
. These skins are available in eight Fae colors and eight Dark Fae colors.
I get a little giddy whenever Munchflower Zaius releases fantasy skins. I'm a big damn fan of her work. In fact, this shape (Eirlys) and the
Material Squirrel
wings (Iola) are from Nomine's December 2010 limited-edition Fairy AV sets. Those were the good old days when I was gainfully employed and could occasionally splurge on a limited-edition AV. Or two. Sigh.
Speaking of fairies, whenever I'm in the mood to read some fabulous fantasy blogging with equally fabulous pictures, I head over to my friend Deoridhe Quandry's blog,
Prim Dolls
. I like her whimsical style. We met through exchanging blog comments, and now she's also the friend on whom I dump my unwanted Meeroo nests and extra gatcha stuff. My goal is to ultimately make her inventory explode.
If you want to get on my list of Meeroo/gatcha love, just holler.
Roll additional credits: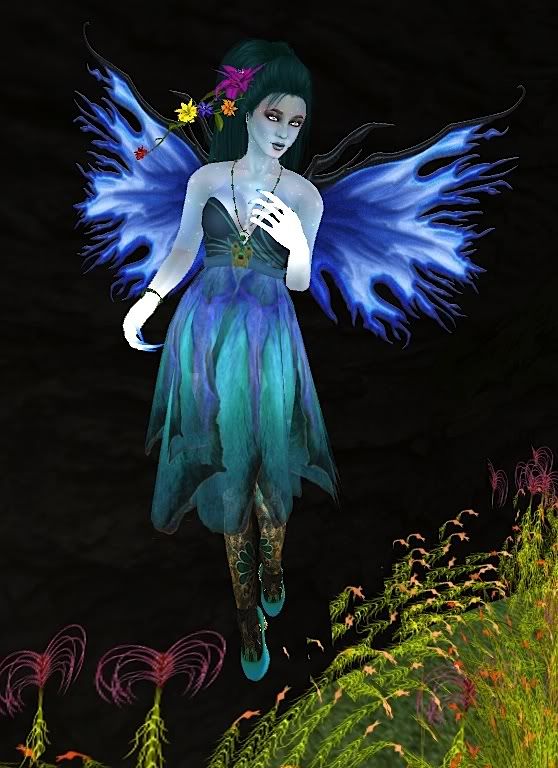 Dress
-
Les Petits Details
- Petal Dress in Ocean, includes glow and non-glow skirt prim, 180L
Stockings
-
FallnAngel Creations
- Kimono Cloth Stockings in Teal, gatcha item, 15L per play. You like? I have extras. Shoot me a message in world and I'll drop them on you!
Necklace, bracelet
-
soulsick
- Peacock Set. I don't have an LM for this store. Can't find it in Search either (shocker). The creator is Waka Zapedzki, but he doesn't mention the store in his profile or Picks, and I'm too shy to ask him. I'm sorry. *hangs head in shame*
Hair
-
Truth
- Tammy w/Roots in Teal, includes hairbase tattoo, 250L for a pack of eight colors with and without roots
Hairpiece
-
Split Pea
- your love is stag in the white sand, 100L (SPLIT PEA GIVES ME A STOREGASM EVERY TIME I GO THERE!)
Claws
-
[ni.ju]
— Tintable White Claws, 150L
Eyes
-
Vision: Eyes by A:S:S
- Northern Eyes in Oat, 50L
Shoes
-
Blossom
- Chained shoes in Teal -
FREE
in-store opening gift. Blogger
Khloe Nitely
has opened a cute little shoe boutique called Blossom. YAY, SHOES!!
God, that was exhausting! The SLURLs, the prices, woo. I have admiration for hardcore fashion bloggers who do this kind of thing every day.
One more fairy, not for the glory of my photography, but because much of this stuff is free or extremely affordable.
She'll break your heart and eat the pieces.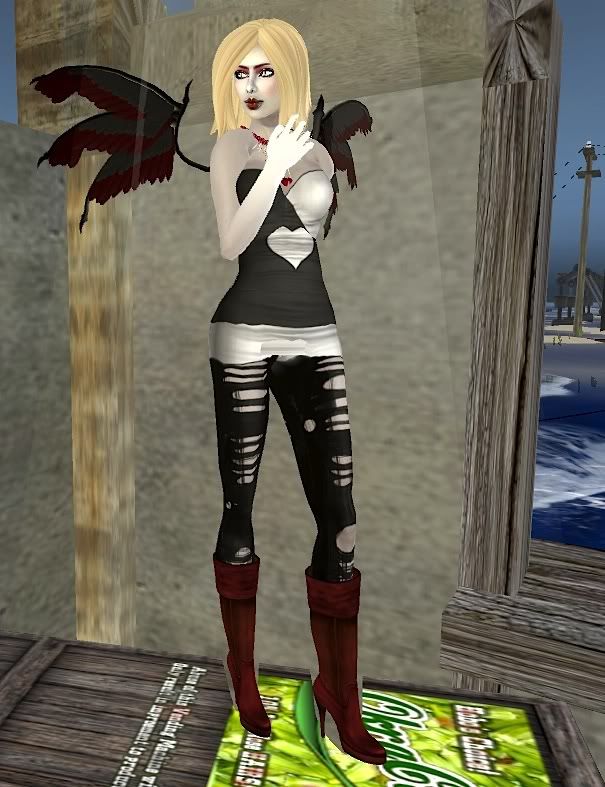 Look, I'm not great with those little piece-of-toilet-paper skirt prims. I can never get them to look right. But if you don't have a problem with them — and most people don't — you might want to head over to
Les Petits Details
and grab this
FREE
Optical Minidress. (Not a group gift - it's for everyone! WOOHOO!) Get it in the white gift box
HERE
. Other gifts and group gifts are also available there.
Also free:
Skin
-
LpD Skins
- Art Skin in White (also includes Art Skin in Black),
FREE
LpD group gift (free to join) at LpD Skins. I guess I'm all about Les Petits Details today. I love that store. LOVE. Maybe if I ask nicely, it'll be my Valentine.
Necklace
-
Finesmith
- Heartless Necklace,
FREE
group gift (free to join), includes five colors. This necklace rocks. If you get mad at your date, you can smash him/her against your chest and bask in the resulting bloodbath. That's my kind of jewelry.
Hair
-
Pomme d'Amour
- Oh la la! in Sparkle Blonde, 120L for a pack of four colors. Hit the Subscribo while you're there and get a gift of this cute Pom Pom Girl hair in Cupcake Pink:
Also shown:
Boots
-
YS&YS
at
The Dressing Room
- Big Sur Boots in Santa, part of a 70L fatpack of eight colors at The Dressing Room. If you want them, HURRY — as in, go TODAY — before the collection changes.
Tights
-
Rotten Toe
- Torn Tights from RT's Skavenger outfit. The inworld store seems to be closed, but the Marketplace store is
HERE
.
Wings
-
MeKa
(now
roobix
) - The New Daylight Wings in Red. I went to the store to check the price on these and couldn't find them, nor could I find them in creator Mekaila Hinterland's
Marketplace store
. She has a great selection of wings and fantasy accessories though.
Claws
-
[ni.ju]
- Black-Tipped Claws, 120L
Eyes
-
Vision: Eyes by A:S:S
- Northern Eyes in Snow, 50L
Happy Friday!