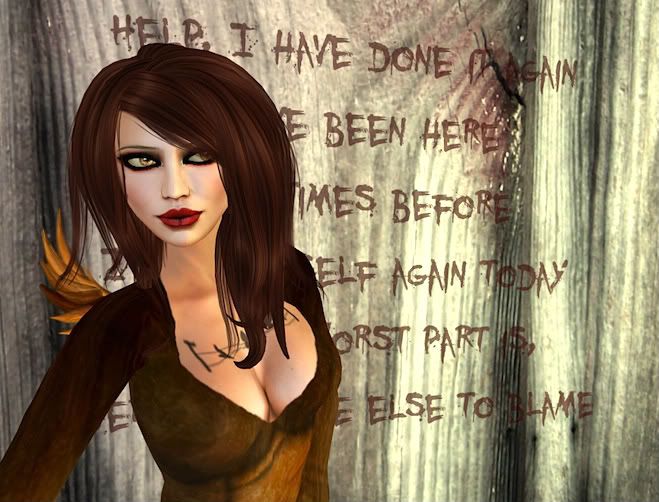 I found another skin creator I like. I know, you're shocked, right? Hey, I used to be someone who would never ever ever dream of taking off my RaC . . . oops, I mean Laqroki . . . oops, I mean LAQ Tasha skin. (Wow, I just dated myself big time.) So breaking out of my skin comfort zone is huge for me. I stumbled across the store
Sugar
during a recent Woeful Wednesday shopping hop and got all goo-goo-gaga over Iokko Molko's work. I also appreciate that she has a lot of great group gifts (like this Red Pill skin) and participates in a lot of bargain shopping events, like
Woeful Wednesday
and
Stuff in Stock
.
I'm not a hardcore skin reviewer (obviously). I'm pretty much all about the face and cleavage, and I tend to gravitate toward statement-making skins. I like when it's apparent that the creator approached the skin with something to say and the intention of making something more than just a pretty face. I like skins with creative makeups, even in this day of customizable tattoo makeup. Most of the time I prefer a face that reflects strength (and doesn't make my nose look wonky).
Those are my deep thoughts on skins. They probably could have been expressed more eloquently but unfortunately I have a pounding migraine today. Sorry about that. Next topic.
OOF. I ain't doin' too well these days, folks.
Here's the "Woe is RL Me" spiel in a nutshell: For the past several months I've been in this sort of alarming downward spiral of self-loathing and depression and more self-loathing. I look in the mirror or at pictures of myself and I just feel ugly and awkward and pathetic and sad and alone. And then out of the blue on Thursday, a cyst on my ovary ruptured (GAWD DAMN THAT WAS ITS OWN SPECIAL CIRCLE OF HELL) and I felt convinced that the blackness of my thoughts was getting so powerful that it was literally making parts of my body warp and explode. I feel isolated and frustrated that I seem to be unable to live a normal, happy, functioning life like most people. Meds make me feel foggy, and when I try to talk to doctors about my depression, I feel disgusted and ashamed. I usually try to cover it up by acting like a clown. Most people have no idea that the depression is often so bad it makes me vomit, or that I spend the majority of my time in bed, like those grandparents in "Charlie and the Chocolate Factory." Although actually, a chocolate factory probably WOULD motivate me to get out of bed and sing a little song and dance a little jig, like Charlie's grandpa. So would a job, which I can't seem to find, and I'm convinced it's because blackness is radiating off me in waves and making job interviewers feel woozy the second I sit down in front of them. I keep bombing interviews big time. Ouch. I feel so trapped in this life that I have managed to completely eff up.
There you go. That was my pitifully raw segue into . . .
There are only a few more days left before the
Back to Black
mental wellness awareness event ends on Feb. 29. I appreciate the intentions behind this event. I appreciate the stories that some of the creators are sharing.
Bok bok. Here's another outfit I got there. Even though I'm on the blogger list for that event, this Flightless outfit by
Rotten Defiance
was not a review copy. I bought it (250L). So you can bet my bottom linden that my words of praise are bathed in the warm glow of absolute (Absolut) sincerity here. Let's all pause and bask in it for a moment . . . see, that felt good!
I really love Rotten Defiance for the imagination at work behind the creations as well as the quality of them. For fear of sounding like a pretentious "Project Runway" judge, I like that most of RD's designs, including this one, have a story to tell. And I'm a sucker for anything with feathers on it. And I like this color combination, even though we're supposed to be getting all springy right now. It's comforting to me. And I haven't taken off these Flutter boots by
lassitude & ennui
in weeks. Love the texture and the hassle-free mesh. That's my insightful fashion commentary for you. And don't ever let your English teacher tell you you can't start sentences or sentence fragments with conjunctions. You can do anything you want if you set your mind to it, kids. And then some. Especially in cyberspace. And America.
Because my pictures have a tendency to lack polish — oh God, and the whole "YOUR PICTURES SUCK, SO YOU SUCK AS A BLOGGER AND HOW DARE YOU POST THEM ON FLICKR" thing that seems to be popping up everywhere lately — I have started blog posts on that topic so many times; hopefully one day soon I'll finish one . . . . Shoot, sorry, I got sidetracked for a second there. I was trying to say, because my pictures aren't as stellar as others', I at least try to explain WHY I like certain fashions, skins and items here.
Imagine! Using WORDS in a BLOG to DESCRIBE things, instead of relying solely on photos! What a concept!
I'm not bashing the photo blogs by any means. Some people don't have the time or inclination to wade through wordy blogs like mine. To each his/her own. So can't we all just applaud each other's preferred methods of communication and get along?
Hey, it's Oscar night. And the award for jumping rapidly from subject to subject in a blog post goes to . . . *takes a bow*
VISIT INWORLD
Back to Black
(through Feb. 29)
Sugar
ROLL CREDITS
Dress
-
Rotten Defiance
at
Back to Black
- Flightless in Bronze (includes wings, stockings not included)
Boots
-
lassitude & ennui
at
Back to Black
- Flutter in Cardinal
Skin
-
Sugar
- Red Pill, Tone 2, Cleavage option, February group gift in store, 50L to join
Hair
-
MarieDoll
- Sona in Copper
Eyes
-
Re.Birth
- Bootiful Brown
Tattoo
-
DC Tattoos
- Thou Shall Flock Together (I can't find this store or the creator in Search anymore *sad face*)
Poses
-
MiaMai
, various
Photo location
-
La'Licious
- Breathe Me - Inspired by Sia skybox for Spruce Up Your Space, available today for 150L (I really love that song, too.) 41 prims, includes bed with two poses.