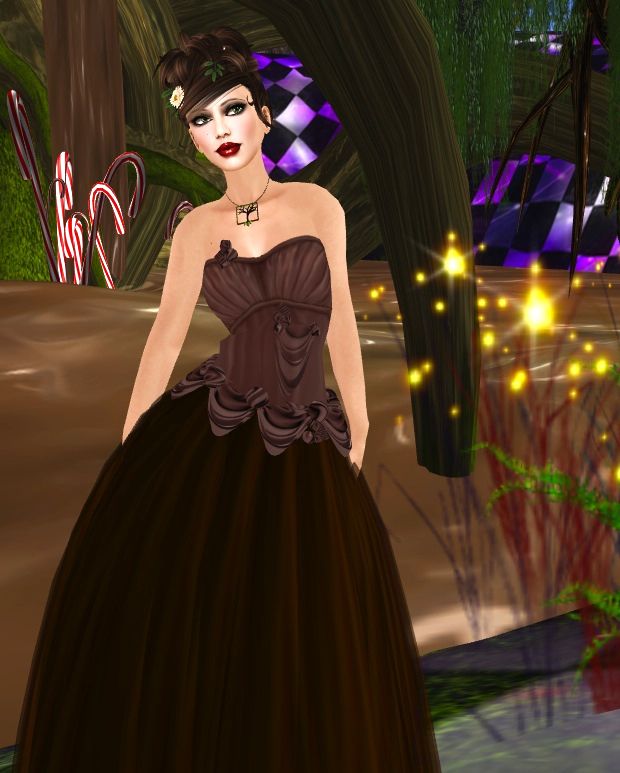 (I wanted to use "Simply Fae-bulous" as my headline, but I didn't want people to groan and throw things at me.)
This is the first time I've really gotten an up-close and personal look at creator
Boaz Sands'
work and she gets a big
"YES PLEASE AND THANK YOU!"
from me. This Chocolate Delight gown is one of her RFL items at Fantasy Faire (500L) and yeah, sadly my RL chocolate Easter bunny died a violent death while I was taking these pictures. As soon as I put on this dress, I turned into one of those raging "MUST HAVE CHOCOLATE!" monsters pretty quickly.
(Damn, between writing about dresses named Chocolate Delight and reading "The Hunger Games," I'm probably going to gain 10 pounds this week at the very least.)
This gown is part of Simply Fae's Confection Collection, inspired by creator Mayah Parx's whimsical (and tasty) candy build at the Faire's Jungle Bungle forest sim. Look at that chocolate lake!
So, ever since I started watching fashion designer shows like "Project Runway," I've learned how to toss around words and phrases like "draping," "pop of color," "color story" and the like. Allow me to do so now! "Look at the exquisite draping and detailing on the bodice of this gown!" It even includes a brooch made out of chocolate pieces. The one thing I really like about Boaz's work is that she pays as much attention to the back detailing as she does the front: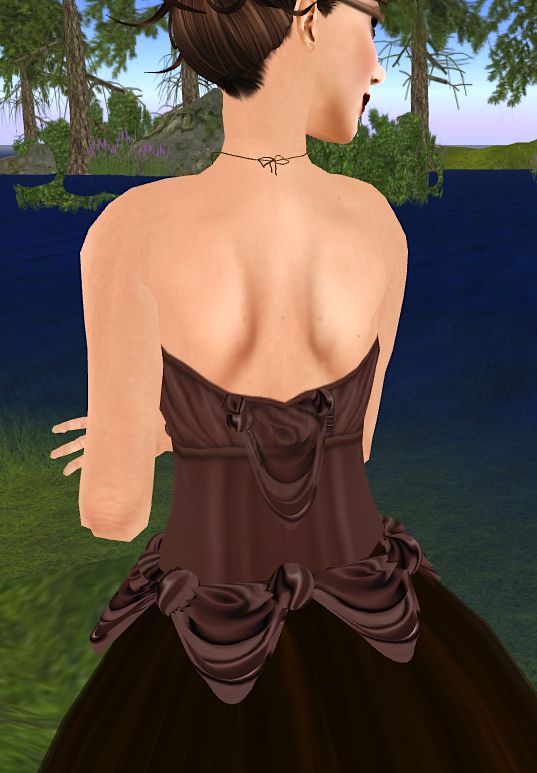 Lovely. (Don't look at my elbow.)
Her other RFL item is this Jilyan II gown (400L):
If you would have said to me, "Emerald, you are going to wear a big purple gown and love it," I would have answered "Oh honey. No." And then I would've been wrong. Because this dress is awesome, and I'm not even pandering because Simply Fae is one of my Fantasy Faire blogging assignments, I swear.
YES. The vines are included, even the earrings.
Don't do what I did and try to match your fingernails to the dress though. That's just noobish.
Look at the back:
(Wow, there's a ghostly paranormal orb in that picture. I'm leaving it there for scientific purposes.)
Seriously, I didn't want to take off this dress. I felt like royalty in it. It goes in my "All-Time Favorite Dresses" inventory folder. That's one of the folders I'll grab and try to save if my inventory ever catches on fire.
Visit Simply Fae at Fantasy Faire 2012 by clicking this link
HERE, RIGHT HERE, CLICK IT!
For basic details about Fantasy Faire, hop over to my post
"Death by Bear (and hey, Fantasy Faire is almost here!)"
or visit the official
Fantasy Faire 2012 Website
.
Also featured in this post is hair by
Osmose
(formerly Plume), skin by
Sugar
, and eyes by
A:S:S
. The Delicate Nature necklace in the top picture is a
Paper Moon
RFL Fantasy Faire item and will get its own blog post in the very very near future.
Have a fun day!