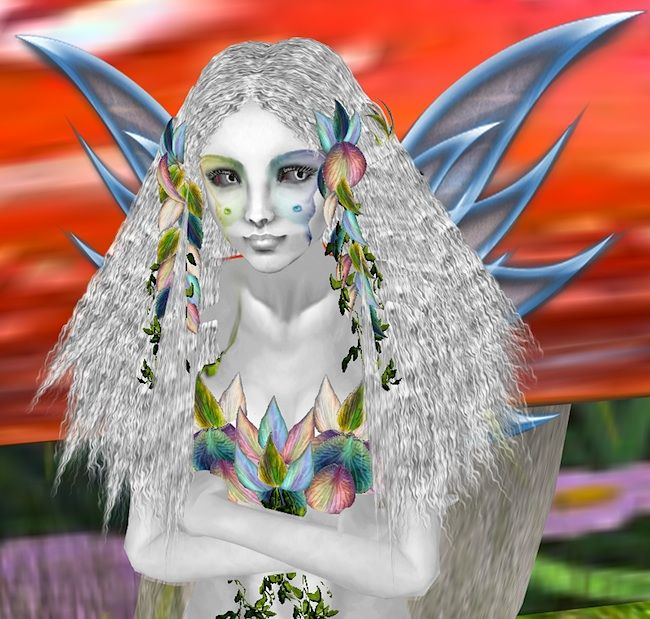 Fantasy Faire has been extended by one more day, which is awesome. Ironically, I really haven't been able to spend a lot of time there. I last about three minutes before I crash. Hopefully people with younger, stronger computers are having more luck than I am.
I will admit that being assigned four (and don't get me wrong, absolutely fabulous) Fantasy Faire creators to blog kind of kicked my arse a little. I have to hand it to the writers/photographers who blog every day. These days I'm having kind of a weird problem where I'm associating my laptop — especially my email — with total sick anxiety. It's kind of a good thing because I've rediscovered my love of books. But it's not so good when email and other responsibilities go neglected. I didn't blog as much as I planned to, so I'm glad I have a couple more days to give love to the people who are working so hard to give love to Relay for Life.
Fairy Pearls
is my last assigned Fantasy Faire creator, and designer
Napolde Vella
specializes in making beautiful little accessories and more for PETITES, among her other work. A while ago I wrote
a blog post that joked about stomping on Petites.
I was sort of horrified and amused by the people who IMed me with loud "HELL YEAH!"s. Oops. In any case, I swore I'd never jump on the Petites bandwagon . . . until two of my favorite creators,
Cane Sutter
of
Skinthesis
and
Aikea Rieko
of
The Plastik
, announced their own petite mesh AV lines and then I knew I was going to have to eat my words.
So nom nom nom and all that.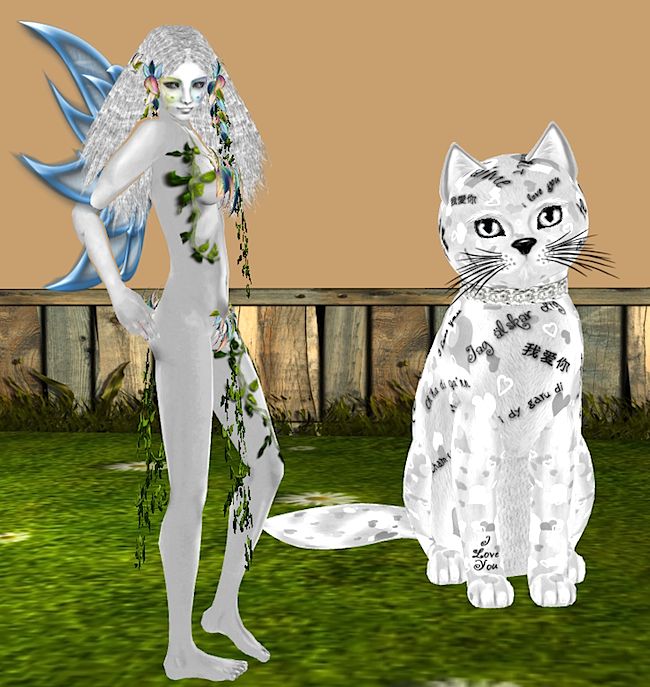 Holy crikey, they really are small. (This is my favorite cat. I like him because he looks like a newspaper. I named him "No More Money" because back in the day he cost me a small fortune.)
This is the female Dualities in Nature AV in Chalk by
Skinthesis
. The 1400L set allows you to create two complete Petite Mesh Fairy AVs, including two skin tones — Chalk and Obsidian — with PG and not-so-PG mesh bodies, full prim outfit, two sets of wings, two pairs of matching prim eyes, two colors of hair, two nail options, and three hand options. Wooo.
It's kind of
a personal tradition for me to go nuts in the Skinthesis store every year
at Fantasy Faire.
The wings shown in these pics are not the wings that are included in the set. These are the
Little Me & Petite Enchanted Wings
in Blue from
Fairy Pearls
. The 222L RFL donation item pack includes five colors of petite wings, also including gold, green, red and gold.
Fairy Pearls
also has this cool
Little Me & Petite Meditation Bottle
(99L) as its other RFL item:
Hang it from a tree or your porch or, since this is Second Life, just throw it up in the air and it'll stay there.
Om.
VISIT INWORLD
Fairy Pearls at Fantasy Faire
Skinthesis at Fantasy Faire
FOR MORE INFORMATION
Fantasy Faire 2012 Blog
Next up:
The Plastik