As I've said in previous posts, I don't know a lot about petite mesh avatars. I never thought I'd have one. They're so small — I'm always slamming into them in stores and tripping over them in the streets. I really don't want to be part of the petite AV obstacle course that's taking over the grid. I'd rather be a giant.
But then stores like
Skinthesis
and
The Plastik
came along and created their own versions of petites and I thought, "Well damn, these are actually kind of bad-ass." And now here we are.
The picture above — yeah, I actually used some WINDLIGHT SETTINGS, Y'ALL! — is one of the new petite mesh avatars from The Plastik. They feature The Plastik's Ataciara skins, and I'm wearing the Elven version in Nautical. If looking like a pointy-eared crayon isn't your thing, she also offers these AVs as humans in her six natural skintones.
One of the most awesome things about this AV is the head. Creator
Aikea Rieko's
petites have custom mesh heads with features that are a bit more distinguished and adult than those of other petites. They are exclusive to The Plastik, which is pretty cool in my book.
Here's a closer shot:
The Plastik's Petite Mesh Elven Avatars are 1500L and include the body, three types of heads (pointy ears, human ears and no ears) — each in five different makeups, two types of hands, some feet (just in case you were worried you'd have to go footless), more pairs of eyes than I feel like counting (sorry), a full-body alpha, the Yabusaka body deformer (petite mesh AV shape), the Yabusaka Fairy Mesh Control HUD (controls levels of brightness and other cool things), the Yabusaka Petite Control HUD (facial), and the Yabusaka Mesh Skin Tinting HUD.
Wooo. I feel like I forgot something. Now your world will crumble!
Aikea also offers three limited-edition AVs as her RFL donation items. They're 1000L each and include just about everything listed above. I love all of you passionately, but there's no way in hell I'm listing it all again. The only difference I can see is that each head type includes four different makeups instead of five and there are EVEN MORE EYES in these sets. I bought the RFL Petite Mesh AV in Cosmonaut: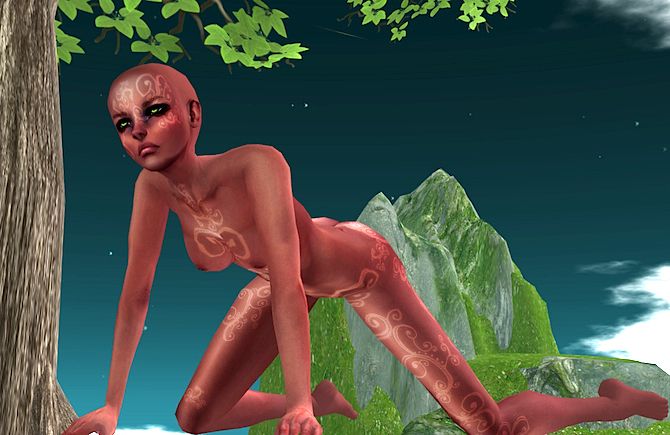 MORE NUDITY!
Let's see if Photobucket bitch-slaps me again for my offensive pixels this time. (BTW, the whole time I was taking this picture, I was praying, "Please God, don't let
my neighbor
log in and catch me crawling around naked in her yard.")
Yeah, wouldn't it be nice if I took the time to put on some, oh, I don't know, HAIR and CLOTHES? I had every intention of doing just that, except I couldn't log in to SL until about 1 p.m. Tennessee time today. And I don't own many things for petites. So hey everybody, look, I'm naked.
Sometimes I think maybe Linden Lab desperately needs a very involved SL resident on staff. You know, someone who could look at a calendar and say, "Oh hey, this is the last day of the month, which means there are dorks out there like Emerald Wynn who are scrambling to finish the Crazy Arse Hair hunt and, OH YEAH, it's the last day of a major fundraiser event for cancer so, um, MAYBE THIS IS NOT SUCH A GREAT DAY TO SCREW AROUND WITH NETWORK MAINTENANCE."
Sheeeeezus.
Fantasy Faire is open until midnight SLT tonight. At last count, SL residents had raised $24,646 USD in Relay for Life donations there. WOO HOO! Go us!
VISIT INWORLD:
The Plastik at Fantasy Faire
FOR MORE INFORMATION:
Fantasy Faire 2012 Blog
(Poses in this blog by (pda), Magnifique and estetica, respectively.)