So I tried on a bunch of bikinis in real life today, and I realized to my delight and amazement that for the first time in I don't know when,
I actually love my body for a change!

I'm speaking from the perspective of someone who has been pretty skeletal and, as such, ashamed for a really long time, so I don't have any problem saying, "Wow, I've suddenly filled out a little and it looks pretty damn sexy!"
THANK YOU,
late-night country-fried cooking!
Besides eating, I've been trying really hard to get out of my house lately, even if it means tagging along with my brothers and their friends. Even though I grew up here, after an 11 year hiatus from the place I don't know many people in this city anymore. My childhood friends have all fled.
I'm also thinking of trying to date again soon, even if I have to -- big sigh -- resort to something cheesy like Match or eHarmony.
(Maybe there's a man out there who'll overlook the fact that I'm *cough* freelancing and temporarily living with my parents.)
I don't know. I guess what I'm trying to say is that I've realized -- particularly today -- that, my God, I'm wasting large amounts of time during some of the best years of my life -- my 30-flirty-and-fun years! -- at my computer.
So I'm probably gonna try to make a break for the RL border again. My SL friends who know me well will roll their eyes and make another notch on their tally sheets of the number of times I've made that statement, but hey,
we gotta keep dreamin' if we ever wanna start achievin'!
(Laugh - I made that little ditty up, can you tell?)
Anyway, speaking of bodies that I love . . .
I thought I was the only one who wandered by The Red Commander AV on the Midnight Mania board at
Vendom
over the weekend and was captivated by her, but to my great delight (it's turning out to be a
DAY OF DELIGHT
) Chic Aeon from one of my favorite blogs, Chic at Phil's Place,
blogged it too!
Like Chic, I saw the impossibly high target number (I think it was 500 on Saturday) and thought "long shot" but I clicked in at No. 187 and imagine my great deligh . . . I mean
JOY
. . . when I logged in Sunday and discovered that 500 people actually locked that baby down!!!
Here it is in all its glory and yes, it includes this bangin' shape: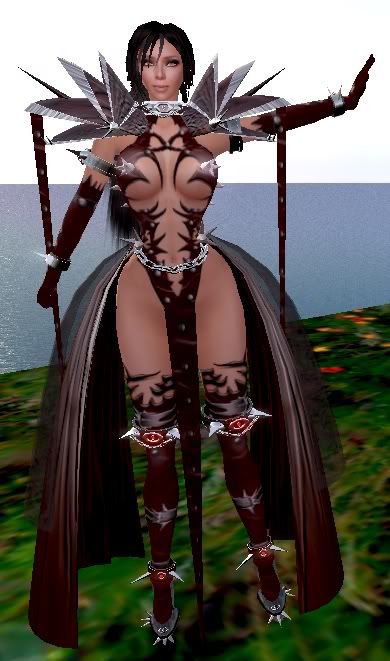 "I WEEL PIERCE YOU WITH MY SPIKED KNEES!"
I really like the face. It's strong and she looks like she's "a bad-ass mother who don't take no crap off of nobody," to quote my favorite movie "Cool Runnings":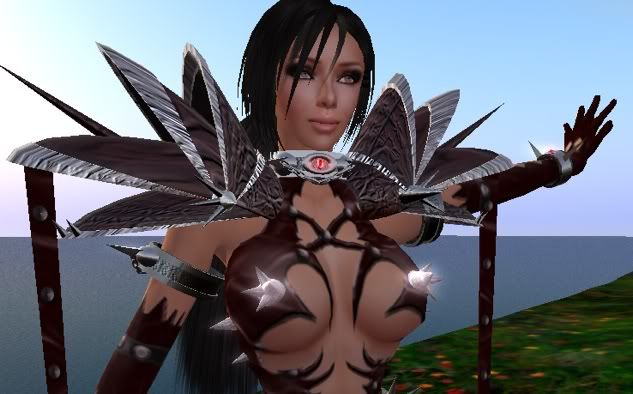 NICE
nipples of death!!!
"COME HERE LEETTLE BOY AND BITE MY SHINY
NIPPLE!
"
(I really don't know why I've given her a Russian accent.)
And, uh, yeah, when I say "bangin'" I mean it -- this baby's got back and I did, in fact, run around like this today and I did, in fact, get some "OMG LOL"s from some snotty chicks, but I also got some "wow, cool AV!"s from several guys (of course):
POW!
"I WEEL BLIND YOU WITH MY CHEEKY GLOW AND THEN SLICE YOU WITH MY STEEL SHOULDER PADS!"
I don't have a problem with big glorious booties. I myself have always wanted one in real life. I'm just not used to, um, letting it all hang out like that. So today was quite the social experiment and test of willpower for me. Because yeah, as awe-inspiring as it is, I kind of wanted to cover that ass up after a little while.
If you want that AV, I believe it's only on the MM board on the weekends.
Over on her blog, Chic shows you what this outfit looks like with all the attachments removed and on a more proportionate shape, in case you're not comfortable with the mock-inducing one. And I only call it that because, yep, it hurt when the snarky chicks sniggered at me, even though that wasn't even my normal AV.
And now we've come around full circle to the deep philosophical thought that, here I am with a body that I finally love -- even in a teeny bikini -- in real life, so
WHY IN THE WORLD
do I give a damn what a couple of stupid little avatars say about my giant warrior princess avatar in Second Life? A shrink would have a field day with the question, I guess, and maybe it's because my AV represents my creative core. 
BISHES, BACK UP OFF MY CREATIVE CORE!
And hell, maybe being openly laughed at just hurts in any world in any form, but if it bugs me that much in a virtual world, then yeah, I need to get back to my real one.
Because there ain't
NO CHICKS
laughing at me there! (Well, maybe they're laughing at my new Oompa-Loompa hue, thanks to a strip-mall spray-on tan. You
LIED,
Totally Tan-tastic! This is not "natural and beachy"!)
But hey, do I sound confident today? Good! Cocky even? I don't give a damn!
A few weeks ago I picked up this computer program called
MindHabits
from Got Game Entertainment. The exercises are scientifically designed to reprogram your mind to think more positively! Reduce anxious thoughts! Improve self-confidence! Blow off stress!
It's only $19.95 and it's Mac- and PC-compatible as well as downloadable. 
And I'm only pimping it out here because I think it's working!
Some of the exercises are annoying, like clicking on happy faces that irritate me: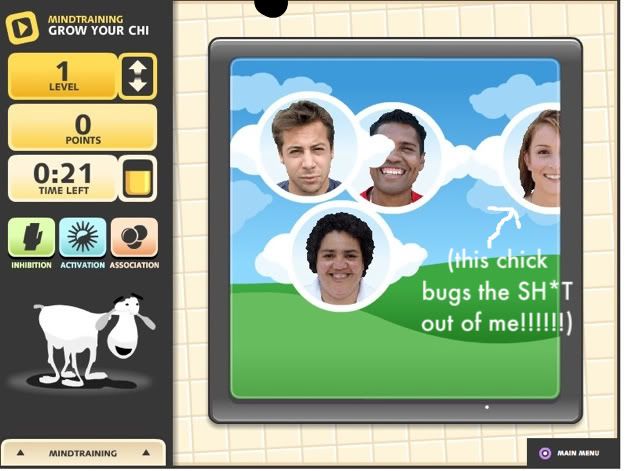 So, uh, I guess I still have a way to go. ("0 Points" LOL)
I have a couple more posts to write, and then hopefully I'll vanish for a while. Don't take offense at my "hopefully"! For me, it'd be a good thing!
P.S.
Congrats to my good friend
Lizzie Lexington/Elizabeth Hallstrom
, who got partnered to a cool cool dude over the weekend. I'm always envious of the people who can dive into SLove. As for me, I need to chase real tail or the hopeless, hoorish romantic in me is not satisfied (no offense to my SL roomie and fake fiance Jon).
*begins the post with booty, ends it with booty*