Uh . . .
*waves sheepishly*
The next time I write a big damn dramatic blog post -- complete with wince-inducing poetry -- about Never Blogging Again, um, just go ahead and blow off the wolf cry. 
Shoot,
I'M HOOKED ON PHONICS!
*wails*
It could be worse though. I mean, it could be . . . crack or something, right?
And hey, I think I at least lasted 48 hours this time!
WOOT!
I blame my backsliding on something I like to call The Second Life Domino Effect. It goes a little something like this:
(Speaking of getting a bunch of fashion bloggers p*ssed at me --
WHOOPS!
-- but gosh, 
THANK YOU
for the group invite!) . . . it all started with a desperate struggle for the technical terms to describe
THIS WEDDING DRESS
for a real-life bridal mag article:
[Yeeks, I wonder if I'm allowed to reprint that pic here? "Photo courtesy of Redcouch Photography" -- honestly one of the more talented wedding photographers I've seen in the RL South (USA), and I'm not just saying that to stay out of trouble. And
HEY
fashion writers, I still don't know how to describe the bodice. Or the . . . thingy around the chest. Or the . . . bottom. And actually, the bride doesn't know how to describe it all either. Some help please? Oof.]
OK. Here go the dominos:
- So if I wasn't standing with my face smashed against a giant writer's block, I wouldn't have tried to ease my throbbing temples by taking a mental vacation and checking out some SL blogs.
DO NOT EVER DO THAT
if you're trying to kick a Second Life habit. It'll throw you off the wagon so fast, you won't know what hit you.
- If I wouldn't have been checking out SL blogs, I wouldn't have read about this juicy polka-dot goodness in
Luxurious World's
30-minute camp chair:
(We will get to that
RAWKIN'
Arabian bedroom in a minute.)
- If I wouldn't have suddenly developed a craving for juicy polka dots, I would have never logged on to camp for that dress.
- If I wouldn't have been trying to kill 30 minutes while camping, I wouldn't have read every group notice I have, including the news that Lorac Farella of Pulse has "hidden" four $100L Pulse Climax skins (usually 1200L) to commemorate the grand opening of Envy Designs' new main store, Ultra Nightclub and Legacy Management. Look for the skins in boxes around 
HERE
. Look for more hunt boxes -- also not free, but with great deals on cute things --
HERE
as well. A notecard at that second location will show you pics of most of the prizes.
- If I wouldn't have read that notice, I wouldn't have run to grab those skins -- because when I'm not raving about The Obscene skins, I'm usually raving about Pulse skins. I think I own about 25 of them. Well, make that 29 now: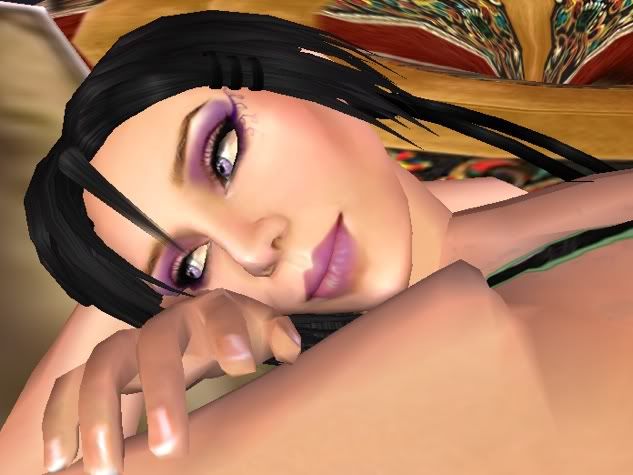 I think it's called Ultra. Or Ultraviolet. Shoot, I suck. But you can't really miss this skin (in four skin tones, one per box) in four giant purple boxes. No cheat sheet necessary. And laugh, laugh, laugh, it was only when I zoomed in to take this pic that I realized there are
PURPLE SWIRLY THINGS
around the eyes.
COOL!
-If I wouldn't have been looking for that skin, I wouldn't have swung into the
Legacy Management Rental Office
and discovered a new living concept (at least to me): a menu-driven skyhome. Change the
WHOLE LOOK
of your fully furnished home with the click of a menu button.
WOW!
(<-- easily entertained) 
- If I wouldn't have been kind of fascinated with a skybox that is um, as
FLEXIBLE
as my moods, I wouldn't have TP'ed to a demo and then decided to become a real estate-renting mogul (laugh) and rent one, even though I also rent a perfectly great beach house.
But check it!
Arabian Nights option (you saw the inside up there):
Gothic option (fireplace view):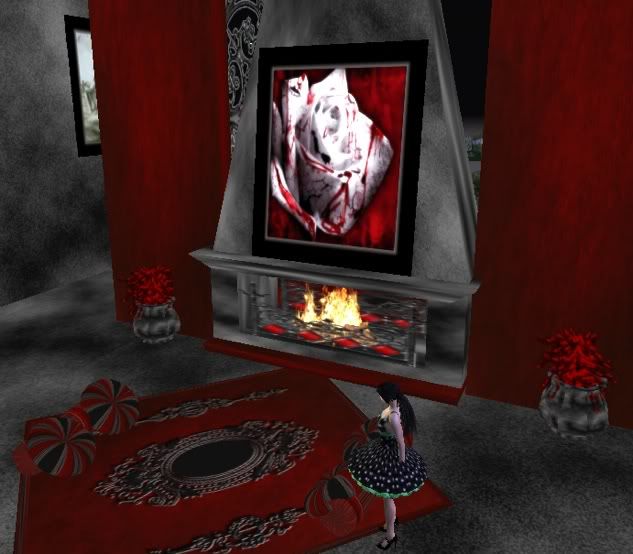 Jon wasn't with me when I made my spontaneous rental decision. He e-mailed me later and said, "We are never using that Gothic version." 
Sheeeeeesh, Jon. Somewhere inside of you, there
IS
a dark side that wants to frolic under a picture of a blood-drenched rose. I just know it.
"Redrum" option: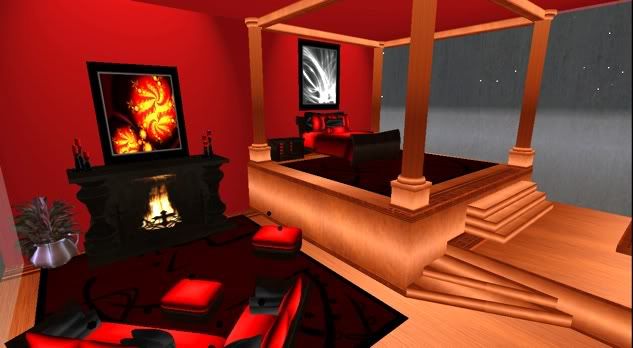 (C'mon over, Stephen King!)
Or you can turn your whole plot into a garden of low-prim love:
Maybe I could have adjusted my Windlight settings for that pic. Oops.
And yeah, just about everything in every version is animated. It's a veritable smorgasbord of sexy poseballs in there. On the downside, the skyhomes are all at the same altitude and feel like they're about one inch apart from each other. They don't have privacy walls either, so it's reallllly easy for me to cam into everyone else's place and watch people doing the nasty, if I feel so inclined.
Which I don't.
I DON'T, I SWEAR!
Uh, you can rent one for a minimum of *cough* two hours (for 69L, haha, how appropriate) to up to a month (899L). I paid for a month. Then I'll probably give it up. It's taking up a precious group slot.
- So if I wouldn't have gotten a new dress, a new skin and a new vacation home, I wouldn't have felt the urge to share the joy in this blog.
AND THERE'S MORE.
(But if you're exhausted, I totally don't blame you if you wanna stop here.)
- If I wouldn't have been reading SL blogs, I wouldn't have seen the smokin' dresses currently in the
Ivalde
lucky chair and wandered over there in my new polka-dot dress for some quality stalking time while I waited for some Ambien to kick in. (That's a sleeping pill, by the way, for those of you who aren't hip to the prescription-drug lexicon. I'm a chronic insomniac.)
- If I wouldn't have been wearing that polka-dot dress, I maybe wouldn't have started talking about clothes with
Taryn Gartner,
who happened to also be at that chair and said to me, "Hey, I camped for that dress too!" I don't know Taryn very well, but she's over there on my blog roll. She's new. I like reading what new people think, before they get sucked into the jaded madness.
- If I wouldn't have been under the influence of Ambien, I probably wouldn't have agreed to accompany Taryn to her favorite store. No offense to Taryn. I'm just
REALLY
shy "in person" and not in the habit of spontaneously running around with strangers.
HOWEVER,
I do think I need to seize the day a little more and run around with strangers more often. It usually turns out to be fun.
-- If I wouldn't have run off with Taryn, I would have never discovered the really amazing (and perhaps a little over-the-top opulent) store,
Sonatta Morales Weird Couture
. Lots of gorgeous period clothing, as well as some fantastic exotic costumes on the top floor and vintage hairstyles on the bottom floor. The designs are amazing, intricate and inspired.
To be fair and balanced, the textures on some of the gowns aren't for me, you've gotta be able to work a system skirt with many of them, and some of the seams don't line up perfectly, but you're still going to turn
a lot of heads
in these stunning gowns. It's extremely evident that mass quantities of love, research, planning and hard work went into them. Actually, Taryn posted a more detailed description (with pic) over on IHeartSL right
HERE
.
I bought The Drama Dress (800L) as well as a fat pack of this hair (yeeks, I don't have the name at the moment) for 150L: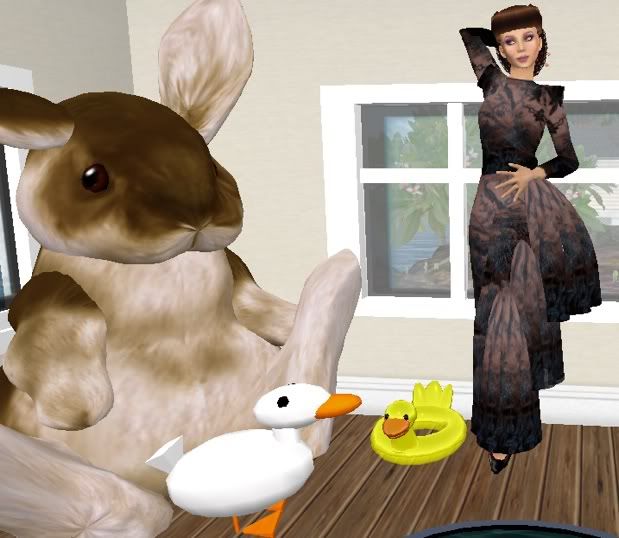 OK. I suck at modeling.
And hell yeah, my house is also available for rent as a photography studio. I know you were wondering. The animals serve as your awed audience.
Boom boom pow! Actually, I'm frustrated because it looks a little drab in my pics. I can't do it justice here. 
And lookit the back!
Oops. I need to adjust the shoulder pads. But the pattern is really cool. And that hair is in a retro hair net. A less lame photographer would have gotten the brilliant idea to include that in the photo.
OK. That was a long string of dominos (or "dominoes" -- you can spell it both ways!).
Let's get back really quickly to that wedding dress up at the top. Honestly, if you know technical fashion terms beyond "cool" and "boom boom pow," please
HELP ME
describe it! I'll make it up to you.
And
HEY
 if your RL self wants to be Facebook friends with my RL self, send me an e-mail at emeraldwynn3 [at symbol] gmail [dot] com (yeah, I spaced it out to avoid spam) and maybe we can reveal our secret RL identities. I don't really talk about SL on my Facebook page, but that's kind of the point.
I'm still trying to keep one foot in the real world.