Oh wow, I need to digress from my usual highly intellectual discussions to extend a heartfelt 
THANK YOU
to my SL friends who did some really wonderful things on my birthday. It made me get teary in real life, especially since my parents kind of Sixteen-Candled it in RL this year. 
My SL Facebook friends who walk in both of my worlds can read all about it in my FB Notes, but basically my RL b'day was kind of a bummer -- for me
AND
my pet turtle.
In SL though, I was extremely touched. Your kindness saved me from plummeting to complete rock bottom on my birthday, which once again reminded me that sometimes SL can fill huge holes in our lives and work double-time as a virtual band-aid, or at least in my case.
There are too many people to thank publicly here, and that alone is a gigantic gift. Please know that I'm currently searching for SL thank you cards that don't suck.
And hey,
LOOKIT
my cakes!
(Detour: I love that Belle Belle Luna couch with color-changeable pillows so much I can hardly stand it.)
Look -- it's
THE RED CAKE!!!
*dances with joy*
And hey
BON
, that spectacular cake you gave me (on left) is 51 prims, BTW. Fifty-one prims!
RAWWWWK!
As such, I'm waiting for my landlady to come over and kick my ass. (The birthday decorations will come down in two more days,
Landlady
, I swear!)
But speaking of my landlady, she's one of the few SL people who has the rare permission to edit my stuff, and I'm so happy she used it to bust in my house and deck the hell out of it:
(LOL at Jon's duck)
The animals got really excited!
Thank you,
Ali!
♥
Hey take a look at that picture up there. See that little line under my eye? That annoying line is
ALWAYS
on my SL screen.
ALWAYS
. It's not always under my eye, but it's always right there. I've learned to live with it, but occasionally it pops up in photos and bugs the hell out of me. Like now.
If you read blogs besides this one (and I hope to God you do), you probably know that
Tuli
has a new line of Hope skins out. I'm one of the few people I know who
isn't
a member of Tuli's group, unfortunately because her skins look like
hell
on me. 
That's not a Tuli slam; it's an Emerald's Shape slam.
HOWEVER,
I was thrilled to recently discover that Tuli has a Picks Prize board in her store now, and since I had an open slot (yeeks, that sounded kinda nasty), I thought I'd give it a whirl. June's picks prize (available now) is a Hope skin in Sunkissed. I'm wearin' it in that photo up there and -- if you ignore that mother-bleepin' line under my eye -- it actually doesn't look that bad on me!
WOOT!
OK, as long as we're looking at stuff in that picture, the Zaara outfit I'm wearing caused a gigantic
"OMG I'm such an idiot"
revelation today. And since readers have been screaming for more fish tank poses, here's the outfit again (and
HEY,
lookit my fish tank!!).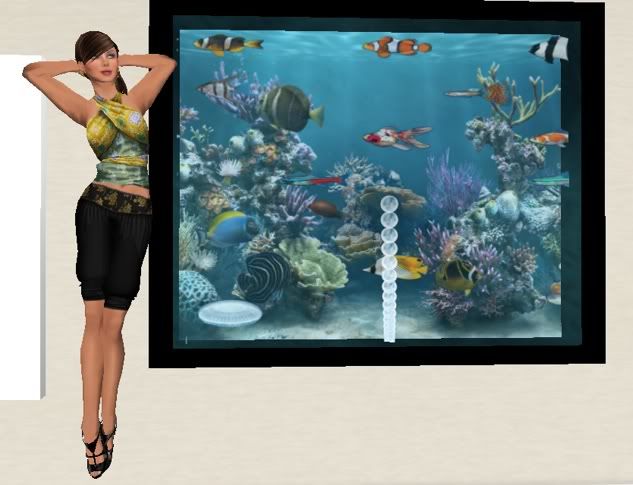 That outfit is called Xacuti in burnt yellow. Like many avid SL shoppers, when I found out that almost everything in
Zaara's store
is half off until June 1, I raced over there and kissed many lindens goodbye. This Xacuti outfit, a steal at 143L (I think) was one of my purchases. Imagine my dismay when I went to file this outfit in my "Zaara Rocks" inventory folder and found
NOT ONE
but
TWO
other Xacuti outfits in the
SAME DAMN COLOR.
They both had a "285L!" in the name. I do that to remind myself that I actually spent lindens on an outfit and didn't grab it as a freeb.
So not only have I bought this outfit three times, I've bought it in the same color three times, which actually annoys the hell out of me even more, particularly since there are two other color options.
Wow, I'm such a gawd-damn predictable burnt-yellow person. :(
Kids, if you're like me and your inventory is at 85K
(*ducks and hides as everyone gasps and throws things*),
CHECK YOUR STUFF
before you buy something. You probably already own it.
It's a damn shame those outfits aren't transferrable.
Hey, I bet you looked at that photo up there and wondered how I could float magically in the air by my fish tank like that. Yes you did! I know you did!
Last month my friend Cait from the awesome blog
Cait's Finds in SL
gave me this aquatic pose stand as a "gift for no particular reason," which are always the most fun in my book.
It has fish swimming in it, along with 86 poses. I have no clue where she got it. You'll have to ask her. I love it. There's only one other pose stand I love just as much and that's a sparkly one that my friend and talented creator
Aisuru Rieko
made.
Some of the poses in my aquatic pose stand kill me, and they're always in the air, which is kind of cool: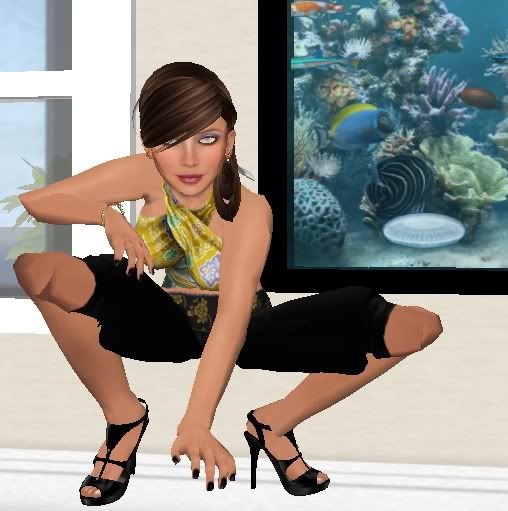 Watch out, because I'm about to
POUNCE LIKE A LETHAL SPIDER!
I don't think spiders pounce.
But my Ambien is kicking in, so I guess anything is possible.
I know everyone's screaming
"OK! DING DING DING! THIS POST IS GETTING LONG NOW! TIME TO STOP!"
, but
LOOK,
I want this blog to be a precious, useful tool for my readers, so I just want to say one more thing:
If you love Midnight Mania boards as much as I do, you might want to visit the
Slap-a-Thon
, running now through June 7.
I got excited when I first heard there was a Slap-a-Thon, mainly because I thought it was a place where we could all go and slap other avatars.
But no! It's a two-story mall with different vendors sponsoring Midnight Mania boards in their booths. Some are well-known, some are new names. All I know is that by noon today I had already scored some
RAWKIN'
furniture.
The technical description, which ran in an announcement in The Freebie Telegraph group today, went a little something like this:
"SL's first MM Slap-a-thon! Sponsored by the two largest MM Board groups: Midnight Mania group owned by Avalon Asturias & *CS midnight Maniacs!* owned by ChaosSun Woebegone! COME SLAP THOSE BOARDS BABIES! OPEN NOW UNTIL JUNE 7TH. NOTE: Boards are being forced frequently and new items even put out to keep this event running. FREEBIES also on site! Please remove huds, AOs, and wear non-prim clothing (pants, shirts, no flexi) if you find it laggy! Still accepting MM Board owners who want to participate!"
So if you have time to kill between now and June 7, get over there and slap some boards. The cool stuff was already locked down when I went over there today. If I happen to be awake at 2 a.m. my time tonight/tomorrow, I may head over there again for some quality slap time.
My next post will be about the Virgin Mary. How's that for a cliffhanger? (laugh)