YES.
It's two posts in one day! You can handle it! I know you can!
Today I had a big-time RL editor tell me that my writing was "joyless." She told me to find my joy and get back to her, because my references apparently told her that I was a big damn bundle of it. Shoot, I used to be.
I don't know how to get my groove back in real life. That's a quest I'll have to embark on somewhere else. This is a Second Life blog, so here are the things in SL that've brought me joy recently:
1. Your beautiful butts
I'd like to congratulate blogger Marnix Malifozik for
getting a bunch of people to show him their butts
. I have officially been mooned more during the past week than I have in my entire life.
Hey, I'd like to start a meme too. Let's see how many of you male bloggers out there can post very tasteful pictures of your wangs.
I'm just
KEEDING!!!!!
Please don't.
Here you go, Marnix. This is all you get. I took this pic when I was a noob. Note the body oil. And that "Balloon Bikini with Bling" is blangin' AND poppable, so if you want to see my whole butt, you're gonna have to come over and start popping:
Tasteful!
2. The Bandwagon
I'm not one to jump on the bandwagon. I like to wander off the beaten path. That's why I try to resist for a while when bloggers start raving en masse about a store, skin, designer or whatever. 
In this case, however, I have to agree with everyone: I too am really enamored with Ryker Beck's skins. Here's Fae in Nutmeg from the Eden Gen 2 line at
Exodi
, formerly Genesis:
You win, Bandwagon. (Shoot, do my ears look too small??)
And WOW, my boobs look
HYUUUUUGE
in that pic!
WHOOPS!
That's not gonna fly with Gracie!!!
3. And as long as we're on the topic of skins . . .
I saw Suri Christen looking
HAWT
on
this post over on Free*Style
in a skin from a new-to-me store called
Glance
, so I ran over there like the wannabe hottie I sometimes am. This skin is called Bruna and I blame my stretched-out face in this pic on my latest viewer. It's not that long in SL, I swear. :(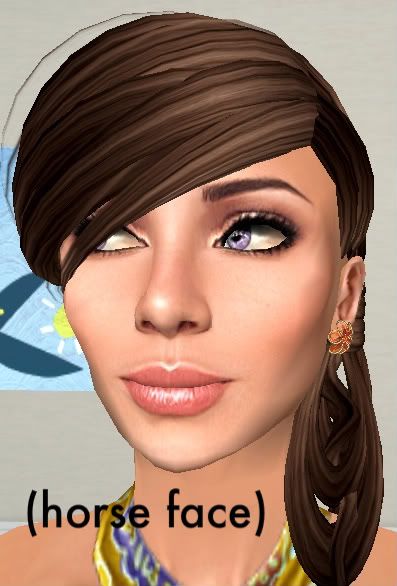 Yeah, maybe I'm not the best poster girl for it.
And I'm jealous of everyone who's raving about the newish
Surf Couture
skins because, um . . .
Eep! 
Gorgeous art in that skin though. Just not on me.
4. Bubble Girl
I'm starting a new series here called,
"HAY! Look at this cool thing my friend made!"
(You're up next, Kareem.)
Celebrity Trollop
made this Fashionista in a Bubble to mock those new protective "don't inspect my amazing clothes" shields:
Touch it! Touch it!
[16:06] Fashionista in a Bubble shouts: OH MY GOD Emerald Wynn touched my fashion bubble! THIS IS NOT ALLOWED!
Ha haaaaa! If you want one of these, shoot me an IM. The only catch is that you have to run a snapshot of you posing in it on your blog.
Thank you, Celebrity. ♥
5. Men who aren't afraid to dress like demon bunnies
You may or may not know that the Midnight Mania board at
Vendom
is my favorite board to slap on the weekends. It has some of the most detailed and head-turning outfits I've seen. Last weekend, my fellow Lucky Kitty Crew member Nagash helped me rally all kinds of troops to lock down a 400-limit board with a sexy Demonic Bunny outfit in it.
And then, even though it's for chicks, he put it on and sent me a pic.
HAW HAW HAW!!!!!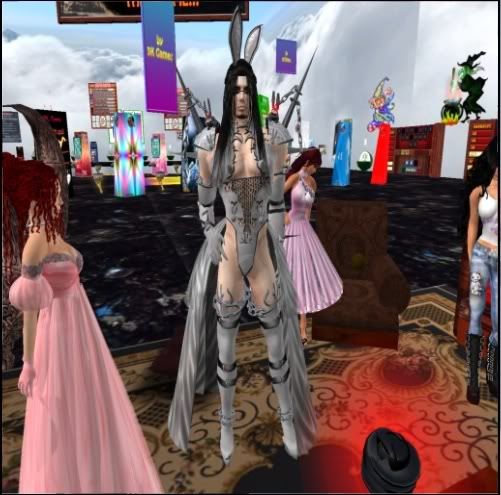 *crowns Nagash the King of Awesome*
6. Acting the 'tramp'
I bought a trampoline. I look like a jackass on it.
I'm looking for a new trampoline now. One with cool animations, like flips and stuff. Then I won't have to flail in the air like an idiot at an altitude that is almost higher than my house.
7. Punching procrastination in the face
I finally went out on a date with an eligible bachelor for my Date with Emerald column over on
City Zen
. YES, that column is still alive and kicking. It's just been on hiatus. I did the homework; now I just need to write the thing. Until then, I'm not revealing who the mystery man is. But ladies, you'll love him! And he's up for grabs!
The fantastic
Lizzie Lexington
accompanied me as the guest photographer for this particular column. Thank God, because the one picture I took turned out like this:
WHOOPS!
And
WOW
, that lady on the left is rockin' a really big ballgown! I'm not knocking it -- it's gorgeous. I'm just saying that when she gets tired of dancing in it, she could live under it. Actually, we could
ALL
live under it!
8. My 900 places of residence
I'm getting to be almost as bad as my friend Galene in my new
addiction to accumulating housing
.
But I've had this fantasy of getting a little parcel of land, covering it with year-round snow and naming it
Emerald's Bitchy Ice-Yo-Ass-Out Land
. Maybe put up some snowmen and a little train. Hold weekly snowball fights for all the drama llamas out there. 
Let's stop slinging words and start slinging snow.
So when I learned that the parcel across from BFF Lizzie was open over on
Owly Indigo's
 sim, I snagged it. Well, actually Lizzie snagged it for me. 
(Damn Lizzie, I still owe you 4K more lindens. *hits the streets to sell my body*)
Then I learned that I couldn't fug up the Mediterranean landscaping with my mountains of bitter snow.
Oops!
Oh well.
*watches sadly as the snowmen melt*
The warm welcome I got today from Lizzie and her partner Ceru kind of thawed my ice-queen heart anyway.
Awwww! It's a sign! Hallelujah! (That's the sim name -- and it comes with its own
blog!
)
I guess I need to put some kind of a house there.
9. Jello
Speaking of my new friend Owly, she came over today to join the welcome home party in this
ROFL
Jello Mold AV: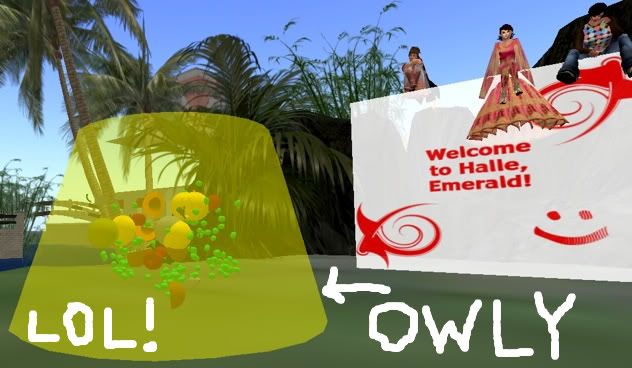 If you have a hankering to be some Jello, get this AV in one of several colors
here at Bare Rose
for only 10L. I bought it in Lime.
Shoot, I need a No. 10!
10. You
Thank you so much for reading. (Yeeks, are you still reading?)
♥