(OK, not really. I just needed a title for this blog post. Good song though!)
Only in Second Life can you walk into a store and overhear someone ask another person: "Hey, do you mind if I ask where you got that halo?"
Or only in Second Life can you see a scene like the picture above: people flying around the stars and grasping at them. And yep, those are stars. I gave up waiting for all of them to rez completely.
And if you're wondering why those people, myself included, were up there today, it's because those stars are loaded with free gifts from two of my favorite stores, Baiastice and Digit Darkes.
As part of the SL6B celebration, you can boogie on over to the
Cyberfashionista SL6B Portal
and wish upon some stars for fantastic fashions. Twelve of the stars and planets in that sky have beautiful presents for you.
Here are a few (not all) of them. I took these pics at the second-most-awesome SL studio ever: my back deck. And hey, I never promised you exquisite photography here, just nonsense. The hair in these photos is the freebie at the
BishWear Hair Fair booth
(follow the red beacon!).
Intrigue Flexi by Baiastice.
(And no, I never take those Maitreya shoes off. I know you're sick of looking at them. I really hate changing my shoes for some reason.)
Hey, check out the simulated (not stimulated, but it looks like that too) nipples on this outfit (said that blogger with the boob fetish):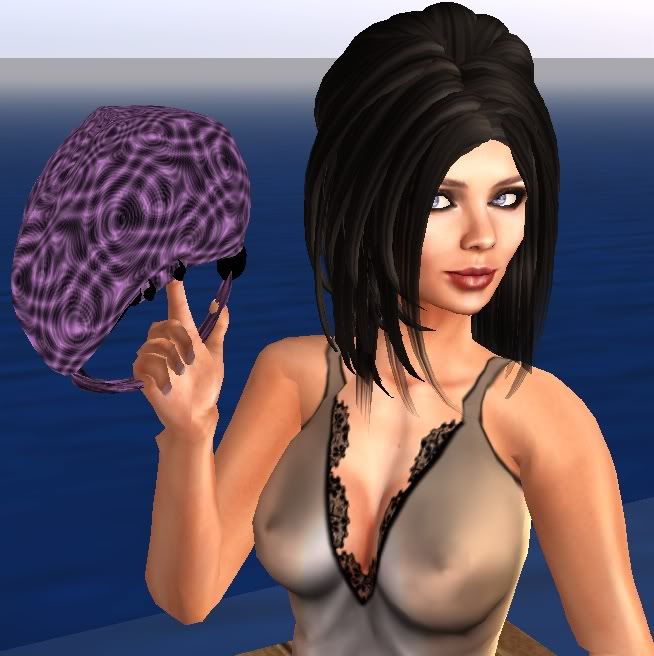 That purse is another Baiastice star gift. The name is too long for Lazy Me to type here. I think it translates to Purple Hypnotic Purse though. If you grab it, please tell me if the texture really looks like that, because I have a sinking suspicion that my new viewer is warping textures.
That skin is still Misty in Glam by League. I'm never taking it off.
Moulin Rouge lingerie set by Digit Darkes
Hey
Marnix,
here's a tasteful shot of my butt:
OK, back to the prizes:
(Hey, I changed my shoes!)
It also comes with cool pattered stockings, not shown, as well as a "short" bra/bikini top option. In fact, yeah, take off the skirt, put on the little top instead of the long one shown and you've either got some cute skully undies or a little boyshort bikini set. Yay skullies! (That whole description sucked. Blame my hangover.)

Sorry, I cammed way out for that shot. Trust me, it looks beautiful close-up. Many of these poses are from the Oh Baby! set from Pffiou! But I've renamed this particular pose, "Jilted Girlfriend says, 'Jon, if you're not coming back, at least come get your ducks and your cuddle deck lounger.'"
*kicks it*
Hey, Pffiou! is having a 50-percent-off sale because the store has moved to a new location
HERE.
So RUN and go stock up on poses!
BONUS:
If you grab the last notice from Pffiou!'s subscribo, not only will it tell you about the move and the sale, but it also has this Useless Primmy Ugly Toilet in it.
LAUGHS.
I'm sorry,
Laleeta
, but that is
OH SO WRONG.
Reach for the stars, kids!
And now I'm off to daydream about a cute guy I met in real life last night. *Types our true-love-forever relationship into existence on Emerald's Magic Blog.*