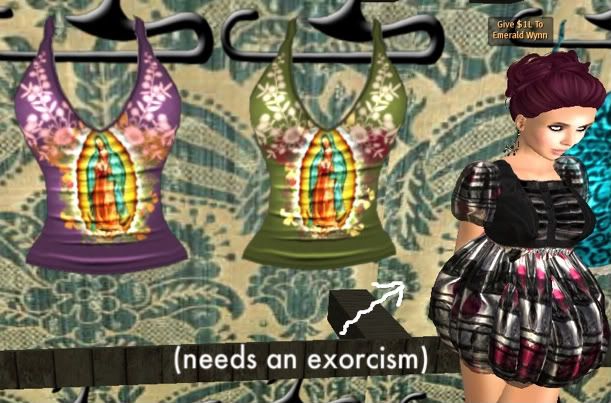 I collect articles of SL clothing with the Virgin Mary on them.
("Articles of SL clothing" sounds so stuffy -- I'll probably come back and edit that. Someone give me another phrase, please. If I use it in the rewrite, you get something funny from me. And it's not a cookie.)
Maybe I'm the only person out there in the SL blogosphere who's been working on a Virgin Mary fashion post for
WEEKS
. There's so much Virgin Mary fashion to be had out there. I'm being serious.
I kind of kissed that blog post goodbye today. It was growing to epic proportions -- and that's saying a lot for this blog -- and it just didn't have the flair I was looking for. If anything, the Virgin Mary deserves flair.
I guess what I'll do is sprinkle my Virgin Mary fashions throughout future posts. Just think of it as another signature element, I guess.
"Hey, there's that damn blogger who has that weird Virgin Mary obsession and annoys the hell out of us with her spellings of "hey" ('HAY!'), God ('gawd' - hey, I don't wanna type the Lord's name in vain, people!), rocking ('rawkin') and dude ('dood!') . . . and why is she saying 'rocking' and 'dude' anyway? And don't get us started on the bold all-caps and that fish tank."
OH YEAH!
I hear it. It cuts like a knife. (Kidding, go ahead and mock, I don't care.)
The good news is, if anyone ever wanted to write a parody of this blog or if I participate in the next Great Blog Swap or whatever it's called, this blog will be
OH SO EASY
to mimic!
So see, I'm doing it all for you!
As to the Virgin Mary, I won't get too much into my deep affection for her. In my late 20s and early 30s, I tried to visit all the Marian apparition sites in the world. My favorite was Fatima in Portugal. I was on my way to the village of Medjugorje in Bosnia, but my trip was scheduled for 9/12/2001, so *sad face* I never made it, for obvious reasons. To my great delight, there's apparently a Lourdes in Second Life, although I haven't been there yet to see how it compares to the real thing.
In RL, I have a collection of Virgin Mary kitsch, which horrifies my mother. And actually, it started out as a truly cute little shrine until my friends got out of control and started picking up Virgin Marys at gas stations, velvet paintings and holographic pictures of her at carnivals, and giant plastic monstrosities from God-only-knows where. Then my collection morphed into this horrific gaudy corner of my home office and, yeah, I can see why my mother almost fainted when she first saw it.
("NO WONDER YOU'RE STILL SINGLE!")
So we can blame the Virgin Mary and, um, my garden gnomes for my spinsterhood, I guess. I still love them though.
Those Maria tanks in the photo above are from the so-spectacular
So Many Styles
for 100L. There's also an orange and a black version. And gosh, I really managed to look Satanic in that photo. Way to go, Emerald.
The Lala Bubble Dress I'm wearing is from
Bliss Couture
and as striking as it is, it's unfortunately part of my "Wear it for a Day and then Throw It Away" project. My inventory currently is at 87K. I'm going to keep a few cherished pieces and the things I've spent big lindens on, but sadly the rest has to go. I'm never going to wear some of these outfits twice. I just don't have enough days in my life.
But if I stop shopping for a while and stick to my "Wear it for a Day and then Throw It Away" project, I should have my inventory under control in about 84,000 days!
YAY!
On behalf of me and all my glow-in-the-dark dashboard Virgin Marys, have a truly blessed day.