Hey, it's the first day of Ali Chenaux's
Big Bad Blogger Challenge 2009
. Your mission, should you choose to accept it: To update your blog every day starting now through June 19. (God help my readers.) If you're a blogger and you haven't signed up, click that link up there, drop a comment with your URL on that post, and apologize for being fashionably late. If you're stumped for a topic, check the
Ch'Know blog
each day for a writing assignment.
Fortunately or unfortunately for all of us, I have no problem babbling about basically nothing for paragraphs on end. It's getting me to shut up that's really the challenge. When are we doing the Bad Blogger (Please Be Quiet) Challenge of 2009?
Um, so anyhoo . . . Here's a (reelly skeeny) picture of me doing the
SL Walk of Shame:

Unfortunately I'm not talking about the "sneaking home early in the morning after a night of steamy naked passion" walk of shame.
I'm talking about that walk my AV does when I'm about to crash. I'm not sure if it ever happens to you. But in my case, she keeps walking and walking and walking and walking, through walls, across the sim, across the ocean, out into the galaxy. Sometimes the walk lasts up to three or four minutes, and all I can do is watch helplessly, waiting for that final "You have been logged out of Second Life" verdict.
But today it looked a little bit like a catwalk, so I snapped a quick pic before I bit the dust.
So, let's talk about the dress.
One of my favorite SL stores is
Miel
. It's small, but so damn awesome. I'm talking beautiful hand-drawn work that'll have strangers stopping you in the streets with a "HAY, where'd you get that?" (And yep, I'm happy to share. No anti-inspection devices for me.)
So when I got a notice about Miel's new Oh Leafy dress, I dropped what I was doing and ran like Flo Jo over to the store.
Let's examine it in front of the ultimate fashion backdrop, my fish tank, shall we?
This is the dress in Lemongrass (325L). That Oh Leafy pin on the shoulder is a separate purchase (125L) and there's also a matching headband (125L), which I had to regretfully pass up because I'm sooooo broke.
The dress also comes in Eclipse (grey/black) and Opium (a rose color).
Check out the back, please: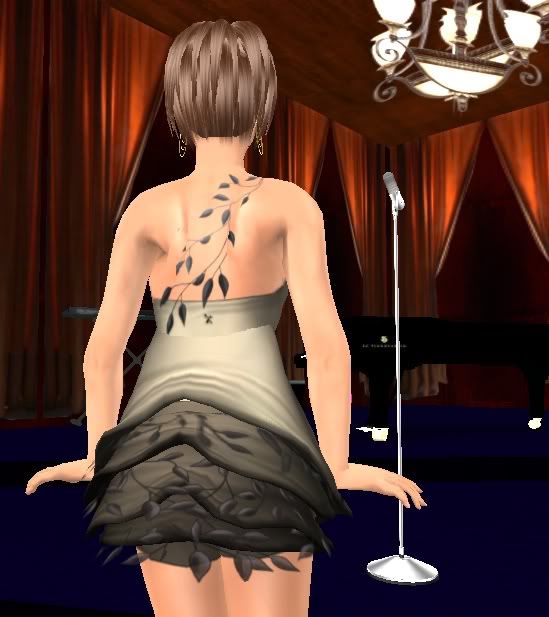 Wooo! Lovely prim layers there! And that shoulder leaf strap is optional.
If the dress isn't your thing, I still urge --
YES, URGE!
-- you to check out the cute shorts, pants, fabulous tops, highly detailed stockings and even shoes, all crafted with exquisite artistry -- and believe me, I don't throw the word "exquisite" around lightly.
In other news!
After much agonizing, I finally went to
junkDrawer
and bought that purple Victorian house I've been lusting after. Sadly, because this is the way my luck goes these days, I bought it for 2,000L
RIGHT BEFORE
it (along with almost everything else there) went on sale for 25 percent off. When I checked this afternoon, it was still on sale, apparently until midnight SLT tonight. So if you have a hankering for a great home --
and it comes in different colors
-- hustle over there
NOW
and snag it for the new price of 1500L.
*weeps*
Here's an aerial view. It takes up almost my whole parcel of land - ha ha!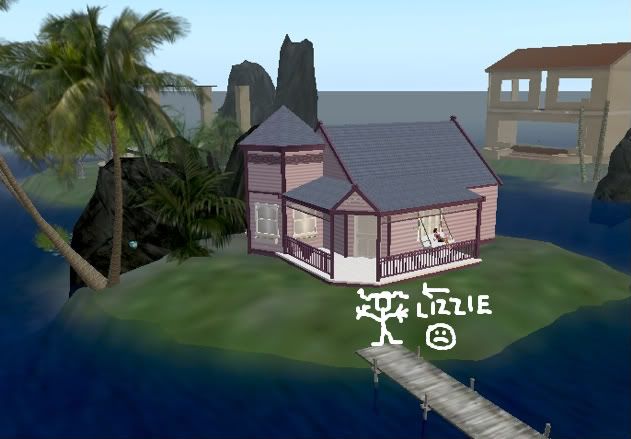 Yep, I still have some landscaping to do. 
And yeah, that bridge at the bottom connects my parcel to my now-former friend Lizzie's parcel. She recently
sliced up her friends list like a slab of deli meat
and I guess I ended up in the pile of shavings. Apparently she canceled her SL accounts today. I guess time will tell whether that's really true. Maybe she really is taking some much-needed time away from SL, or maybe I was always supposed to be just another chapter in her Second Life story. In any case, if I see a quirky blogger with fabulous photos on any of the feeds in the near future, I'm gonna yell,
"YOU'RE BUSTED, ALT!"
I'm feeling shocked and jangled and upset and confused and adrift and more than a little messed up over the abrupt departure of my friend. However, all the yucky feelings aside, I still miss her, so I drew her picture up there. 
I can draw your portrait too for a small fee.
Having two homes (well, three if you count that silly skybox, which is no longer mine) has been a blast, but I guess I'll probably have to pack up my purple house soon and permanently retreat to my beloved beach rental unless I can quickly find a sugar daddy (or a job - what a concept!) to help cover my 7800L monthly rent. Living the fantasy of my own land and a 600-prim allowance has been a ton of fun though.
So speaking of my house, the last time I was at junkDrawer I was delighted to discover that owner Maggie Camus recently has tried her hand at making a small collection of clothes . . . and
WOW,
she's really good!
Here I am inside my empty purple house, modeling the Not Sandra Dee saddle shoes (168L, but this might be the sale price):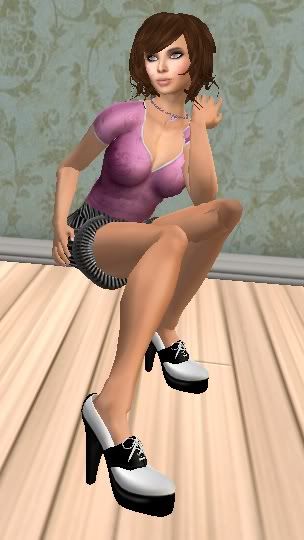 (Pose: Look at My Shoes 6 from
Le Boudoir Mode d'Ambre
)
LOVE!
My house has a hidden TP to a secret room upstairs, perfect for those intimate moments. Since Jon wasn't around, I figured I'd put the room to good use by showing off these
CUTE
junkDrawer Root Beer Float Shorts (including prim buttons - not shown - and prim cuffs) and Arrgh Shirt in Pink. My bad for not getting the prices on them, but I promise they won't break your budget: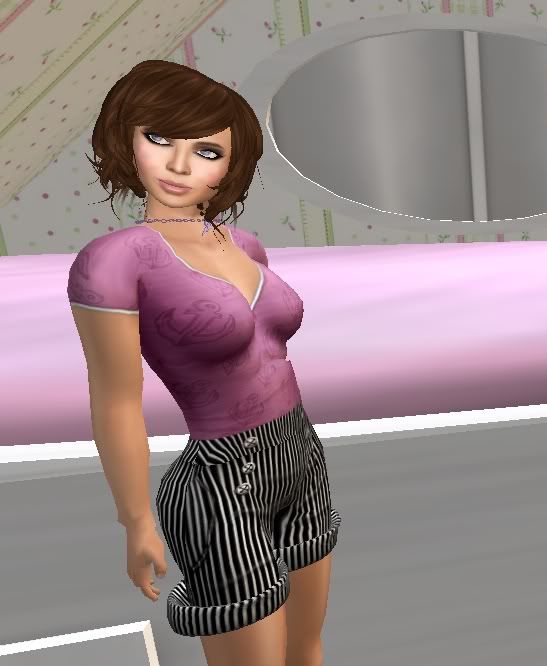 Wow, my hands look really . . . strange in that pic. And that's a built-in bed behind me.
That's ducky, Jon.
OK. I think I've run my mouth enough for one day and you probably agree.
But before I go, I have some
really fantastic news
to share!
Those of you who knew me
waaaaaaaay
back when I was a noob were
so kind
when you politely looked the other way whenever I ran around in this cupcake costume:
At the time, I never kept track of where I got things. People actually wanted this outfit and sadly I couldn't help them. 
But today I got a notice from
Devilish Cupcake
that said
a)
they're having a 50 percent off sale right now, and
b)
there's a special freebie currently in store . . . and
WOO HOO!
It's this cupcake costume!!!! Talk about a blast from the past!
The cupcake comes off, BTW, and leaves you with a sprinkly, sugary bikini.
So what're you waiting for????
GO GET YOUR FROSTING ON!!!!