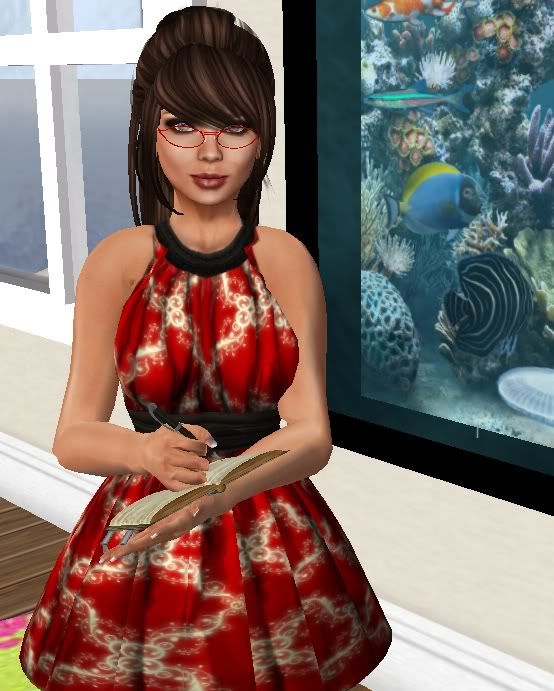 Damn, it's been an emotional week.
This post is gonna be fast and, as such, I'm sure you'll be relieved.
Today I went to a
Second Life Bloggers
Meet-Up Party today, hosted by my friend
Tymmerie

,
who's now the new events director for the group. (Thank you, Tymm!) Wow, I totally forgot I had a profile on that Web site. I need to update it.
I didn't stay very long. Nor did I take a picture of myself there. So I could be lying my ass off right now and you wouldn't even know. I think there were witnesses though.
The theme was Dress Like a Blogger and I really wanted to wear the Maitreya hair, Dolce glasses, Tres Very skin and CeCubic outfit I'm wearing in that
NOW-VERY-RETRO
blog banner for Emerald's Eyes up there. Back when I started this blog, I really did want to run around SL in intellectual glasses, carrying a notebook. That idea faded quickly.
I would have been the only person to get that joke though.
I did put the glasses on for old times sake though. If you care about the rest of that outfit (shown at top), I'm so very glad that Arabella Steadham blogged about that Sometimes I Just Look Fabulous dress ($145L) from
Heartattack & Vine
today. I don't know Arabella but I really love her blog,
Arabella's Amblings
. Her style really resonates with my taste.
That Half-Up Bun hair is one of the freebies at the
Dernier Cri booth
(follow the red beacon) at Hair Fair, and the Elois glasses -- with menu-driven frame color, tint, shine and more -- are from
primOptic
, the only one of my pay-for-play Picks selections that I would keep even if it weren't pay-for-play.
I also strapped a notebook onto my thigh. That Dirty Secrets Diary was the gift from
Catnip
during the Keys to the VIP Hunt. I do hope they sell it in store for those of you who didn't score it during the hunt, because it's really cool. It has a writing animation, which I use often.
"I'm watching you and writing down everything you do!"
"It's a lamp!"
(If you didn't get that reference, you haven't seen "A Christmas Story.")
I always feel strange at parties for bloggers, like someone's going to point at me and yell,
"IMPOSTOR! GET OUT!"
I'm not very well-known in the blogging community. I think maybe five people at most read this blog. So I went to that party a little sheepishly, worried that I would get bounced. Then a family emergency (translation: someone screaming at me to get off the effing computer) occurred so I had to split anyway. I don't think anyone really noticed. Ha ha!
Here are a couple more things you should know:
1. Egg game
Lately when I've been logging on during heavy lag times, instead of a ghostly white cloud, I'm showing up as an egg: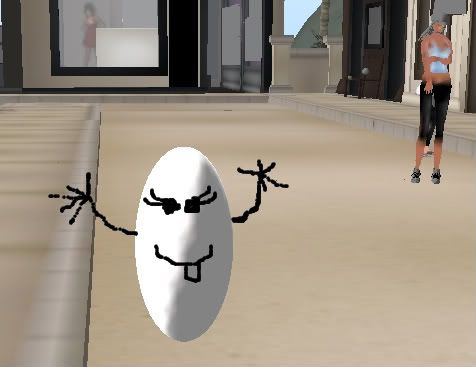 I drew the face, BTW. And the arms.
Sometimes I stay like that for quite a while and I wonder if everyone else sees me that way too. I really don't care, except it interferes with my sexy walk.
2. Nice shoes
.
Here's what your fancy shews look like to me at crowded fashion shows:
Those are either prims trying to rez or some new fashion trend that I'm unaware of.
Shoot, I have to run. Ever since I rolled into this town, a bunch of aging cheerleaders from my high school graduating class have been bugging me to go out with them. I guess they've conveniently forgotten how mean they were to me back then. But hey, I'm not one to hold a grudge. And plus, I'm bored as hell.
In fact, I think it was just yesterday that I was telling my friend
Quaintly
how desperate I am to get out of the house and have some good old-fashioned girls-night-out fun. And wow, lo and behold, the invite came this morning. I'm really starting to think I have magic powers. Now I just need to start talking more about finding a job and growing a magnificent chest.
So anyway, I finally said "OK!" to the middle-aged cheerleaders tonight, but I'm a little nervous. I barely remember them. I spent a good part of the day peering at their now grown-up photos on Facebook. I hope I can find them in a bar. If not, I'll just look for a hot man.
Wish me luck, and ciao!