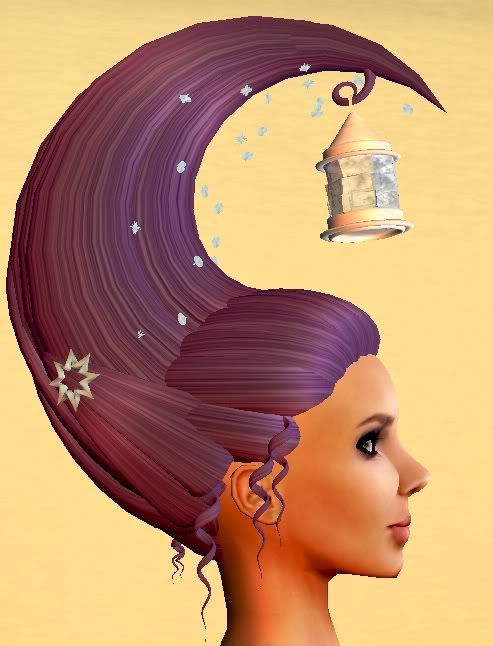 This morning, my drill-sergeant father asked me what I was going to do with my life today. Yesterday I had to "lend" my parents another $2,000 to get them out of yet another financial jam. So I'm feeling a little stressed about my own finances today and, as such, I felt perfectly justified in saying to him, "Today I'm going to lie in bed, watch movies, drink your beer and play video games."
I was actually kind of shocked when he said "OK. Have fun" and left me alone. He asks me that question every day, and today was the first time I didn't scramble to come up with a list of impressive, productive tasks. Maybe radical honesty is good sometimes.
I came home to help my parents and figure out some of my own stuff with roughly $10,000 to my name. I've been home for a little more than three months and they've already drained me of about $6K. I didn't realize they were living in such a gigantic financial nightmare.
So yeah, I'm stressed out. I can't see a light at the end of the tunnel except to, um, suck it up and get a job (YES -- I've been putting it off), quickly get the hell out of here and refuse to give them any more money. They're gonna have to sink or swim. I think I'm just enabling them at this point.
Why am I writing this in a Second Life blog? Because if I type out my angst and shoot it into cyberspace, maybe it'll get it out of my head; and plus, there's no way in hell I could write this in a real-me blog. And also, today I did what a lot of women do when they're stressed about money, which is, um, shop. But I shopped in Second Life, so it's not like I went to Nordstrom and went wild or anything.
So yep, today I gave myself my monthly $30-that-usually-expands-to-about-$50 Second Life allowance -- I justify that money by saying I'd spend more in one weekend if I had an active social life.
I have a list of Hair Fair hair that I want to buy, including that spectacular Moon hair up there from the
Milestone Creations booth
(follow the beacon!). Can somebody give me a
"HELL YEAH!"
on that?
From that booth, I also bought Dragon Nest in blacks:
Is that a dragon in your hair or are you just happy to see me?
(Thanks, Heidi, for telling me about it!)
I'm really only buying the wacky and wild hair this year. I figure I can get the tasteful, pretty hairstyles any time, anywhere.
WOOOO!
It's a good time to be shopping.
-- Biddle Boots
is changing its store theme and having a 50-percent-off sale right now. About a year ago when these Electric Pink boots came out, I posted a pic of myself looking longingly at them (with their 800L price tag) and thinking, "Do I really need another pair of boots in my life?" Back then, the answer was no.
Here's a picture of me today, looking longingly at the same boots -- now at 400L -- and thinking, "Do I really need another pair of boots in my life?"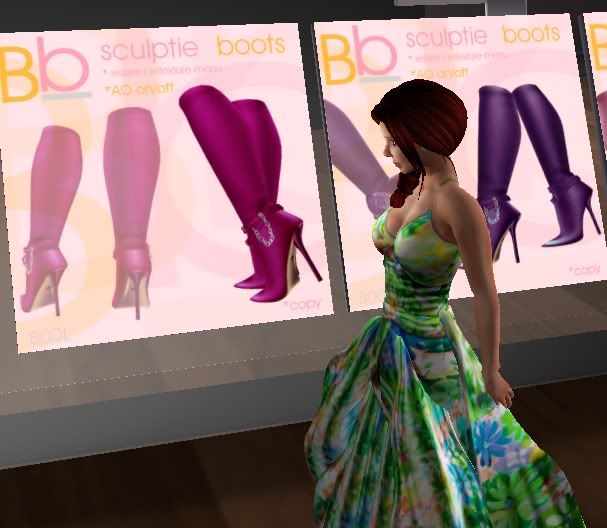 Shoot, I think the answer is still no.
And yikes, I'm worried that Arabella Steadham is going to think I'm a fashion stalker or something, because the other day was the second day in a row that I saw a dress on her
Arabella's Amblings
blog and rushed to get it. And in the same color, even.
:(
But
WOW,
I love this new
Bijou
dress! I never want to take it off. Here's a shot of the back, kind of. I really didn't want to take too many detailed pics of it because I don't like to blognap topics. To see it in all its glory, check out
Arabella's post on it
.
And
WOW
again, I have a new view from my back deck! And
YES,
today I vow to run around all day with my Windlight sky set to "Gelatto." I also have a bad habit of starting sentences with conjunctions. *cue the Schoolhouse Rock music* (Sorry.)
Um . . . new topic:
-- While I was at Biddle Boots, I saw this chick dancing around outside in her Stiletto Moodys, looking at skinny-white-girl shapes. HEY, I'm just calling it like I see it! But I was kind of fascinated by her. Yes, these pics are awful. I need to work on my stealth-cam skills.
She had earrings with her name on them. I want! Where do you get those?
I am always in admiration of people who put a lot of thought into creating a character as opposed to just a trendy, pretty avatar. Unfortunately I put myself in the latter category, particularly since at the moment I'm just letting fashion bloggers do all the work as my personal SL shoppers.
I was impressed by this AV's vibe, but I did want to tell her to
WATCH OUT
for the big calves-meet-Stiletto Moodys dilemma:
Anyway.
--
House of Nyla
also is having its annual half-off sale and I couldn't be more excited.
I LOVE NYLA CHEEKY!
When I was a noob, she dropped me a welcome message on my
Second Life Profiles
page -- laugh, that site is so lame -- and she's always so nice when I run into her in her store. Best of all, her real-life designs are so fab, and she does such an awesome job translating them to Second Life fashions.
Check out her RL Web site
HERE.
-- Most of those insane June gridwide hunts end today. I only finished the
Storybook Hunt
. I thought about trying to finish
Bedtime Treasures
today (some of the prizes look cool), but my God, there are more than 200 stores. I'm including the links to the hunt Web sites in case you want to check out the lists of participating stores and prize previews and grab some today. Unfortunately I can't find a list of stores for the
GL OMG
hunt, but you can always turn to the fabulous
Hunt Locations
blog for hints and SLurls, at least.
(Dear Hunt Locations blog, I love you, so I'm
SO SORRY
to have to be the one to tell you that you have a type-o in your blog banner. *sad face*)
--

Fun in the Sun Hunt
--
Through the Looking Glass
blog (yay, we have until July 4)
-- This post is getting long - what else is new? I'll close with a pic of me with my shamrock PlantPet. I have to admit, I don't think these PlantPets are as exciting as chickens. Also, to my horror, when I moved my PlantPet pot today, the plant seedlings didn't move with it, so I had to move each piece separately and I pretty much jacked up the whole thing. If you have one, watch out for that.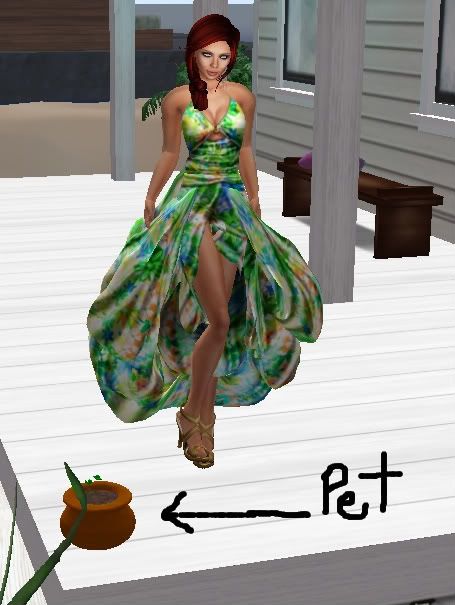 (Hair by Dark Mouse; sandals by Redgrave)